I started my day very early in the morning as I would soon be a part of a challenging mission. After almost two years of denied access, a Unicef team, part of an inter-agency UN convoy, was heading to Douma, the famous Damascene suburban city which was the one of the early towns engulfed in the uprising.
The UN team gathered at the Syrian Arab Red Cross (Sarc) warehouse in the heart of the capital. There was little optimism about the success of this mission since many previous attempts to enter Douma with life-saving supplies had failed. We double checked the trucks, permissions and other travel related details. Then we were off.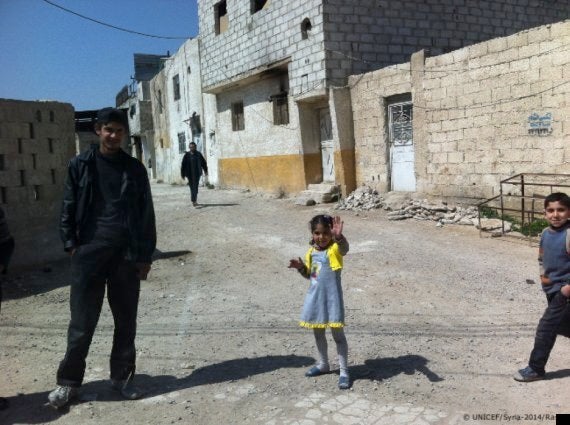 In Douma, Syria, children waving at the passing UN convoy. It is the first time they have had aid delivered to them in two years. © UNICEF/Syria-2014/Rashidi
Fortunately, all parties upheld the ceasefire from noon until almost 3pm. The convoy, five trucks and six UN and Sarc vehicles, reached the final government checkpoint in Al Wafeeden camp before mid-day, and then we successfully crossed into Douma.
We arrived at the Douma branch of Sarc to meet 35 volunteers who are working under very tiring circumstances. The city, with a population of 50,000, has been under a tight blockade for more than six months.
Last time I was in Douma, nearly two years ago, was for the funeral of a Sarc volunteer who used to manage a Unicef child friendly space. Mohammad Al-Khadra died while on duty in an ambulance on 24 April 2012.
Walking around, I soon realised the once famous marketplace no longer exists. But, you couldn't miss the local bakers baking bread in 'safe' corners, using barley instead of wheat. "A parcel of bread in Douma costs ten times more than in Damascus", one man told me.
There were children everywhere. The sight of undernourished kids, walking by listlessly, some carrying heavy loads for their families, broke my heart. It was clear most children don't have much to do. Some 'underground schools' exist, but there are very few school supplies.
We met Dr. Majed Abu Ali, the focal point for the Alternative Health system, which operates under the leadership of the office of Unified Relief in East Ghouta. He told me how expensive things are in Douma. "It costs me $3-4 per day to provide milk for my baby boy. This covers the cost of milk and firewood to boil the milk for sterilisation".
The doctor helped us with our needs assessment effort, a major goal of our mission to Douma. And he talked about child and neonatal care, "We received 10,000 polio dozes in January. We were able to vaccinate children despite a serious security situation".
As part of the convoy Unicef brought 6,000 additional polio doses into Douma. "Parents were eager to get their young ones vaccinated especially following the sad news about polio outbreak", one Sarc volunteer told me.
Unicef also delivered food and non-food items for up to 3,000 people, including hygiene kits, baby milk and diapers.
During our trip many people communicated their desperate need for food. "We know how difficult it is for you to come here", said one community leader. "But please note we need you to plead for a lifting of the siege. We need food and life-saving supplies, but we also want energy and water".
As we waved goodbye, we felt a renewed need to raise awareness of the conditions in Douma and make an international call for an immediate lifting of the siege. In the meantime, we plan to make more trips back to do what we can.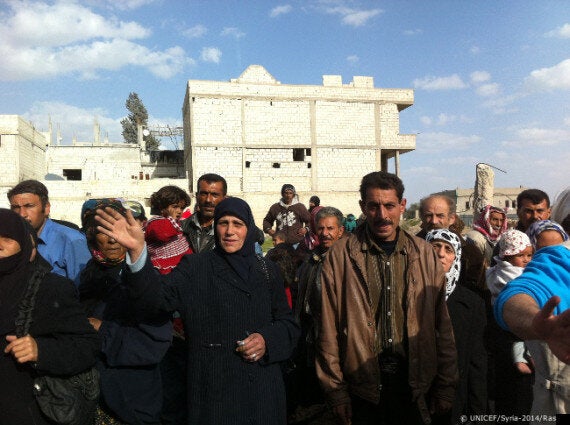 Residents greet the first UN convoy to Douma in almost two years and ask to be evacuated. The besieged city is densely populated and there is a severe shortage of basic supplies. © UNICEF/Syria-2014/Rashidi
Popular in the Community