I thought I knew a thing or two about Scotch whisky, until I met the UK's youngest Keeper of the Quaich. A Quaich is not a game Harry Potter and his wizarding chums might play, but a two-handled, shallow drinking cup used for the specific purpose of drinking Scotch whisky.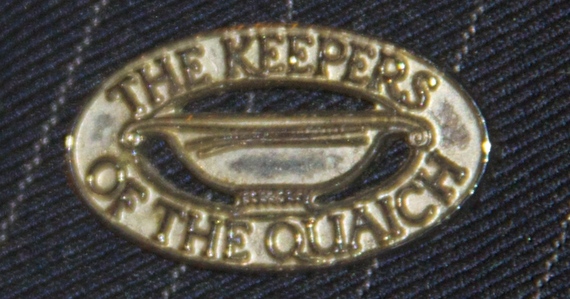 Established by the big brands of the Scotch Whisky industry, 'Keepers' are from a worldwide community of members who promote the values and image of Scottish whisky. Cesar Da Silva is the man in question and Head Barman at The Capital Bar with, as you'd expect, an infectious passion for whisky.
Cesar offers a Whisky Masterclass which pairs three whiskies from the forty he stocks, and three British cheeses on the bar of his intimate and perfectly formed domain.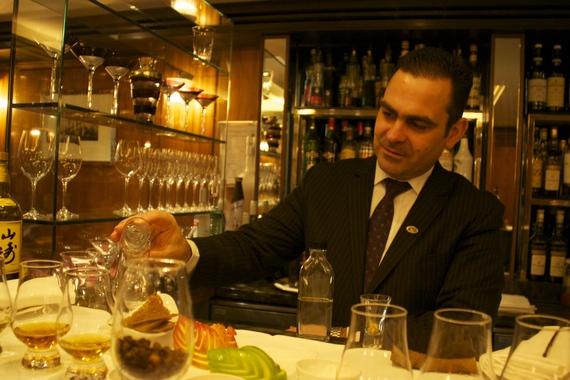 A glass filled with coffee beans is 'sniffed' when our sense of smell become overwhelmed and a green and red apple will help to cleanse the palate. Rollered thin treacle bread is perfect with the cheese, along with orange sugar-free marmalade and a homemade chutney.
We kick-off proceedings with a 10-year-old Benromach paired with the washed rind cheese Keltic Gold a semi-hard cheese from Cornwall. During maturation, this cheese is dipped in cider and scrubbed three times each week.
The whisky is matured for the first nine years in Bourbon casks before being transferred for the final year in Sherry casks.
Next up, a 12-year Dalmore is enjoyed with a 36-month old Davidstow Cheddar, made specially for the resident Chef, Nathan Outlaw. A strong cheese with large crystals of tyrosine, often confused with salt but is in fact amino acid clusters, and the sign of a well-aged cheese.
I really enjoyed this whisky and am really glad to hear it's naturally coloured. On the nose there are distinct hazelnut, almond, toffee and coffee aromas and is less aggressive than the first whisky we tried with wonderful spice notes.
During the course of our tasting we learn lots of interesting facts, the difference between a sour mash and a bourbon for a start.
We end on the Kilchoman (pronounced Kilhoman) with scrumptious Bath Blue Cheese. Incidentally, it was just last week I was judging at the World Cheese Awards where this particular cheese triumphed over nearly 2,600 cheeses from 33 countries to take the top prize.
Based on a farm on the west coast of Islay, it's the first distillery to be built here for 125 years. The whisky is aged for 3 years in fresh Bourbon barrels.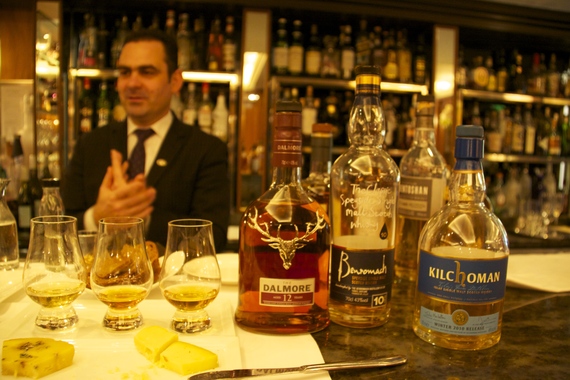 The whisky and cheese session is set up for two people and costs £40 per person. If you think that's a little on the pricey side a bottle of Benromach will set you back £29.28, the Dalmore is £34.32 and the Kilchoman 2010 Winter is like hen's teeth - incredibly difficult to find.
It's just one of four masterclasses organised by The Capital Hotel, a five star hotel in Knightsbridge, perfectly located, within touching distance of Harrods, on the doorstep of Harvey Nichols and a walk, taxi, bus or tube ride away from anywhere you could possibly want to visit in the capital. With just 49 bedrooms this townhouse hotel is privately owned and run by David Levin and his daughter Kate who's the very hands-on General Manager.
We're lucky enough to be staying here at The Capital for the night and like all guests I was sent a a pre-arrival form, asking if the Hotel could arrange absolutely anything at all from transport right down to the tea and coffee making facilities in the room.
Service here is with a smile, names are remembered and nothing is too much trouble - at all.
Our room is a deluxe double, in a quiet part of the hotel and in a galleried corridor. There's a huge walk-in wardrobe with mini-bar, trouser press, safe and hairdryer.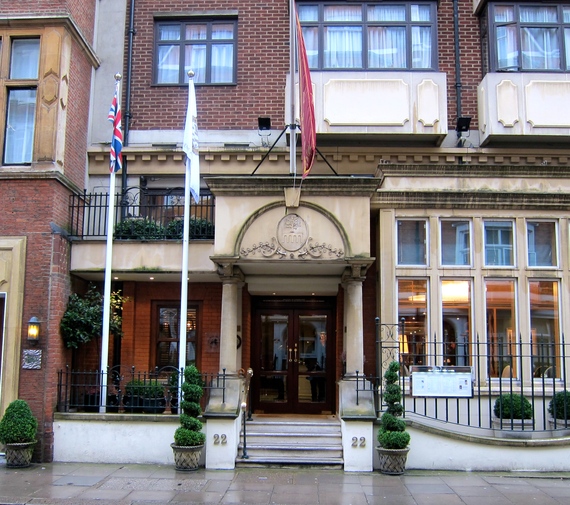 If sleeping-on-a-cloud is your thing then you won't want to leave. Savoir beds are King here and for those who aren't that keen on indulging their inner Goldilocks then I'll need to tell you that these beds are handmade. The only problem that you'll have is getting up the next morning.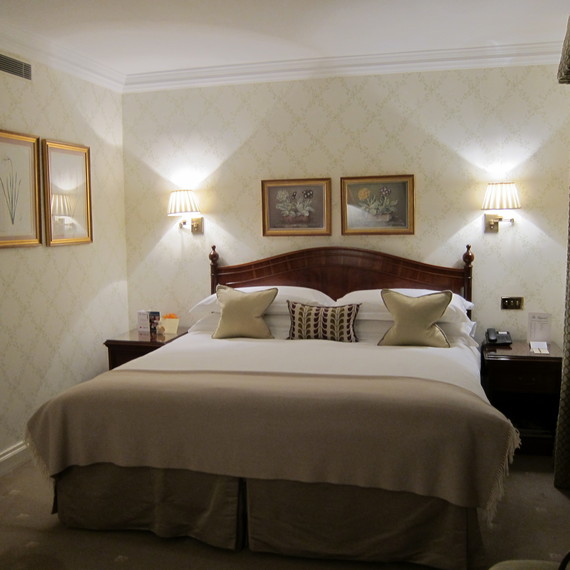 The bathroom is wood-panelled with Temple Spa toiletries and the shower was hot and powerful. For bath-lovers there's a pillow and the requisite bath salts to allow a sumptuous wallow.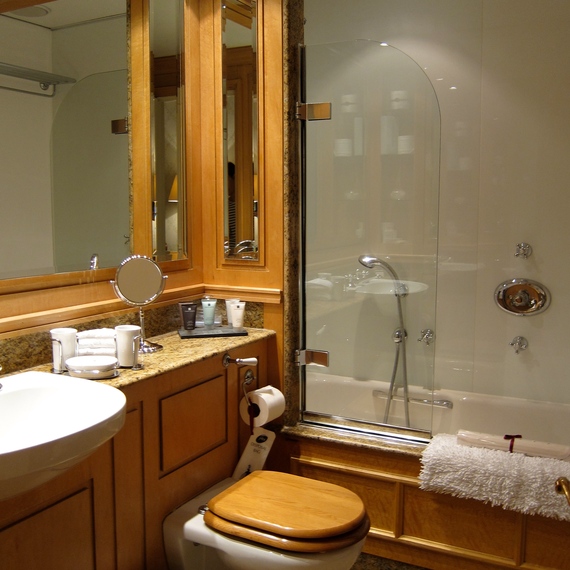 Understated but oozing elegance the Hotel's restaurant takes the name of one Nathan Outlaw.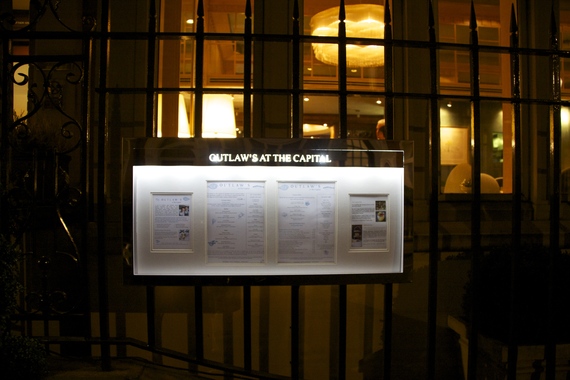 Outlaw's at The Capital boasts a Michelin star and creates dishes using British seafood caught off the coast of Cornwall. Head Chef Pete Biggs works gets the best fish and seafood from the boats of the fisherman they know. Nathan holds a whopping 2 stars at his place in Rock in Cornwall and he's often found in The Capital's kitchens working alongside Pete.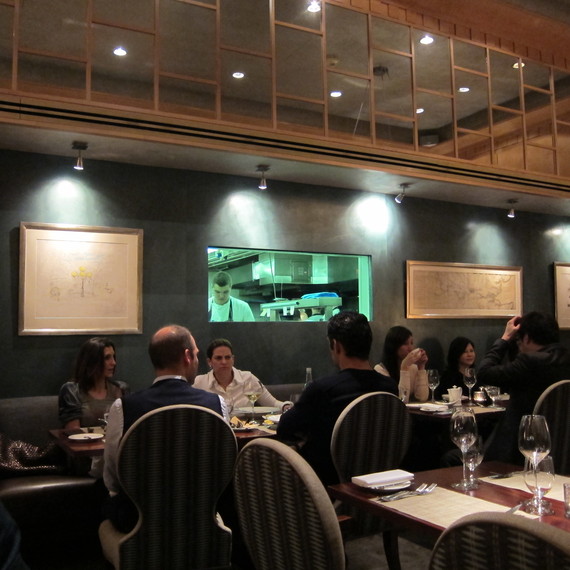 For interior design fans, Nina Campbell is responsible for the interior and the picture windows and high ceilings are showcased with beautiful chandeliers and muted tones with sea-inspired fittings. The pass is built into the wall and allows the diner to see the kitchen action as service unfolds.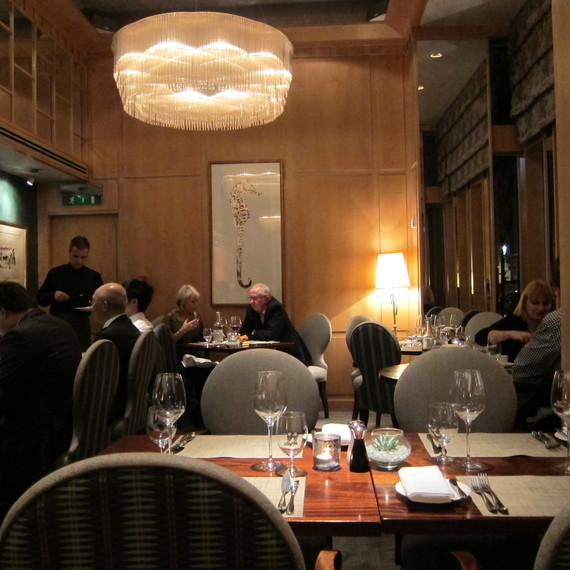 The Autumn Menu costs £45 for two courses, £55 for three and on Tuesday guests can take part in a complimentary whisky course with Cesar or his staff and each week there will be a new pairing. Five courses are £75 and a complimentary wine flight is an additional £65. Each Thursday there's the opportunity to Bring Your Own bottle of wine.
The set lunch menu is a total bargain and available between 12 and 2 every day. Two courses will set you back £22 and three will cost £27.
We were very keen to eat only fish, although there was venison and duck breast on the menu. I was assured that the 5-course menu were half portions but were sizeable none-the-less. This was the best fish meal I have ever eaten.
The fish knives carry Nathan's signature in the shape of a Mackerel tail - it's the little things ...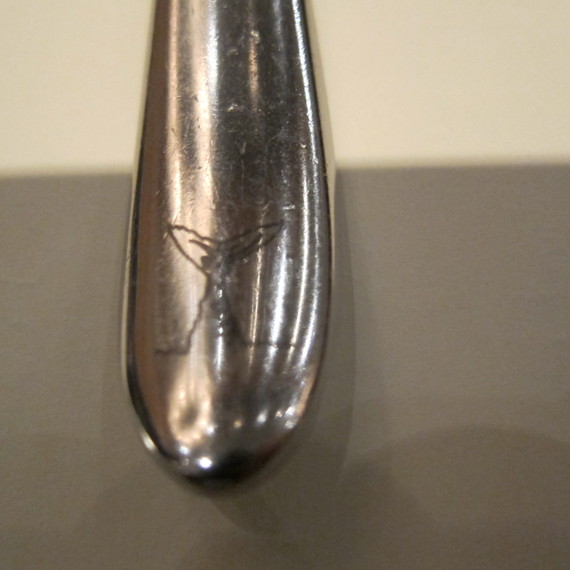 Our evening begins with a glass of rose Ruinart, suggested by our Sommelier, Ronald.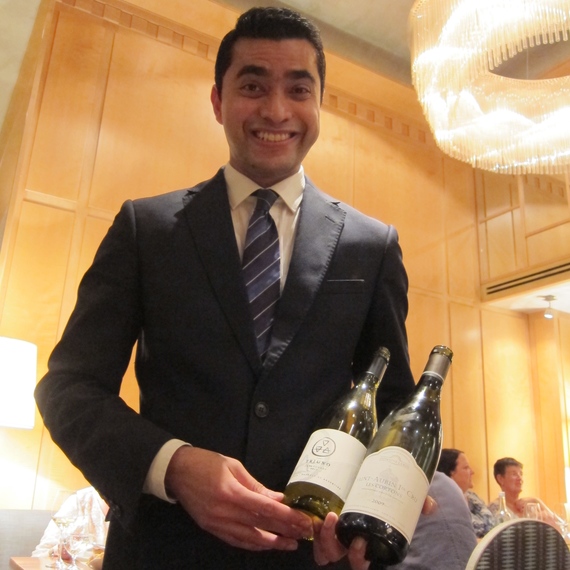 Followed closely by an appetiser of fish cakes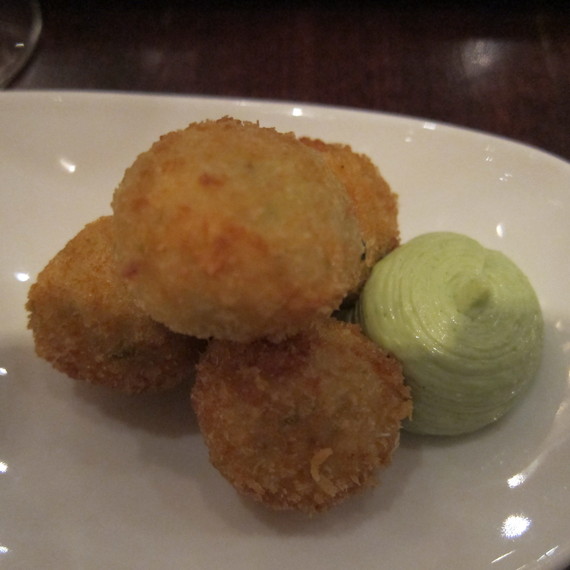 Our waiter suggested we ordered the scallops in their shell .... great choice.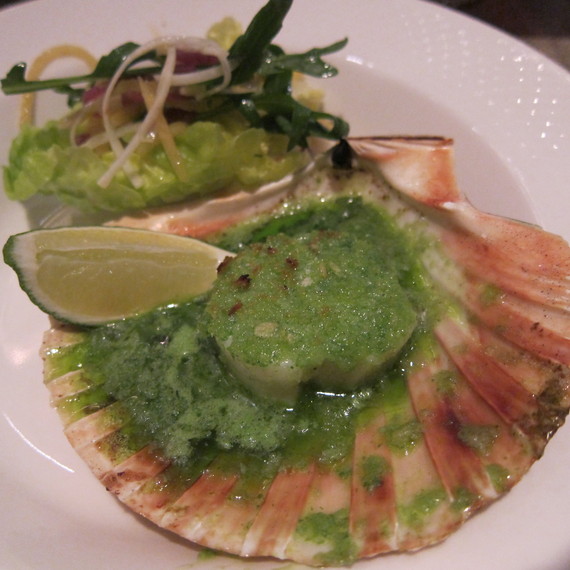 And then delicious plates of food followed ...
Risotto - mussels, Queenie scallops, octopus and prawns.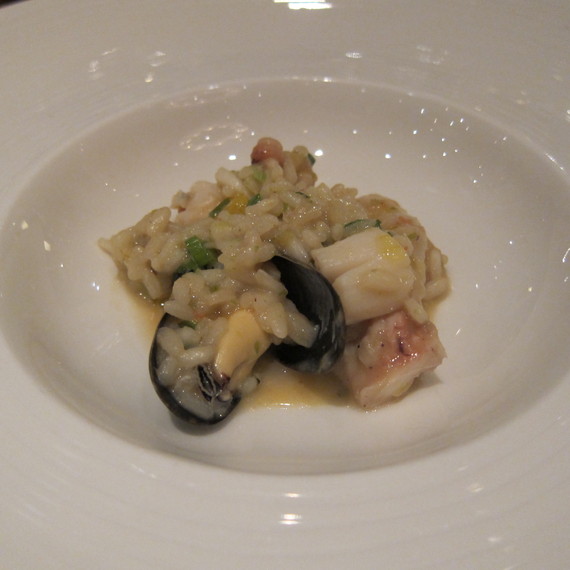 Crab salad - celeriac, apply with poppy seed toast.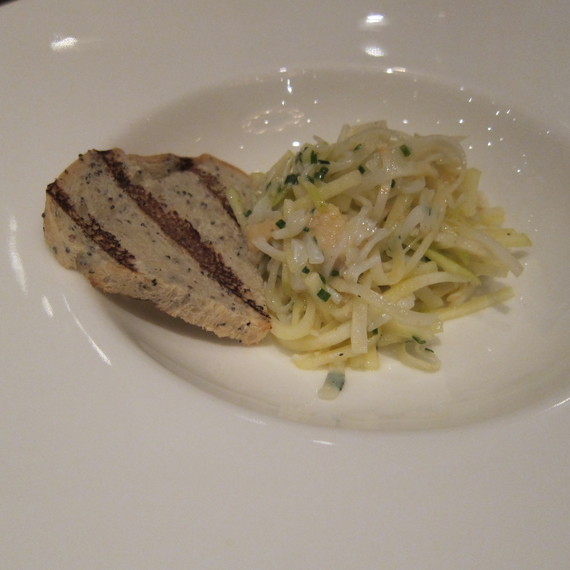 Cured bass - fennel, citrus fruits and horseradish.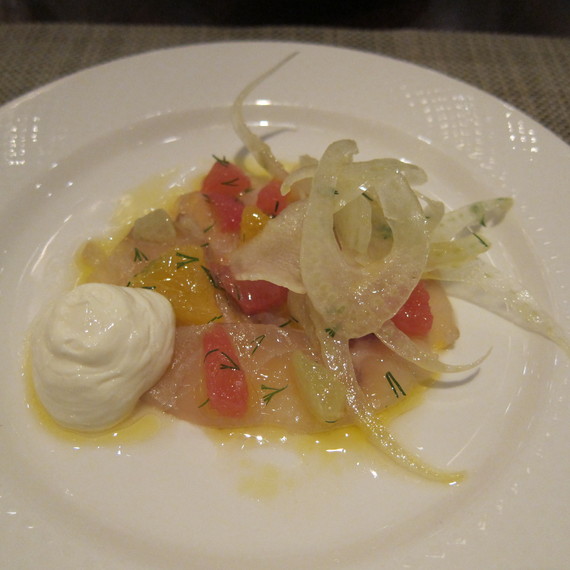 The bread needs a special mention - both the 'Cornish White' cheddar and rosemary bread, as well as the Doombar beer bread were stunning. The cheese bread was a favourite and we wanted to buy a loaf when we left. Yes. It really was that good.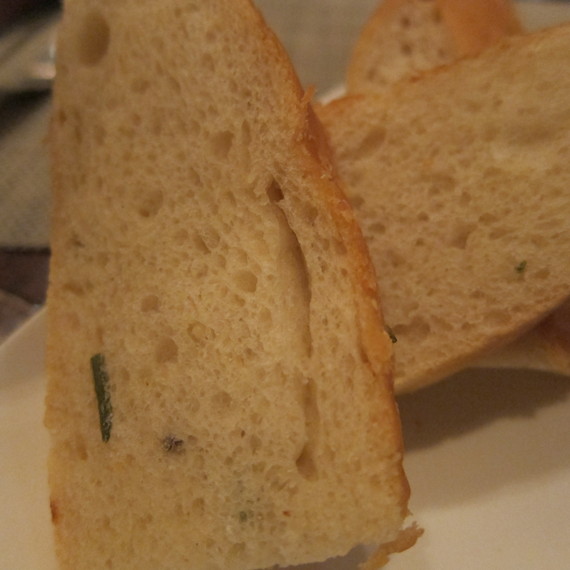 I found out that the Levins have their own bakery which provides all the pastries as well as the rolls, bread and other pastries on offer here. They also own an organic vineyard too in the Loire Valley.
Then the main courses began to arrive.
Brill and cockles with cabbage, chickpeas in a delicately flavoured curry sauce - this was one of the most incredible fish dishes I've ever tasted.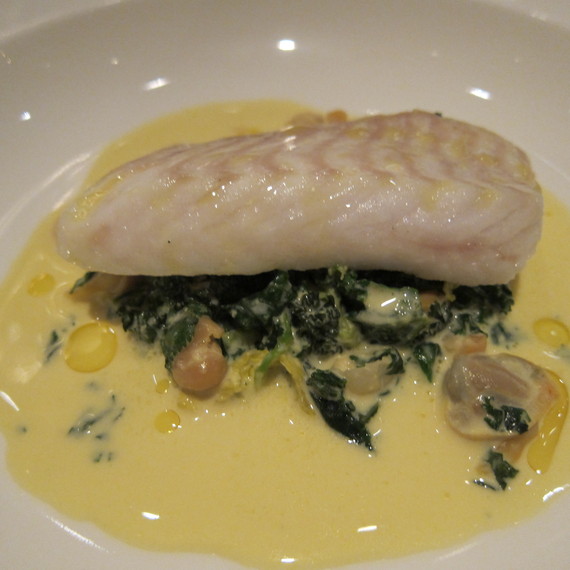 Plaice on a potato terrine, leeks and lobster scampi was too pretty to destroy, although Mr made a good effort.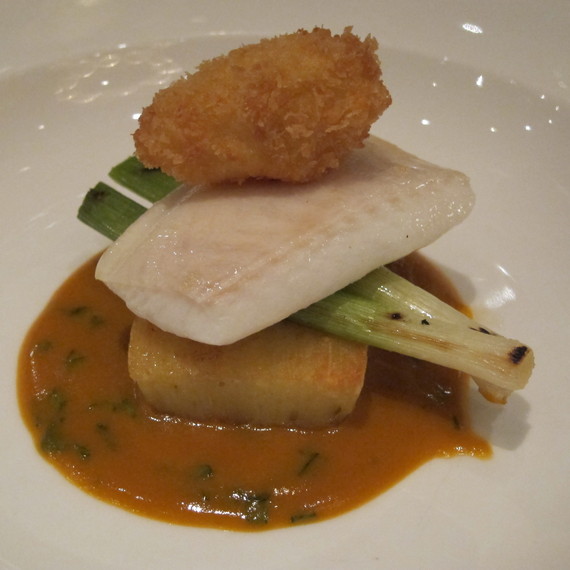 Monkfish and bacon with a cider tartare dressing was a fabulous plate of food for all sorts of reasons. The flavours of the fish and bacon, the sharpness of the gherkin-peppered sauce.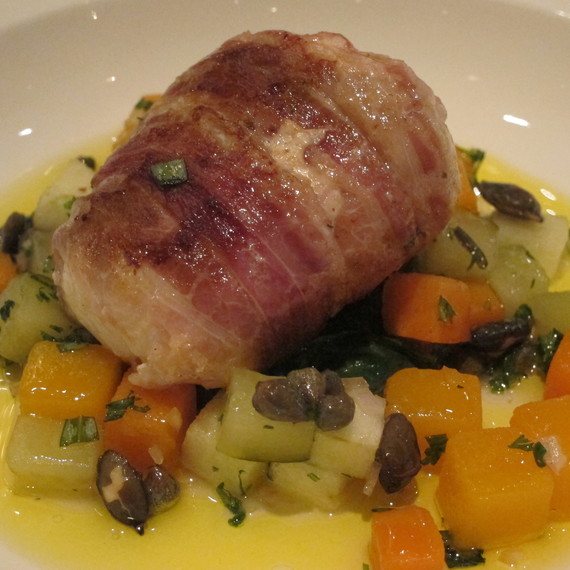 There wasn't one dessert I wouldn't have eaten on the menu, which is rare, and included the whisky and cheese pairing option which carried a £9.50 supplement. Sweet and fortified wines are plentiful and the sommelier was incredibly knowledgeable and knew his cellar well.
The Treacle and Raspberry Tart with clotted cream came with a 25-minute bake-to-order warning. The pastry case was perfectly round and crisp. The treacle and raspberry centre was inspired and the clotted cream was another nod to the Cornish coast.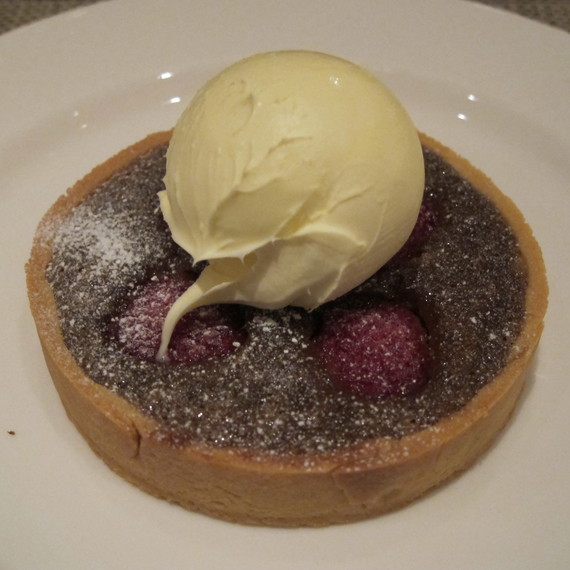 Rice Pudding with Blackberry Jam and Lime Ice Cream was delicious. The vanilla infused cream sauce was studded with lime zest. Once the brandy snap circle was cracked, the pudding shared the bowl with a jammy blackberry coulis.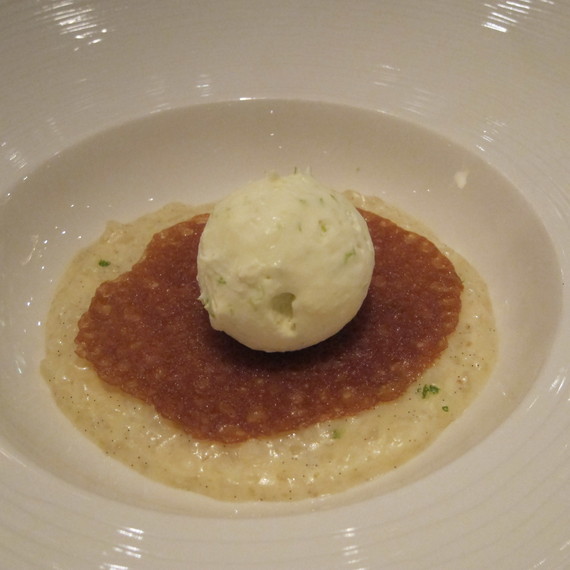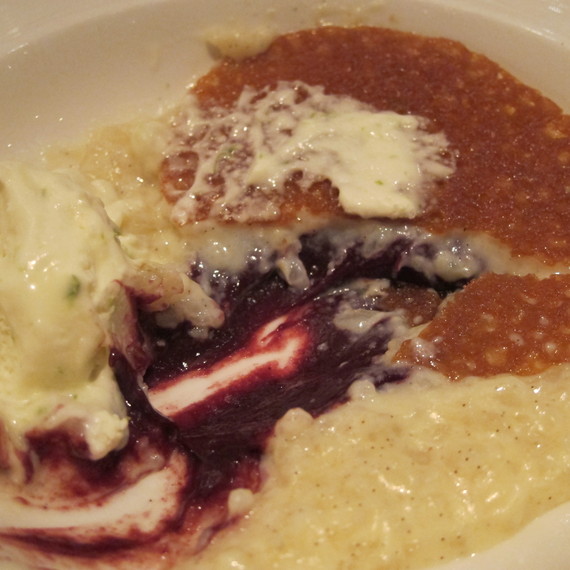 Coffee ended an altogether amazing food experience and Cornish Fairings were served alongside a cube of creamy fudge.
After a great night's sleep, we went down to Breakfast. The bar had been transformed into a buffet area, the usual cereal, cold meats and cheese, yogurt and Breakfast is eaten in the Restaurant.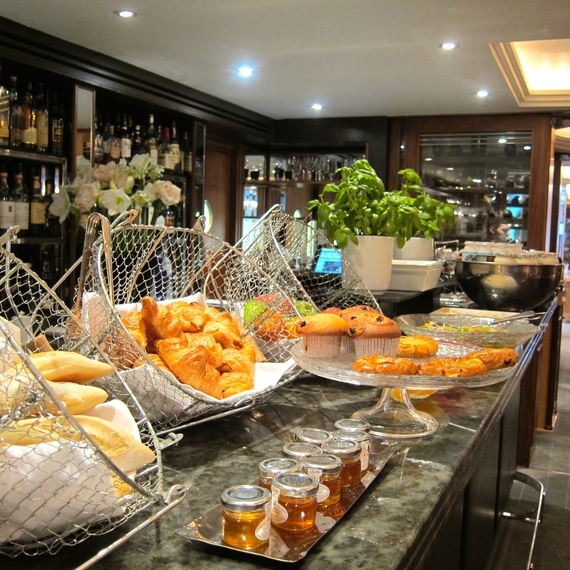 We chose the cooked breakfast, which was another quality meal. Perfectly cooked eggs, both poached and fried and a thoroughly cooked tomato. A great start to any day.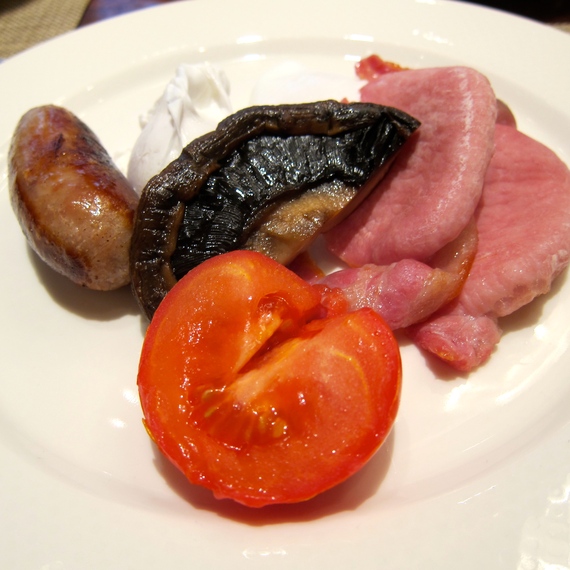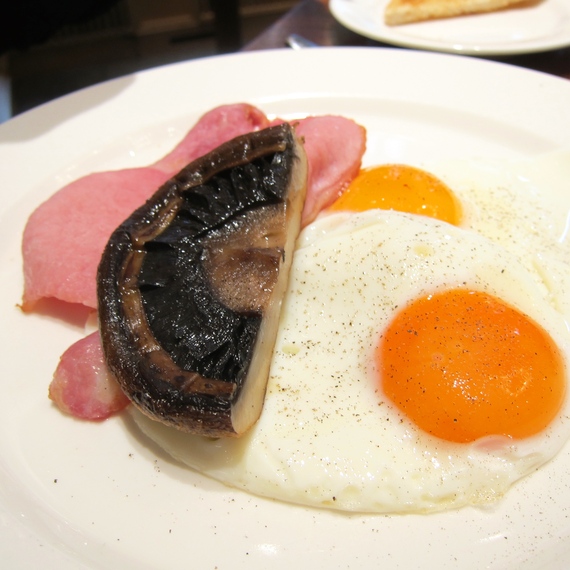 Afternoon tea here is also widely regarded, although I haven't had the fortune to try it but I will definitely be back based on our experience.
If by any chance you can't get into The Capital Hotel, try the boutique The Levin Hotel next door, or for a longer stay there are also the apartments, also owned by the family.
The Capital, 22-24 Basil St, Knightsbridge, London SW3 1AT
Telephone: 020 7591 1202
www.capitalhotel.co.uk
All photographs taken by Rebecca Williams