The media threw all their weight behind Prince Harry and his fellow adventurers in the Walking With The Wounded expedition at the South Pole and for once he behaved himself. A story which involves a man who's fourth in line to the throne, an amazing charity and a record-attempt, it's manna from heaven for any journalist. After three weeks of pulling sleds, the twelve injured serviceman and women from the UK, the United States and the Commonwealth arrived at the bottom of the world at midday on Friday 13th December. HRH Prince Harry is the first Royal ever to make it to the South Pole.
But there's another polar challenge taking place right now and while you may not have heard of the explorer Ben Saunders or his expedition mate Tarka L'Herpiniere these two Brits are honouring Scott's legacy by becoming the first to re-trace and finalise Scott's 'Terra Nova' expedition.
Ben's a British adventurer who it can be said likes a challenge. He's the third person in history to ski solo to the North Pole and he also holds the record for the longest solo Arctic journey by a British man. He's now travelling 1,800 miles on a return journey to the south pole. It's the longest, unsupported (no air-drops, vehicles or kites) polar expedition in history. The Scott Expedition will be the first completion of Captain's Scott's unsuccessful 'Terra Nova' expedition. He's walking with another chap called Tarka Michel Bernard L'Herpiniere - don't be fooled by the name - he's British as well and he's got an impressive CV when it comes to climbing, walking and cycling areas others would dare not tackle.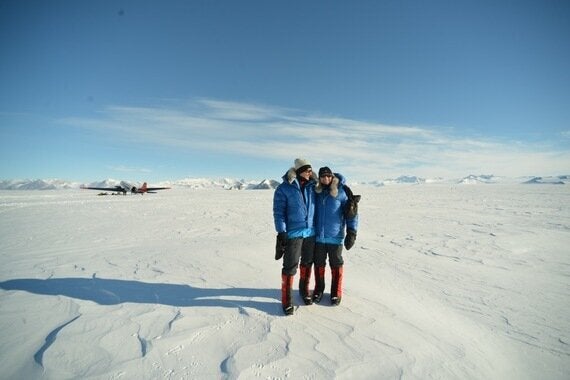 Photo courtesy of Ben Saunders
After meeting Ben's marketing manager and coveting her jacket, we got talking about his journey, my blog, and food. She sent me a package containing the ration needed for just one day and I got to interview him during his journey.
So what do explorers eat when they're nowhere near a kitchen, expending hundreds of thousands of calories in extreme conditions each and every day? More importantly what on earth will they eat on Christmas Day when we're all tucking into a roast dinner with all the trimmings?
The rations include a variety of food which include a breakfast and an evening meal - albeit freeze-dried and loaded snacks in between.
Fuizion freeze-dried pack of porridge (which you add 400ml boiling water to) - not bad at all
Fuizion freeze-dried pack of lamb stew with pearl barley (which again you add 310ml water to) which was delicious.
100g Green and Blacks Organic Dark Chocolate
A savoury mixed seed bar with cracked black pepper seasoning
A pouch of High 5 summer fruit flavour (which you add to 500ml of water)
A maxifuel ViperActive refuelling drink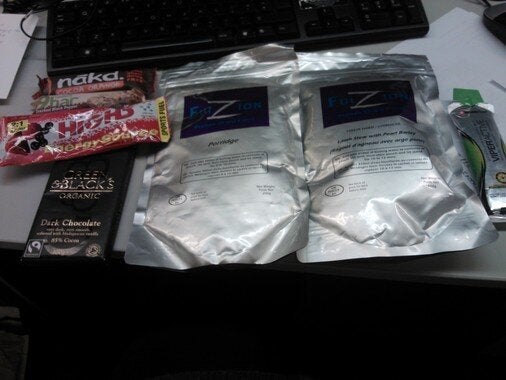 Photo by Rebecca Williams
It has to be said that these were all pretty tasty bits and pieces and are far removed from a diet of 'hoosh' stew and penguin savoured by Scott and his men.
For those of you unfamiliar with the Scott or British Antarctic Expedition, the objective was to be the first to reach the South Pole. Robert Falcon Scott and four companions made it to the Pole in 1912 but not before a Norwegian team had beaten them by 33 days. Scott's party died on the return journey, some of the bodies, journals and specimens were discovered by a search party eight months later.
There are a number of theories why Robert Falcon Scott and his team didn't make it back home and one has been linked to rations - not having the right kind of food or quantities. Researchers claim that the team didn't really understand the demands they were putting on themselves. Rations were based on trial and error and at just 4,500kcal per person per day, they fed themselves short of 3,000. Each man lost a whopping 25kg of body weight (fat and muscle) by the time they arrived at the Pole.
Ben and Tarka have food and technology on their side, Vitamin C, Velcro, Satellite Phones, their journey is being tracked by Intel - they're bandwidth is greater than anyone has ever had in Antartica which allows them to send back high-resolution videos and images.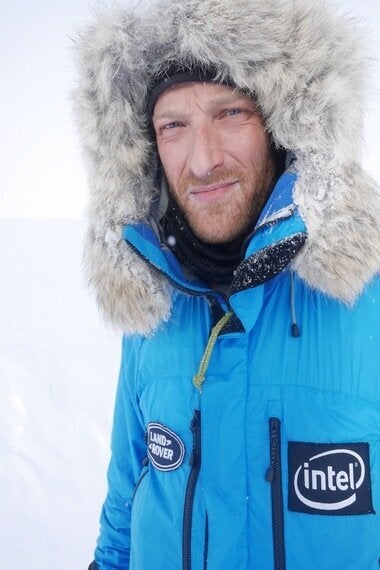 As I write, Ben and Tarka are on day 61 with 970 miles to go, the wind chill factor is -40 and the actual temperature is -27. All this seems unfathomable to me, them on the bottom of the world, me wrapping presents in West London with the heating on max.
Both men have 110 days worth of food and each day they'll consume 5,811.5 calories each (639,265 calories for the entire trip) which weighs in at 242kg of food - taking up most of the sled space. It's vital that they stick to the rations. Ben tells me "We calculated the amount of food we would need before we left and split it into 110 days worth of equal rations. What's contained in each daily ration is the perfect balance nutritionally for a day on the ice but more importantly, we're carrying food for the full journey and can't over-consume now as that would put us at risk of shortage further down the line. We also don't need to. What we have daily is repetitive but it's enough to stop our stomach's rumbling."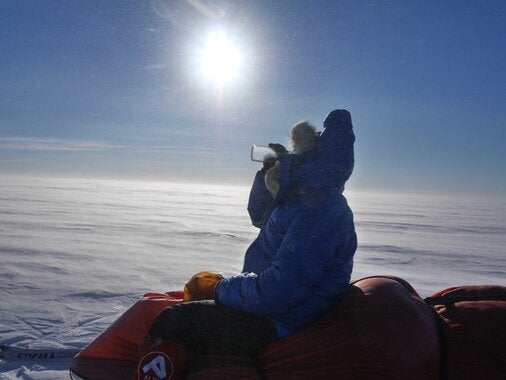 So how has the food improved since Scott's day? "The food we're eating now would be unrecognisable to Scott and his men when they set out on the Terra Nova expedition more than a century ago." Ben goes on to say that "In contrast to the Pemmican and biscuits Scott would have had we've spent many years customising a diet that provides us with enough calories to keep us fuelled and includes the vitamins we need to prevent debilitating illnesses such as scurvy." Pemmican was a Scott team staple - the ground meat mixed with fat and biscuits by Huntley and Palmers were made into a stew known as hoosh - often studded with arrowroot and raisins to add some depth of flavour and variety.
A far cry from Ben's favourite meal of ribeye steak. So what does he crave? "Fresh vegetables. We don't have any form of fresh vegetables or salad out here and I can't wait for my first portion when I'm back! It's really the crispy, fresh goodness you miss from fruit and veg".
I was hoping when I asked what he'd be eating on Christmas Day that they'd be chowing down on a customised freeze-dried roast turkey dinner but sadly not. "It will be exactly the same as any other day. Although I have got Tarka a teabag as a Christmas present (he doesn't know yet) - it sounds small but when you haven't had a cup of tea for almost two months it's a real treat."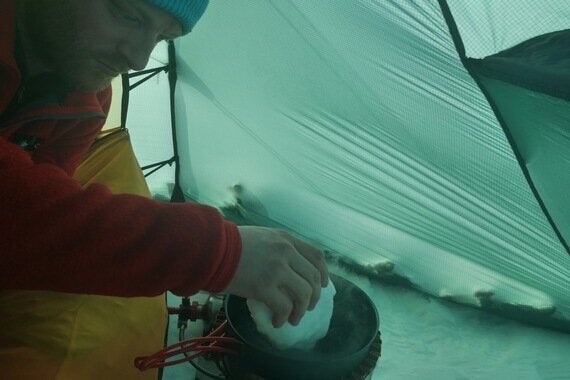 So raise a glass to Ben and Tarka as you sit down to tuck into your Christmas Dinner - these two chaps are incredible human beings. You can follow their expedition and read about their adventures via Ben's blog which is live from Antarctica and you can follow him on YouTube and Twitter too.