Last August I began to write a book called "How To Make £1 Million In 9 Months" about my attempt to make £1 million in the space of 9 months; the idea was to see if it was possible to become a millionaire by the time of my 30th birthday and what would happen if I tried to do it.
So far I've attempted a Kickstarter campaign which generated a total of £27 (I'm proud of every pound) which was unfortunately well below the goal of £50,000 which meant I received nothing.
I released a game on the Android Play Store called Smartphone Wars which I can confidently say was the best smartphone business simulation game on the Play Store, I can also confidently say it was the only smartphone business simulation on the Play Store. Smartphone Wars sold a total of 3 units (I'm proud of every unit) in the time it was available.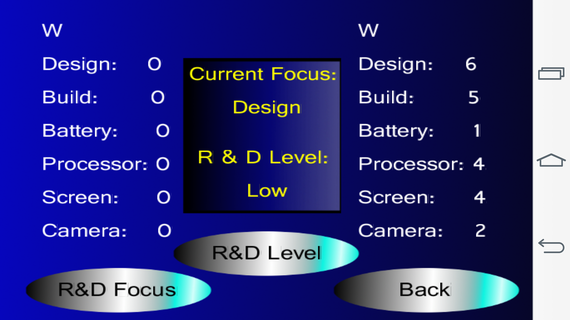 Image: Richard Batt
I then attempted offering Smartphone Wars for free on Kongregate and making big money on their ad revenue sharing, to date I've made £1.54 (I'm sure I don't have to tell you how proud I am of every penny).
I then attempted writing articles for people on Fiverr® which, if you haven't heard of it, is a website where you offer to sell your services for the bargain basement price of $5. I sold a grand total of 2 articles in the space of 2 months so after Fiverr® took $2 off me for their fees I made a grand total of $8 or £5.28 (nice to know that my talent is a valuable commodity!).
I also tried offering my services to Simon Cowell as a backup judge on the X Factor. Since I am a professional wrestler with a pop star character who lip syncs all of my songs I thought that I'd be a perfect fit for his show which features Cheryl Cole who is a real life pop star who often lip syncs all of her songs. I thought was a very kind thing for me to do considering how busy I was during the last few months of last year but when Mel B called in sick Simon turned to Tulisa instead, I think Simon must have lost my number because otherwise I'm certain I'd have got the call.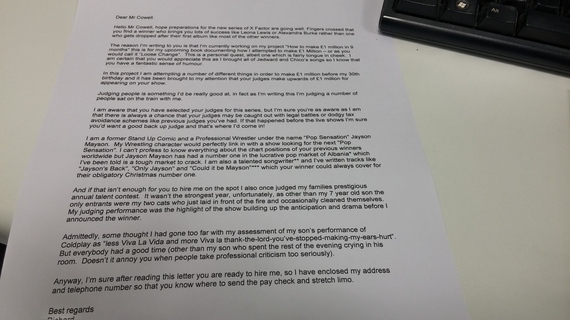 Image: Richard Batt
My next attempt was to use the most prolific millionaire maker in the UK ever since 1996, the Lotto. I followed some of the most popular ways of winning the lottery such as lucky numbers, important birthdays and the most regularly drawn numbers. Over the course of a month I made a grand total of minus £16... which made a big dent in my ambitions to become a millionaire.
I then attempted to get a trial at a football club, namely the club at the very bottom of the Football League, Hartlepool United. I chose that club for a number of reasons: firstly, because I haven't played football at any level for about 15 years so they were probably my only hope and secondly, because I'd only have to travel about 30 minutes on the train to get to training! Unfortunately they said no... which makes me less sympathetic towards them if they do get relegated this season!
Since then I've been kind of out of ideas, I tried following the Katie Hopkins route of being controversial on Twitter but that only served to lose me a few followers and gain me extra hate mail!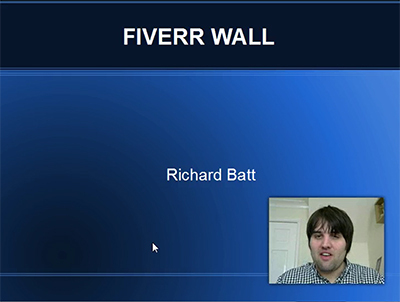 Image: Richard Batt
But I've started a new one today, inspired by Alex Tew's million dollar homepage where Tew decided to sell 1 million pixels on his home page for $1 each in 2005 so that he could pay his own way through university without taking loans. He sold out every single pixel (wow). Of course, I couldn't copy the exact idea from him (that wouldn't be cricket... it'd be some other, less sophisticated, sport like Robot Wars) so I decided to head back onto Fiverr® and offer 2 separate "Fiverr® Walls" one for sellers and one for the businesses who buy from them! I'm offering a 75 x 75 section of the page for $5, the idea is to show off all the wide range of creative services being offered on the website and the businesses who buy from them.
I've got one buyer on the buyers page already which is someone who offers an ebook called "The Mirena Diet" and it is a book which is looking to help women who have recently had the Miirena IUD removed.
If you want to join her on the buyers or sellers page then head over to my page on Fiverr® today!
So,will it be successful? Who knows! It will either be an incredible success or my campaign will drop into the minus figures and I'll be renaming my book "How To Get Into Debt In 9 Months"