Mental illness is the biggest single cause of misery in our society - bigger than poverty or unemployment. So it is immensely encouraging that at this election, for the first time ever, each party had a specific policy on mental health.
But the challenge is enormous. Over 6 million adults suffer from depression or crippling anxiety disorders like OCD or PTSD. But only a quarter of them are in treatment. Their condition is more disabling than angina, asthma, arthritis or diabetes. Most of the latter are in treatment, but most of those with depression or anxiety disorders are not. Even among the million who are on ESA only a half were being treated. There is massive excess demand for mental healthcare and it is a major job of the next Parliament to address this.
But can we afford it? We can. As we show in Thrive, it would pay for itself twice over - in savings in benefits and savings on physical healthcare. It is not only DWP that would gain. Those who commission NHS services (the Clinical Commissioning Groups) would also gain, because there is ample evidence that, after modern evidence-based psychological therapy, patients demand at least 20% less physical healthcare.
So the centrepiece for improving mental services should be the programme for Improving Access to Psychological Therapies. This programme, described as "world-beating" by the journal Nature, now sees only 15% of the 6 million people suffering from depression and anxiety disorders. This needs to increase to 25% by 2020. Similarly Child and Adolescent Mental Health Services (CAMHS) see only a quarter of the 1 million children in mental distress. This needs to rise to 33%. Both these numbers (25% and 33%) are crucial in our national effort to eradicate misery. They need to appear prominently in the Comprehensive Spending Review. And people on ESA with depression or anxiety disorders should be automatically referred to IAPT, without sanctions.
Most tragic of all is the plight of children in distress. As child mental health has deteriorated over time, it has become more and more difficult to get treatment. And the recent cuts in many areas have made things even worse. We need a major expansion of CAMHS, and the extra provision needs to be as easy to approach as possible, which means it should be mainly based in schools. Under existing funding arrangements, it is difficult to see any expansion happening unless the expenditure is ring-fenced.
The right national policy is only the beginning. There has also to be a major programme of training, nationally sponsored, and then proper commissioning of services at local level. We need to train at least 1,000 adult therapists a year and 500 child therapists. But then we need to ensure that services are commissioned locally to employ them. At present there is a huge variation in the availability of IAPT services between different Clinical Commissioning Groups, and huge variety in quality as measured by the proportion of patients who recover during treatment (from about 30% recovering to 70%). This is unacceptable and it is largely the fault of the commissioners, who often commission too few treatments and too few sessions per person. Citizens need to lobby their local commissioners when they are underperforming, and the data are now available to see how your local service is doing.
In 2012 Parliament enshrined in law the principle of parity of esteem between mental and physical health. This means that people must have the same access to NICE-recommended treatments whether their health problem is mental or physical. We are nowhere near that position now. Let this Parliament be the time when we get a lot nearer. We cannot allow the share of mental health in NHS expenditure to fall, as it did in the last Parliament. This time it has to rise. Basic human rights demand it and so does common sense.
1. Flèche, S. and Layard, R. (2015). 'Do more of those in misery suffer from poverty, unemployment or mental illness?', CEP Working paper.
2. 'Therapy deficit', Nature, 489, 27 September 2012, pp. 473-4.
3. Google "Common mental health disorders profiling tool", then press "Start - View Profile Data". Select the "CMHD Pathway" on the top tabs. For "area type", select "CCG" and then click "Compare areas". Then select your Commissioning region, your Area and your Indicator. (If you want, the resulting data can be ordered from high to low by pressing ▼ underneath Value.)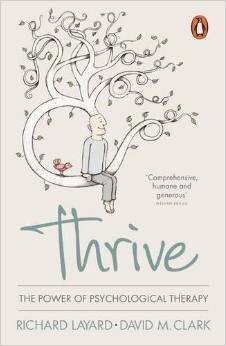 Richard Layard is a Labour peer and an adviser to IAPT. His book on mental health (with David M. Clark) has recently appeared as a Penguin paperback and is called Thrive: the power of psychological therapy. This article first appeared in The House magazine.
Related