Are you excited about Star Wars: The Force Awakens? Annoyed? Or even utterly indifferent? This research study wants to hear YOUR views.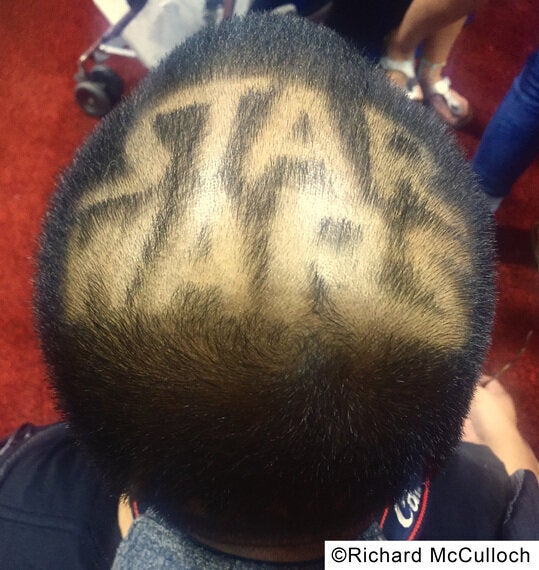 A Star Wars fan at Disney's D23 Expo, Anaheim, August 2015
'There has been an awakening. Have you felt it?'
We first heard these words last November, at the beginning of the very first teaser trailer for Star Wars: The Force Awakens. But even then, the line seemed to be about more than just The Force, or a clue to the plot of the film.
Disney's purchase of Lucasfilm in 2012 also came with the unexpected announcement that a brand new slate of Star Wars movies was on its way; after a ten-year absence, the franchise itself would be 're-awakened'.
Now, here we all are, just days away from the release of what is surely one of the most eagerly anticipated films of all time.
Certainly, for some people, Star Wars is the single most important piece of pop culture of their entire lives - a set of stories and characters that has played a huge role in their personal, social, and maybe even professional development. To them, the release of The Force Awakens is clearly massive. Death Star massive.
But what about audiences who think Star Wars is just a collection of entertaining films, or a passing distraction? What about those who don't actually like the franchise at all? And what of the many, many people whose feelings lie somewhere in the middle?
Regardless of which of these camps you fall into - whether you love Star Wars, hate it, or are utterly indifferent - I am part of a team of audience researchers that wants to hear YOUR views.
The World Star Wars Project is a five-year academic study on Star Wars in the Disney era, the first phase of which is an online audience questionnaire on The Force Awakens.
What do we want to find out? We want to hear your thoughts on Star Wars in general, but also what you know, think and feel about The Force Awakens. Yes, that's right - before you have actually seen it, and before it has even been released!
We want to hear your reasons for wanting to see (or avoid) the film, what you want the movie to be like, and whether or not you have found it important to follow all the news and debates about it over recent months.
Really, we want to find out lots of things, but all of them are about how different audiences are preparing themselves for what is destined to be the biggest box office hit of 2015, maybe even one of the biggest of all time.
These questions go way beyond Star Wars. Hollywood studios now routinely spend tens of millions of dollars building hype around their biggest releases, so we think that expectation and anticipation are becoming an increasingly important part of how people encounter and respond to films.
We know that Star Wars audiences (and film audiences more generally) are far more diverse than the current media frenzy suggests. But, in order to understand why some people care about The Force Awakens so much more than others, we really need your help.
Then, please take a minute to share the website (www.WorldStarWars.net) on social media, and on any mailing lists you have access to. Urge your friends, family members and work colleagues to fill it in and pass it along themselves. Every single response we receive matters!
This project currently has no funding, so for now at least, we are doing this entirely off our own backs. Quite simply, we are all absolutely fascinated by what a huge 'event' The Force Awakens has become, and only with your help can we amass the number of responses we need to understand its importance to different audiences.