Imagine that tonight you didn't have a home to go to and were forced to sleep rough. It's a pretty terrible proposition. But imagine having to battle the cold winter weather at the same time. Sadly, this is the reality for all too many people in this country.
Government figures suggest that at least 2,300 people will be forced to spend the night on the streets this evening.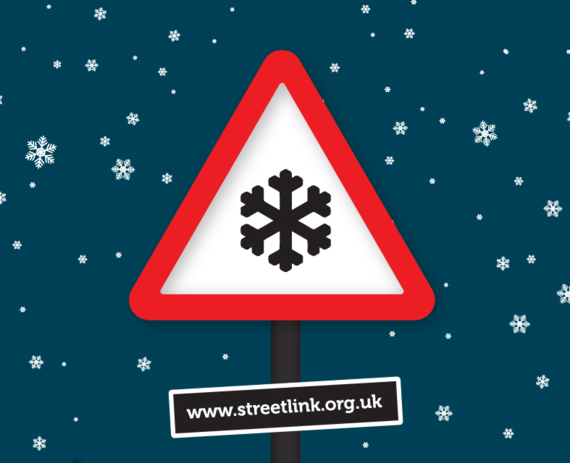 What would you do if you saw a person you were concerned was sleeping rough? Would you approach them and offer to help in some way? What help could you actually give them?
If you've thought twice about not walking on by, you're certainly not alone. According to Homeless Link research, nearly half of all adults feel guilty when they see someone sleeping rough - but don't know the best way to help.
That's one of the problems StreetLink aims to help tackle, offering a practical way to act when you are concerned about someone sleeping rough.
One year ago, I blogged about the launch of StreetLink, a website, app and 24 hour telephone line which lets you tell your local authority about a rough sleeper you're worried about. Once your alert has been sent to local services, StreetLink will follow it up to see what happened as a result of your alert. Moreover, you'll get an update as well if you want one.
You might wonder why such a service is needed. Well, evidence suggests that around half of people who end up sleeping rough, don't seek help before the streets. And, because rough sleeping is a hidden problem, an individual may remain unknown to local services. But, if you sleep rough, you will be seen by someone who could make all the difference by alerting StreetLink.
The service is easy to use and five minutes of your time could change someone's life. Best of all, we know that it works. In just 12 months, the public have sent nearly 11,000 alerts via StreetLink, resulting in more than 4,000 individuals being connected with local services.
The initiative is also engaging a whole new section of society, with around half of people who use StreetLink telling us that they have never helped a rough sleeper before. This is an excellent example of new technology making a difference - in a way that matters.
Sleeping rough is dangerous and very bad for your health. We believe we need to do everything we can to get someone sleeping rough off the streets as soon as possible.
As winter sets in and freezing temperatures are forecast, now more than ever, it's crucial that people use StreetLink to help local services bring in more people from the cold. You can call StreetLink on 0300 500 0914. Please save the number in your phone. That way, if you see someone sleeping rough this winter, you really will know one practical way in which you can help.
Related