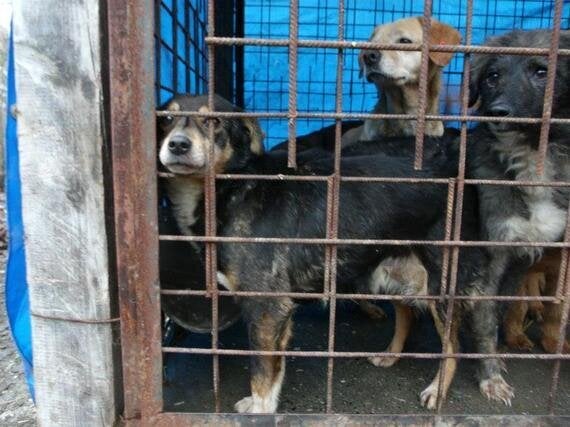 "Animals were killed near the police station in Kalinovik and carcasses of animals killed were not removed even a few hours after the commission of the offense."
This is just one of many horrific incidents reported by animal welfare groups throughout Bosnia.
The plight of Bosnia's stray dogs is much neglected in a country made one of the poorest in Europe by its infamous levels of corruption. The Bosnian capital has more than 12,000 abandoned dogs, but figures for the entire country are unknown. The problem arose due to the heavy conflict between 1992-1995. During the Serbian aggression on Bosnia and Herzegovina, Sarajevo was under siege. People were exposed to snipers, artillery, freezing temperatures, hunger and were heavily reliant on international aid. Dog owners had no food for themselves and were forced to abandon their pets. The fittest survived on the streets.
"In 2009, the Bosnian government passed a law - which is a prerequisite for Bosnia & Herzegovina's EU membership - that protects straying animals by prohibiting the catching (collecting) and brutal killing of the dogs by municipal workers. Since then, it is prohibited to kill stray animals, except in cases determined by a veterinarian as the only possible measure."
The law was passed due to the sharp increase in the slaughter of dogs. Sadly, the law was never implemented properly, costing numerous canine lives. Bosnia is a divided country linked by a weak central government. This provided local authorities with carte blanche powers to develop their own version of the laws, even if it conflicted with a nationwide ban. With this came abuses of power and a high canine death rate.
Much like the situation in Romania, the local media in Bosnia commenced a barrage of negative publicity against canines as a precursor to their own copy-cat version of the cull law. This well recognised stepwise pattern of demonising dogs to kick start misguided parliamentary debates on cull laws will, no doubt, be copied by other countries, too. The statistically flawed report stated :-
"Stray dogs in Sarajevo and across Bosnia are becoming an increasingly serious threat after legislation on the wellbeing of animals approved three years ago led to an increase in their number. Health care centres in the capital alone have recorded 1,735 aggressions against people, the 'Dnevni avaz' daily reports, quoting the director of a local Emergency Room, Sena Sftic-Taljanovic. The doctor said on average three to four attacks are reported every day and 45 people have been treated for injuries in the first three weeks of the year. The paper criticized authorities for failing to solve the problem and said 745 people reported attacks in 2012, 30% more than the previous year."[Source]
The endemic corruption, organisational failures, and inability to uphold the 2009 law leading to this problem were never mentioned in the local media.
One 17000 strong petition to prevent the cull of dogs said,
"The state has almost no interest in a humane reduction of stray animals, the prices at the veterinary clinics for neutering are very high considering the standards and the high rate unemployment in Bosnia"
Matters have come to a head this month. Sandra Jensen, a determined and effective campaigner, wrote the details of the impending implementation of the "Kill Law" . In her 27,000+ signature petition, she wrote
"Animal abuse is rife in Bosnia Herzegovina and the problem of companion animal, particularly dog overpopulation has become a problem of epidemic proportions; there are no humane animal control programs in place and the corruption occurring at management level in many public dog 'shelters' means that shelters are part of the problem, with dogs left to starve or being "euthanised" by injections of bleach or clubbing. The general populace of this country views stray dogs and cats as nothing more than a vermin to be exterminated - or worse"
In 2009, campaigners wrote
"There is overwhelming evidence now being presented to a global audience that local authorities within B&H are both tolerating and authorising the illegal activities of continuous or periodical mass killing of Bosnian stray animals. According to reports, hundreds of dogs in Brcko District (BD), which include both owned and registered animals, have been caught and imprisoned, facing sentence of death, under very harsh conditions in an old, abandoned wood factory within the nearby village of Rahic. Legitimate animal welfare organisations are being denied access to further their investigations into these same atrocities" [ Serbian Voice]
Concerns were raised with the European Parliament [ Letter by Dijana Milosevic ] The letter described the unacceptable conditions and the plight of Bosnian stray dogs.
"Not only are the conditions entirely inhumane in most, if not all, state shelters, but it is common knowledge amongst Bosnian animal welfare activists that shelters are used to launder money from public budgets.Activists visited Hreša shelter in November 2013, but were not only prevented from taking a severely emaciated, suffering dog to veterinary care but were threatened by the shelter manager. Sources state money was stolen from Hreša shelter funds during financial pre-election manoeuvres. We have access to images from the state dog shelter in Banja Luka, the second largest city in Bosnia and Herzegovina. These images show dogs that were killed by injections of bleach and a dog killed by other dogs. Images from other state shelters show horrifically starving dogs and dog corpses left amongst living dogs"
This complex situation requires a robust, constructive, evidence-based approach. Clearly, the Bosnian Parliament's proposed killing law is neither evidence based nor is it supported by any animal welfare organisations, and is seriously misguided. They may be better advised to clean up their country's corruption instead using a short cut method to appease the media.