Another high street brand has jumped on the plus size bandwagon this week. Mango, the chic, Spanish powerhouse that fronts its campaigns with the likes of Kate Moss have launched their highly anticipated plus size line Violeta (or Vienneta as I rather inappropriately keep referring to it). With over 400 pieces in the collection I can seriously only doth my hat to them. Not only are they the only Spanish high street giant willing to accept that not everyone can shimmy a thigh into their straight size line but to go at the venture with such gusto is surely impressive? Granted this is primarily an online offer and I'm yet to see what the sizing is like but surely we should all be applauding the thought right?
Oh how very wrong - mere moments after I clicked on my laptop to checkout said collection, I found a barrage of articles that called the retailer out on starting the line from a size 12. Suggesting that anything over a 10 was 'big' or could indeed be considered 'plus size'.
So distraught were people at the mere idea that a 12 could be called something as offensive and damaging as plus that papers were filled with vitriol at the brand for such blatant irresponsibility.
Well I hate to break it to you but I'm not hugely disappointed, angry or shocked at Mango for this. After all the 'plus size' industry is full of conundrums forced upon us by the further absurdity of its straight size counterpart. Because in the fashion world it is quite simple, size 12 is considered plus. I'm not saying I agree with that fact (as you'll see further down - it really is just how it is right now).
Click on any of the major fashion agencies that have a plus size model board - or 'curve' - the term du jour, and you'll notice that they all have models that start from a dress size 12 to a 16/18.
With size 12 models a plenty - they are after all much easier to find and the ones preferred by brands looking to book a 'plus size model' / someone who reflects their consumer or readership more accurately. Using a size 12 as plus never feels quite as much of a leap for a brand, it's safer territory for all concerned and so we've trundled along in the fashion world being totally OK that size 12 girls sit happily on the plus board. On the occasion a brand wants to push the boat out and size up - they are quite happy to pad or photoshop girls to the right size (hence why most bigger plus size models never really have plus size faces).
Of course these girls are all just as immaculate and well proportioned as those that adorn the straight size board - in fact working with plus models leaves me with far more body envy than straight size models ever have. After all they have amazing curves, great body tone and gorgeous hair and skin (as one agent once told me - they keep their nutrients down - their words not mine).
But if you've ever met a plus model you'll never really notice anything particularly 'plus' about them, they simply just reflect a more 'realistic' or average look of a brands core consumer, or a magazines core readership, after all the average UK women is a size 16+.
So essentially the real problem is that the term plus size has become so distorted that no one really knows what it means anymore. Just last week there was a debate as to why plus size brands that do start at a size 18 show their range on a 'plus model' that is 3-4 sizes smaller than the actual collection and its consumer. Confusing right? So even the women buying it cant entirely envision themselves in the clothes and subsequently even the fashion side of plus isn't really that plus size.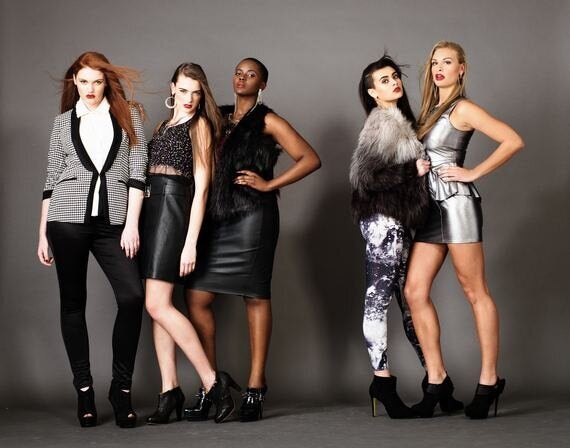 Photo by: Roberto Aguilar for SLiNK magazine
If the industry itself, model agents and clients are peddling size 12's as plus size then realistically, Mango is surely bang on? They're just following the trend - it's just that this is the first time the wider high street has noticed as plus size has suddenly infringed a cherished straight size fashion label.
It seems to me people are more offended by the fictional title of plus size than anything else. A title that has no true meaning as it now seems to cover everything from a size 12 to a 32.
Surely the feeling of deflation and self loathing is equally caused by the lack of size standardisation on our high streets that can mean you're a svelte size 10 in one place and a positively plus size size 14 in another is just as frustrating? This should be the discussion that the Violeta launch throws up, not just the great size 12 debate.
And please don't blame Mango alone for perpetuating or simply following the idea that a 12 is plus size - other plus size brands are right behind them - except escape a ticking off because they're not mass high street retailers. For example plus line, Marisota starts from a size 12 while SimplyBe and Evans both go from a 14 to a 32 quite a wide variety of sizes to be housed under one terminology.
When we launched SLiNK magazine we pitched it from a size 14+ as this is traditionally where fashion brands begin to tail off their sizing especially in designer brands. But the industry has changed phenomenally since we started and now a size 18 is readily available on the high street, altering the public perception of where straight size ends and plus begins.
Subsequently when we launched SLiNK boutique last year we concentrated our buying on a size 18+ market, as to us, this has become the new barrier / the new benchmark of where main, high street fashion ends (River Island, Primark, Wallis etc) and plus size really begins.
Yet we admit the market is yet to fully catch up and embrace the new line in the sand, as the old standards and ideas are still heavily ingrained. Brands are wary to use models over a 12/14 and consumers aren't quite ready to accept them either, making agencies less likely to scout them, leading to models that are smaller than the brands their promoting and padding themselves out to fit the clothes. It's just a big crazy cycle.
The change in the way plus size is viewed will take time, it's an evolving process that needs pressure from both within and outside the industry. But until we can standardise sizing and understand where the grade boundaries are and reflect this in manufacture and representation of bodies in the media we are stuck on a hamster wheel of size confusion. Mango aren't alone to blame in pitching a size 12 as plus - they're simply a cog in the media wheel and only the consumer can change this.