Frank Bruno is not a remarkable man-but he did some pretty remarkable things. He was not an exceptionally great fighter-but he was in some great fights! Throughout his career in the ring Frank had his share of ups and downs. His losses, he had 5 of them were followed inevitably by stinging criticism by his so called 'beloved English fans'. And yet in all of my travels within the world of boxing over 25 years, and with all of the boxers that I have met, including many great champions including Mike Tyson, Ricky Hatton, Sugar Ray Leonard, Marvin Hagler, Nigel Benn, Chris Eubank, Steve Collins, Richie Woodhall, Barry McGuigan, Naseem Hamed and many more that I can't recall right now, all of them without exception spoke of their admiration and respect for big Frank.
You see Frank could be criticized if you were that way inclined (ignorant) for many attributes concerning his boxing. His apparent stiffness in movement, his limited array of punches, his inability to hold on to an opponent when in trouble, his tendency to run out of steam in the later rounds-but no one, and I mean no one could accuse him of being a quitter! And you know, above all else, this is the key ingredient to becoming a champion. You can have natural talent coming out of your ears but without the ability to train hard consistently, do your roadwork, eat a good diet and take on good sparring and accept setbacks you won't make the Championship grade. I vividly recall Ray Leonard telling me one day about his older brother who was a better boxer than him! "I'm telling you Rob" he said, 'He had more natural talent than me, he could do several moves better than me and was quicker. But he was lazy. He wouldn't get out of bed and go running at 5a.m. He wouldn't drag himself off to the gym every day, but I did and I became Champ"
What a lesson for us all. Don't get me wrong, Frank was a well above average fighter, he won 40 of 45 fights and knocked out 38 of the 40 that he won giving him a 95% knockout rate of fights he won and a 84.44% rate overall. So he could bang!
He became a professional fighter in 1982 and racked up 21 consecutive wins. His first loss in 1984 came to American James 'Bone crusher' Smith. He challenged for World glory again in 1986 against Tim Witherspoon but lost again by stoppage in round 11. In 1989 he showed his tremendous courage once again by taking on Mike Tyson for the undisputed heavyweight crown. Round one was spectacular and having been over himself, big Frank ended up rocking Tyson (for the first time in Tyson's career) with a left hook toward the end of the round. Tyson recovered though and eventually beat Bruno with the referee stepping in during round five with Bruno taking heavy punishment. Throughout all this Frank was still attracting abuse, much from black people themselves who were calling Frank 'Uncle Tom' a nasty colloquialism meaning a black person who is eager to win the approval of white people by cooperating with them or 'coconut' meaning a man who is black outside but white inside. This was merely in light of Franks' excellent publicist working to enhance Frank's image for marketability. Frank appeared on Comic Relief and frequently on T.V. and in pantomime. His relationship with BBC Boxing commentator Harry Carpenter further improved Bruno's attraction to the mainstream and none boxing fans. So this kind of reverse racial slander and insulting was in real terms merely asinine and childish. Even trivial to most of us but to the rather sensitive Frank, this was scathing and wounding.
Nevertheless, Bruno ploughed on in the fight game, beating contenders to keep himself in the queue for a shot at the title. In 1993 he fought Britain's WBC Champion Lennox Lewis but was again vanquished this time being stopped in round seven. (He was up on points on all judges' cards until then) A fourth loss in World title honors looked like the end of the road for Frank-but it was not to be!
Fate stepped in when in September 1994, Oliver McCall knocked out Lennox Lewis in the second round in their title fight held at Wembley Arena, in the UK. Frank and McCall were old sparring buddies and, after outpointing Larry Holmes in his first defense McCall then chose to come to England to defend the WBC title against old pal/rival Bruno. On 2 September 1995, Bruno finally became the WBC world heavyweight champion by outpointing McCall over twelve rounds. Bruno went on to fight and lose again to Mike Tyson in his final fight but it somehow seemed unimportant to all of his real fans. We loved Frank because he took on all comers in order to get to the prize he so dearly wanted. (Amir Khan please take note!) He kept himself in great shape all year round and prepared for every fight he took as if it was a title shot. In this sense he was the ultimate professional. Only the most learned in the game understood this and so Big Frank; Laughed at often by his so-called 'Fans', but highly respected by his peers-which one would you prefer? Thanks for the great memories Frank. Us real fans loved you-and still do!
picture courtesy of BodyZone UAE Ltd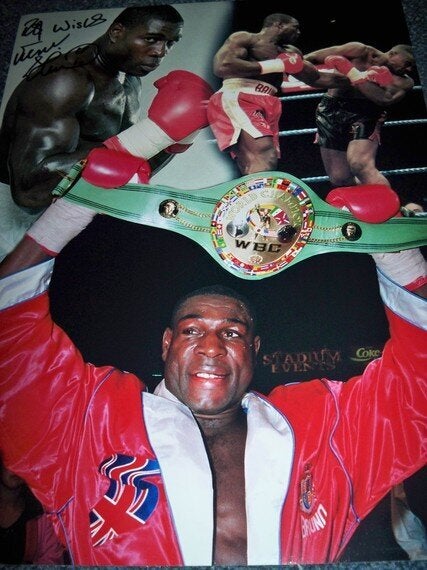 Related