That stupid club, coined famously by the late Kurt Cobain's mother, holds host to some of the world's most talented of earthly departed artists. The coincidences surrounding these individuals deaths are in some cases so similar, that it could have been as if such tortured self destructive lives run parallel. In 2011 this 27 club was introduced a new member to its talented hall of fallen star. This drug infused, out of love with your own talent, self destructive group of 27 year olds was added the extra statistic of Amy Winehouse.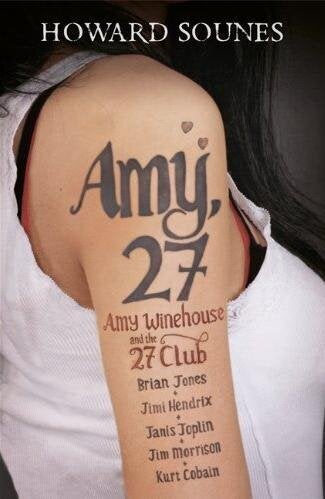 The last 5 years of Amy's life was a tragedy; a highly talented singer whom sung as if her vocal cords vibrated at a long past frequency from the black blues bars of Americas late 40's and early 50's. Amy was and still remains a sensation, loved by millions all over the world. But it was this love and success that appeared too hard to bare. Amy was an addict of true rock star proportions, sealing her fate on 23rd July 2011, sleeping in her Camden home, she died from alcohol poisoning at the age of 27.
Jimi Hendrix, Jim Morrison, Janis Joplin, Brain Jones and Kurt Cobain are all included as subjects in the celebrated biographer Howard Sounes latest venture, Amy 27. Sounes has a very impressive portfolio of rock stars to which he has been granted access to biopic, including both Paul McCartney and Bob Dylan. Sounes book that chronicles both Amy's life and career as well as the tragedy of her death, explores both the lives of these highly talented individuals and the coincidences that surround their otherworldly membership to that stupid club.
As much as one may have hoped, Sounes dissects the conspiracy theories and puts to bed the lunacy that surrounds these idols deaths. He also succeeds in producing a highly detailed, expertly researched book, with both personal family and close friend interviews, making it a tour de force private biography that belongs on both the shelves of bio fans and anyone that may have been touched by any of the included artists music.