The wide streets of Ealing might be typical of pleasant south-west London suburban living, but the residents of Gunnersbury Avenue have the most unlikely of neighbours. At number 73 sits a seven bedroom detached house which, as the remarkable embassy of Kim Jong-Un's totalitarian North Korea, houses the London mission of the most secretive nation on earth.
The blue, red and white flag of the Democratic People's Republic flies proud and tall above the slanted roof, but this humble semi-detached could hardly be further behind in the prestige stakes from the huge Mayfair churches of diplomacy some half an hour and eight Tube stops further along the Piccadilly line. Bought for £1.3 million in 2003 - barely scraping Ed Miliband's idea of a 'mansion' - it is entirely at odds with its owners' usual presentation of immense glory and power upon itself.
Last week the embassy opened its' doors to the public for the first time, allowing visitors to browse a small collection of North Korean paintings put together by David Heather, an art collector from Surrey who developed an interest in the country after visiting in 2002. He says that more than 2,000 people have seen the collection so far, and laughs that more people from the West had set foot on North Korean soil this week than had done so previously in the past three years. I ask him how straightforward it was to get the blessing of the North Korean authorities: "I got permission pretty soon, actually," he says. "It's all about personal relations."
Thorough the porch, and past the metal sign reading 'Residence & Office - Embassy of DPR Korea', an entrance room leads to the larger main room where the range of artworks are fixed against blue boards. It's a typical large living room - except, of course, for the customary portraits of Kim Il-Sung and Kim Jong-Il on the wall to the left, and the cabinet full of numerous hardback volumes of Kim Il-Sung Works on the right.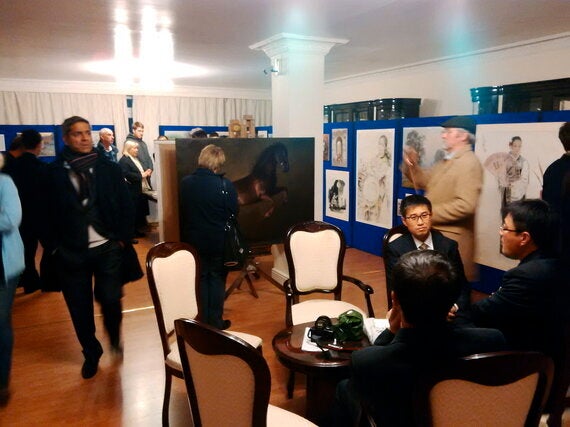 The North Korean artists, visiting Britain from the state-backed Mansudae Art Studio in Pyongyang, sit quietly in a circle in the middle of the room. It's part a reflection on their stiff reservedness, and part because they are noticeably tired from hours standing up and explaining their work. All wear jackets with patriotic lapel badges; some with their country's star and colours, others with the face of a certain Supreme Leader. They are happy to be photographed, but one pushes away a camera lens that gets too intrusive. Meanwhile a mix of curious locals, older museum-regulars and bookish social science students scan the paintings with polite, if somewhat false, enthusiasm.
Some of the art on display is skillful, but most of it is predictably uninspiring. It's difficult to see how this government-sponsored exhibition could be anything else. The thought that it could possibly provide a glimpse into the grim realism of life for normal North Koreans is pure fantasy. Instead, tool-wielding workers smile towards the distance; a lion sits proudly in the wild; two young girls crouching down on rocks wash fruit with clean water; a young woman stands demurely with a pink fan; and a frosty branch is set against a pale blue sky.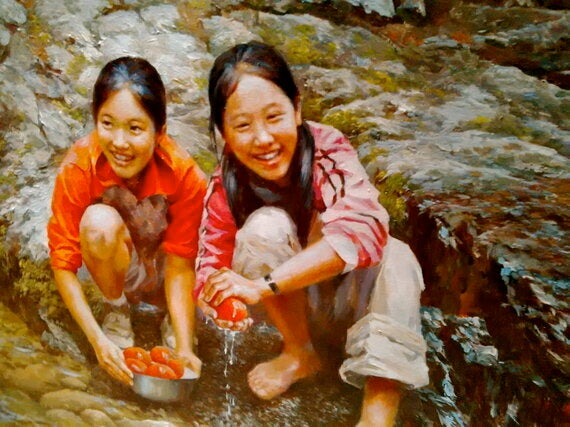 Between the two rooms is a split staircase that leads up to offices and bedrooms. It's cordoned off, of course, and the glare of a nearby official suggests it's well and truly out of bounds. One visitor, Yannick Naud, an investor from France, tells me he was stopped from taking a picture of a red sign visible on the landing upstairs: "Two or three officials approached me and said I was not allowed. They said it was 'very serious' and I must delete it immediately." He adds: "I visited with an open mind, but rather quickly I found the atmosphere within the embassy and the surroundings much more interesting than the art exhibition itself."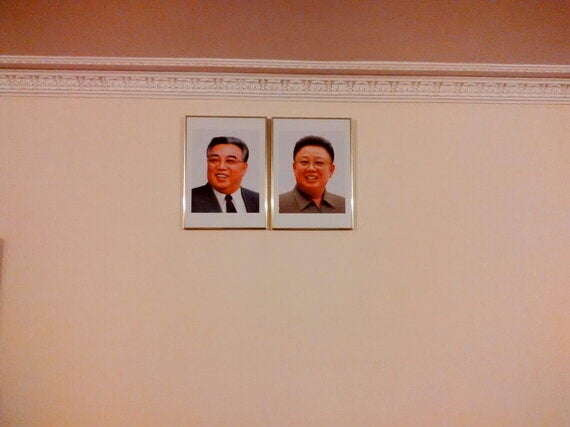 Back in the entrance room, David Heather looks on at a small painting of modern Pyongyang - complete with skyscrapers, cars and people with umbrellas. "It's what Pyongyang is like," he says. "They do have mobile phones."
He clearly hopes the exhibition will provide an alternative to the typical coverage of the country: ""It gives another perception and perspective to what people have in their minds already. The idea was to at least add another dimension to people's perceptions," he says. "It's just to try and stimulate people's thought processes."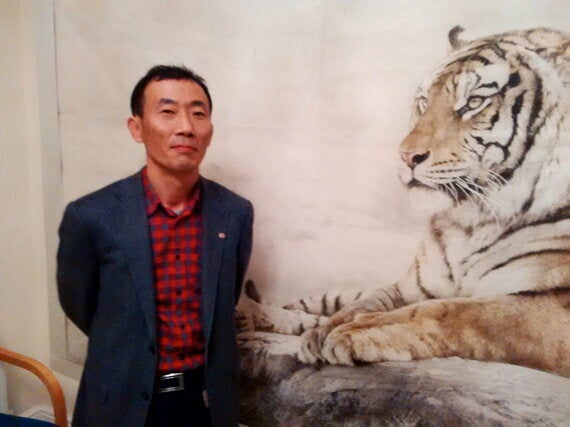 James Herbert, an international relations student, says it made him think twice: "It would be easy to interpret some of the art as communist propaganda," he says. "But although North Korea is depicted as a totalitarian state, all of these artists had had the opportunity to choose to go to North Korean schools of art in places like Pyongyang. It did make me wonder if there is more freedom in the country than we may think."
Atlanta Plowden, a communications student, is less convinced: "Many of the paintings were obvious propaganda for the DPRK, depicting smiling workers and happy children in colourful clothes," she says. "I think North Korea is bizarre but very interesting. I always wonder if the people there know the reality beyond their borders, as the accounts of defectors suggest that they do. I wouldn't call it a brainwashed nation, just a very uncertain one."
Popular in the Community