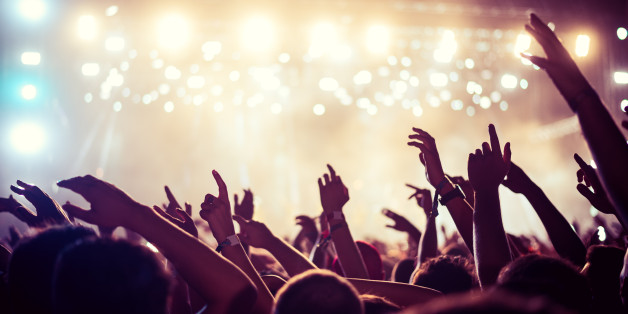 bernardbodo via Getty Images
When Bestival booked itself onto the Isle of Wight ferry in 2016 and moved to Dorset, we got a little tearful.
Some of us realised we were getting older, others regretted taking it for granted. Others said they knew it was coming for years.
Five minutes later a new festival at the same venue was announced - Eklectica at Robin Hill
After the lineup and ticket price were announced this week there was the expected flurry of comments - some positive, some negative. The event will have four 'stages' or similar venues, with a mixture of cover bands, performance artists, dance music in the woods and an African-themed section.
Some social media commentators were unimpressed, seemingly expecting a replacement Bestival and perhaps unhappy at the quirk of having Elton John and Stevie Wonder tribute acts on a site which once hosted the real thing.
I think we need to be more realistic.
Inaugural years at festivals are a big financial gamble and are always going to be on a modest scale. The first Bestival in 2004 had a couple of decent headliners but it was small scale with only a few thousand turning up on the Friday and Sunday to see The Bees and Zero 7. Saturday was more popular thanks to Fatboy Slim and Basement Jaxx and the whole thing was helped along with the backing of a BBC Radio 1 DJ whereas this hasn't yet got the same clout.
The return of the Isle of Wight Festival in 2002 was similar. The main event was only one day (Rock Island), the headliners were OK (Charlatans, Robert Plant) and ticket sales were not great (according to Wikipedia it attracted about 8000 and had a capacity of 22,000 which sounds about right. Most people I know got in free through various giveaways). I seem to remember it had local authority money to kick-start it and I'd be surprised if it made a profit.
Bestival and the Isle of Wight Festival both picked up steam and turned into world class events with crowds of up 50,000 - 60,000 on some years. The Isle of Wight Festival is still going strong with Rod Stewart and Arcade Fire headlining this year.
Of course, the organisers of Eklectica might not want to create another huge festival. Some of the Island's best festivals - V-Dub Island, Rhythmtree - are fairly small and they are affordable. Eklectica costs about one third of the Bestival ticket price (admittedly for fewer days) so it is more realistic to ask a family of four to come along.
I think some of the negative comments are from those who weren't expecting cover bands at something called Eklectica. I can see their point - I was a bit surprised too - but the concept is clearly to combine main stage mainstream acts with artsy performers and other entertainment around the site. The venue is a children's adventure park so you'll have an Abba tribute act performing alongside a toboggan run whilst a DJ plays some tunes in a Japanese themed woodland. You'll be able to ride on a Time Machine and then watch mime artists or a 'speed painter' in an amphitheatre. I'd consider that more eclectic than most festivals.
My main point is this though - anyone willing to invest in a new event which could be ruined by bad weather, poor ticket sales or first-year teething problems deserves credit for taking the risk. Without encouragement and local support I'd say they will be less inclined to build it up to something big.
Let's hope we are talking about Eklectica's launch in 10 years' time.
This blog first appeared on Isle of Wight Guru