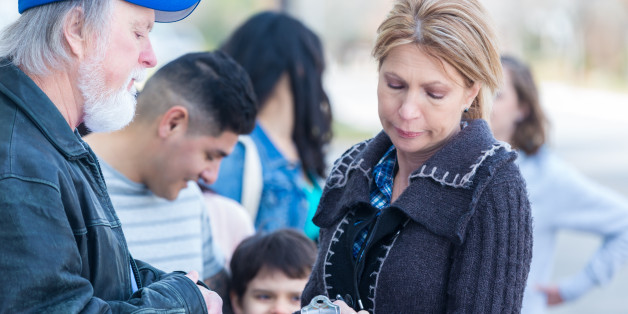 asiseeit via Getty Images
In Kind Direct celebrates its 20th anniversary this year - an anniversary it happens to share with The Trussell Trust, the UK's network of foodbanks. Food poverty has been in the papers a lot recently, with initiatives such as the Evening Standard's "Felix Project" helping to bring the topic closer to home for the general public. The dramatic growth in foodbank usage over recent years clearly illustrates the crucial role charities are playing in supporting families struggling to make ends meet.
A reality less known is that before people even resort to foodbanks many have stopped buying essential products such as nappies, toothpaste, tampons, razors, washing detergent and other hygiene items in order to put food on the table. When a personal crisis hits and money gets tighter, what can remain of self-esteem when basic essentials to keep a person and his or her family clean are not affordable?
In Kind Direct's latest Impact Report, released this week, focuses on those non-food everyday products that so many of us take for granted; products everyone needs to enjoy a fulfilling life. Receiving these products by those experiencing hygiene poverty can dramatically help. New work clothes can give a person that extra lift to go for an interview and accept a new job. Receiving make-up and baby products can boost self-esteem and give a newly arrived women at a shelter the confidence to believe she has made the right decision and maybe everything will work out after all.
Over two thirds (70%) of charities responding to In Kind Direct's survey either agreed or strongly agreed that receiving goods enabled them to provide essential support to people struggling to afford basic supplies while three quarters said that using In Kind Direct had helped to address low self-esteem, up from 65% on the previous year.
The world of difference having access to life's essentials makes is also demonstrated in the quote below provided by a beneficiary of one of In Kind Direct's charity partners:
Rucksana Begum, 32, who receives In Kind Direct products from her local charity in Tyneside, Crest UK, said; "I'm a new mum, not working, so I struggle to pay household bills. Not having to worry about buying sanitary towels, shaving gel and products, which I wouldn't be able to afford, is a big help. I feel better about myself and it helps my mental wellbeing. Nice products make me want to look after myself, so I really appreciate them. This means I can buy things I wouldn't normally be able to afford, so I can economise and mix buying baby food jars with homemade food. The household bills are there every month and we stick to a budget, but there is little left. This help means we have a bit more to spend on our children."
While Brits spend on average £44.30 per month on maintaining or improving their personal appearance, as revealed in an exclusive poll to 1,000 consumers commissioned by In Kind Direct last month, many simply couldn't afford everyday health and hygiene products if it wasn't for their local charities accessing the goods from In Kind Direct.
Individuals can make a real difference to people in crisis by urging their companies to donate the products they make or sell. With 20 years of experience coordinating the administrative and logistical complexity of product giving, In Kind Direct provides the scale and infrastructure to accept donations of any size or type. Retailers and manufacturers wishing to donate their surplus, slight seconds, samples or new products to grassroots charities can do so with confidence they will reach those who need them most.