Christmas. What could be more enjoyable than getting the family together, having dinner, then crashing out in front of the TV?
However, for those featured in new movie Await Further Instructions, this will turn into a festive season none will forget... if any live to see the new year.
I'm on the East Yorkshire set, and the concept art, story, and the fact it features David Bradley (Harry Potter, The Strain, Game of Thrones) has me intrigued. The rest of the cast are also on good form; there are some stars in the making here.
No spoilers, but if you're a fan of 1980s sci-fi thrillers from David Cronenberg and John Carpenter, you may be hooked.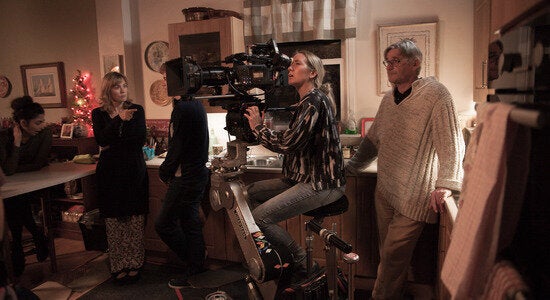 Filming Await Further Instructions - East Yorkshire, October 2015.
The last time I was at this studio it was a vast green screen for a version of Macbeth, so it's great to see actual physical props.
The mocked up home is so effective it's easy to forget i'm not in a real house. The living room, kitchen and upstairs areas are beautifully created. If it weren't for the tech crew, the illusion would be complete.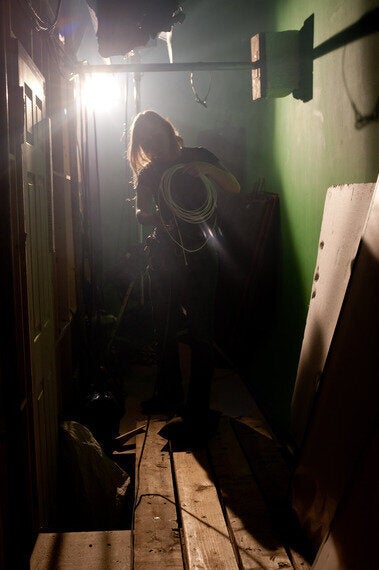 Backstage on Await Further Instructions - East Yorkshire, October 2015.
"Await Further Instructions is the story of a young man called Nick who is convinced by his girlfriend (Annji) that she needs to meet his family," explains producer Jack Tarling.
"He's been absent from the family for some time, but she says, 'Look, we're getting serious, they can't be that bad.'"
They arrive on Christmas Eve to meet the family, and are greeted by the highly strung mother Beth, and cold, overbearing father, Tony.
Other guests are Nick's unpleasant grandfather (David Bradley), Nick's sister and her fiance.
"As Nick has predicted, the first evening descends into these terrible arguments. Annji, his girlfriend, is British Asian, and there are undertones of xenophobia from his family."
The couple decide to sneak out next morning, but things don't quite go to plan.
They discover the doors and windows of the property have been sealed by a mysterious black substance.
"When the rest of the family awake, they turn on the TV and find a single line of text which says 'Stay indoors and await further instructions.'"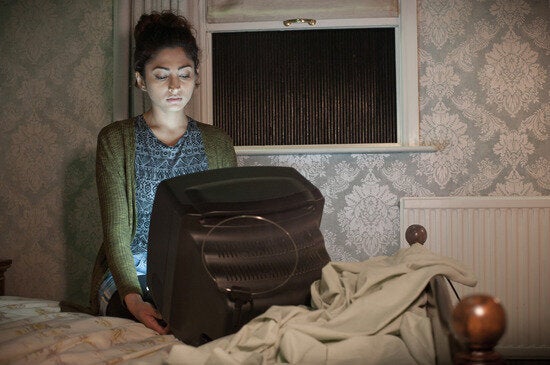 Actress Neerja Naik, East Yorkshire, October 2015.
During a break from filming, I chat to Abigail Cruttenden (The Theory of Everything), aka Beth.
"She is very much old-fashioned and looks after her husband and children; very home centric really. She sort of finds a voice in the end," laughs Abigail.
What attracted her to the part?
"There aren't very meaty roles for women my age, and the women are written really well. She's a proper, complicated, interesting character, and there aren't many of those around.
"You read a lot of scripts being an actor and this is one of those ones where you read it and think 'Oh this is really interesting'."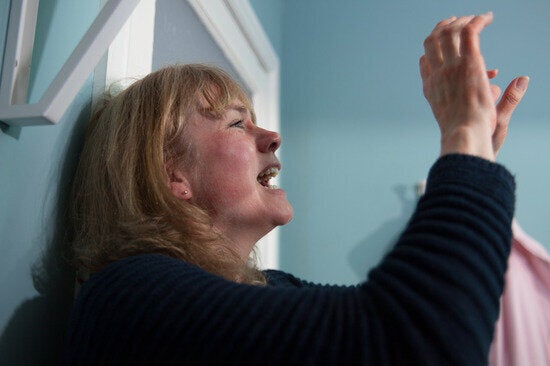 Actress Abigail Cruttenden, East Yorkshire, October 2015
"With the script you've got to keep it earthed, because we know we're going into the realms of sci-fi," explains Grant Masters, aka Tony. (He had to race back from a family holiday in Greece to make the movie).
Actress Holly Weston (Howl) was equally bowled over by the concept.
"As soon as I read the script I thought I really want to do this," she explains. The script really just sucked me in."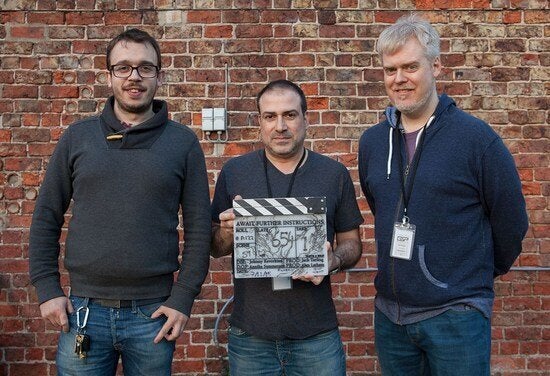 Await Further Instructions Producer Jack Tarling, Director Johnny Kevorkian and writer Gavin Williams, East Yorkshire, October 2015.
I watch a few minutes in the editing suite. The DP's work looks terrific, while David Bradley's performance helps give a dinner table scene a sense of familiarity.
I also see a more eye-watering scene which underlines the darker elements.
"We are just at the end of week three, and it's very intense. Intense in a good way," explains director Johnny Kevorkian after wrapping for the day.
Johnny's previous movie, acclaimed thriller The Disappeared, attracted positive word of mouth.
Though he has clearly found his own cinematic voice, like any film maker or fan, it's hard not to 'quote' from some of the masters.
"I love Hitchcock. I reference The Birds in this a lot," he explains. "It's the domestic becoming the unreal. Not supernatural like this, but it's more about how you can take a family which is dysfunctional and then put them into this scenario and see how they deal with it.
"Obviously Alien was another one that I love for this as well, and The Thing."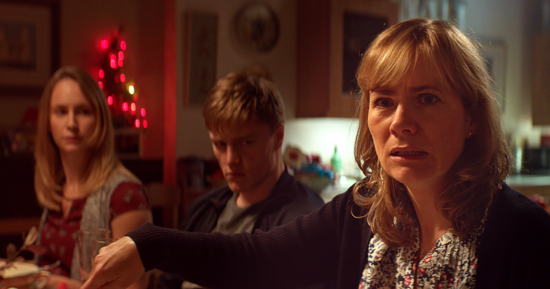 Filming Await Further Instructions - East Yorkshire, October 2015.
I've been tired of CG magic for some time now, so I am glad Await Further Instructions features mostly practical effects.
"We will have CG, but it's more enhancements," explains Johnny. "Everything effects-wise is going to be physical, so it's going to be there on the day."
As a good soundtrack plays an integral part in most great movies, I'm thrilled Johnny wants an orchestral score. That, of course, will have to wait until the film is all but finished. Just one more element of a diminishing 'to do' list for the AFI team.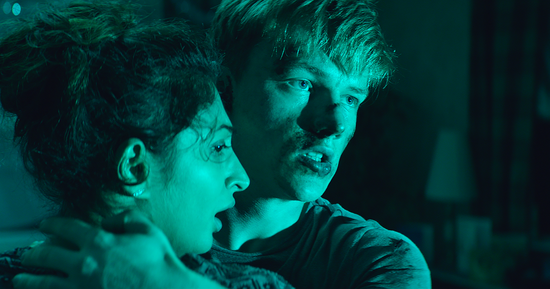 Filming Await Further Instructions - East Yorkshire, October 2015.
A week later, rather aptly on Hallowe'en, I'm back in AFI's video village. Stunning, nightmarish effects are being created on the main set a few feet away.
Thankfully it's as gloriously surreal and twisted as I'd hoped. I high five writer Gavin Williams and marvel at Grant Masters' extra mile performance. His turn alone should help make AFI a film you may never forget, no matter how hard you try.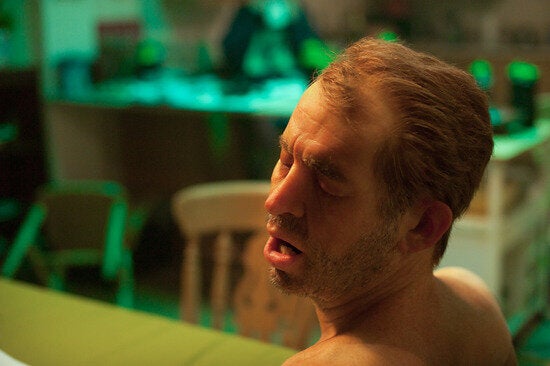 Grant Masters, destined for cult status, East Yorkshire, October 2015.
Grant, Johnny, Jack and backers Red Rock Entertainment, Premiere Pictures and Goldfinch Entertainment are cooking up something pretty special in Yorkshire.
I can't wait to see the finished result.
:: Thanks to the cast and crew of Await Further Instructions for the photos and help with this blog post.
Related