You might think logically that the Cannes film festival is all about films. It's not.
It's substantially about brands trying to hawk their names around the festival and ensure that they are associated with the most luxurious event of the year.
To be fair, even when the festival isn't on, luxury brands line the streets with their logos and boutiques (the major ones on La Croisette, and the lesser ones a block back on the Rue D'Antibes).
But when the May convention comes around, you can barely move without having a brand thrown in your face and pushed down your throat.
In my guestimation it was all started by the world famous red carpet 'Steps' as fashion and jewellery labels for years have fought great style wars to get the famous faces stuck on their latest designer dresses, shoes, and diamond necklaces.
I've seen first hand how these stars are moved from showroom to showroom (or rather hotel room) in the Martinez and how they try and woo the stars to choose their threads for their appearance in front of the world's press.
But then there's the hair and make up. L'Oreal have for as long as I've been her been associated with the festival.
If anyone saw the photos of Cheryl Cole in Cannes looking like her dress had soaked up the red carpet, she was there solely as a 'L'Oreal girl' and every night at 7pm the company wheel out three glamorous ladies to try and grab the limelight off the competition film's stars.
But if you can't get on the red carpet, you have to think of other methods of association, like a good old-fashioned party.
Every night there are free booze events, sometimes by the companies that supply the drinks like Belvedere Red or Stella Artois, or free booze events sponsored by fashion brands like Calvin Klein or Replay.
At both of these events celebrities are wheeled out in front of branding boards in the hope of free publicity and an association with the fashionable festival.
I've heard several brand publicists talk about their thrill about getting an A-list celebrity photographed with a mystery girl, knowing it will get them the publicity they crave and they can then say their job in Cannes is done.
There are other ways of getting exposure. Billboards are an old school method, but they're still present on the Croisette.
Hewlett Packard has been organising daily competitions for journalists to win tickets to walk up the steps with the stars - something they'd normally never be able to do. Now, that was a fun prize (thanks for that one!)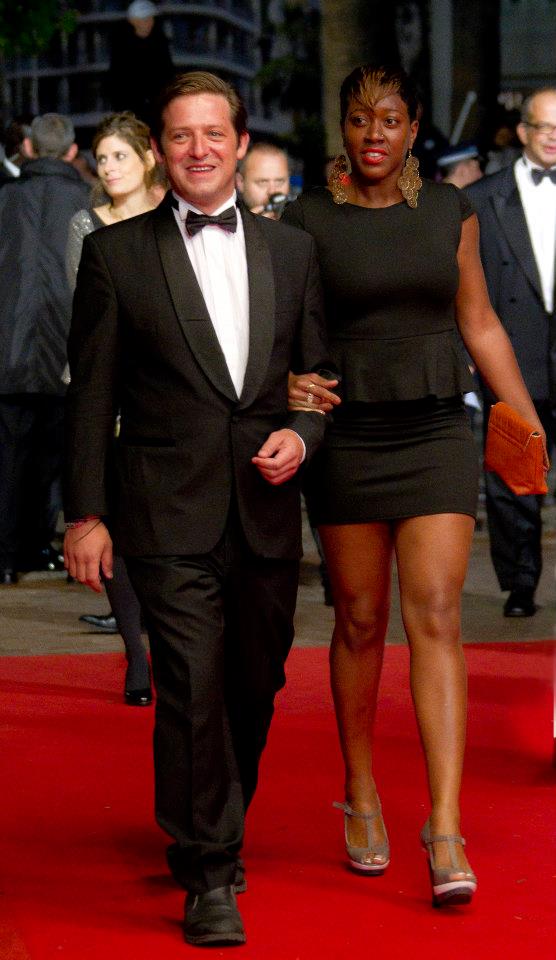 L-R: Rollo Ross and a glamorous friend on the Cannes red carpet this week
But an uncommon way is to try and align your brand with film makers.
Deutsches Telekom, a German telecommunications company, is actually creating something which sounds on paper like an amazing idea. Hats off to the ideas man behind this one.
They are producing an interactive road movie called Move On that will be shot over five weeks, where people across Europe can alter the location, plot points and even music of the film by sending in their ideas on-line.
It's already got its main star Mads Mikkelsen, the baddie from Casino Royale, and they've already kick started the interactivity by doing online and on-going auditions pan-Europe for the female lead. They haven't decided what she should look like but they want someone that exudes mystery, as the plot is, even to the director Asger Leth, a complete mystery.
One of the brands you maybe would least expect to try for Cannes luxury alignment is Electrolux, who's erected a huge dining room bang slap in the middle of the festival right by the Steps.
They've gone for a completely different tack, by essentially taking over the catering for the official side of the festival - and by doing so they can promote their kitchen products.
They are working with Michelin-starred chefs not only to create amazing banquets you've never tasted before (who knew cucumber and white chocolate would go so well together?) but also to get feedback on their appliances by these culinary geniuses so they can make their kitchen products even better for chefs and consumers alike.
"The angle and the strength we have is that the story is unique and is adding to the festival," explained Tom Astin, the PR Manager from the Swedish company over a rather brilliant lunch. "It's not just the films but there are so many things going on here and people need to eat every day and we're here to make the best stuff."
I'm currently sitting in the American Pavilion where I can see just at a glance six major brand boards and that's without turning my head.
Festival goers always say that when they return back to their homes, they need time to decompress. This year, I feel I also need time to be debrand.