As blood cancer charity ACLT (African Caribbean Leukaemia Trust) and NHS Blood and Transplant launch a joint campaign film, #ImOnIt highlights the importance of black and mixed race people signing up to become a stem cell, blood and organ donor. It's pertinent, we, individuals who are of ethnic origin, and living in the UK acknowledge we have a worrying problem. One which doesn't seem to be improving at a speediness, it really ought to be - the need for more Black African or Caribbean people to join the donor registers.
This year, ACLT celebrate their 20th anniversary. While I am certain the milestone will bring joy to its co-founders Beverley De-Gale OBE and Orin Lewis OBE, I know they won't be sat on their laurels. Despite their tremendous achievements to boost the stem cell (bone marrow) donor register from a mere 550 to over 70,000, the need for more ethnic minorities to join all three registers remains as important today as it was nearly 20 years ago.
When ACLT formed in 1996, they did so with the aim to increase the number of ethnic minorities on the UK stem cell and blood donation registers. The charity was founded as a result of co-founders Beverley and Orin receiving the devastating news their son Daniel De-Gale had been diagnosed with leukaemia in 1993 - he was just six years old. He touched the hearts of a nation as he overcame incredible odds of 1 in 250,000 to become the first black individual in the UK to receive a lifesaving stem cell transplant from an unrelated donor in 1999. Daniel beat his fight against leukaemia and lived a happy life alongside his family and friends for several years, however on 8 October, 2008, Daniel sadly passed away due to complications with his health.
ACLT's hard work to uphold Daniel's legacy over the last 20 years has resulted in the charity saving over 70 lives through boosting the UK stem cell register from a mere 550 black individuals to over 70,000 individuals of all ethnicities, with approx. 70% of those individuals are from an African and Caribbean background. ACLT has also recruited thousands of blood and organ donors, with the latter becoming a focus for the charity in 2010. Despite such significant statistics, the cold facts cannot be ignored. If you are from a black or mixed race background, your chances of finding an unrelated matched stem cell donor are 20% or lower, however for Caucasian patients who require a stem cell transplant, they have a 60-90% chance of finding a match.
The low number of black and mixed race people signed to the UK stem cell register is sadly a reoccurring pattern. For example, the number of black or mixed race individuals who are active blood donors across England and North Wales is less than 1%. There are also fewer black organ donors, like last year only 20 out of the 1,282 deceased donors in the UK who were from the black community. In contrast, there are currently around 600 black people waiting for an organ transplant with the vast majority of those in need of a kidney donor.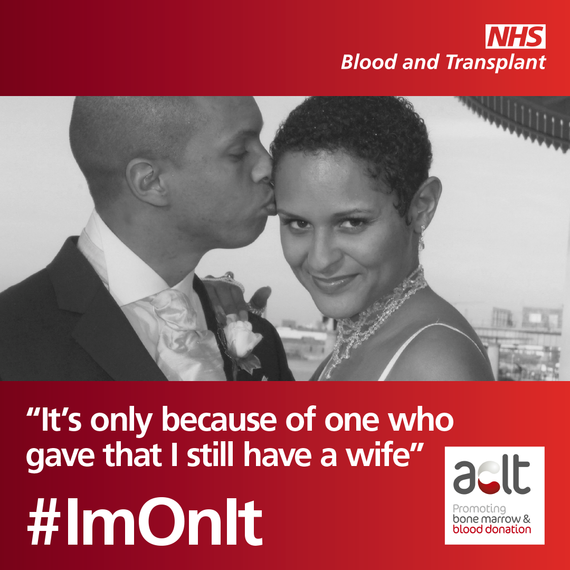 Credit: NHS Blood and Transplant / ACLT
Referring to the new ACLT and NHS Blood and Transplant campaign film #ImOnIt - it features the recital of a spoken word poem written by Mark Thompson; husband of leukaemia survivor Sarah Thompson. Through the poem, Mark talks about the 'ultimate gift of life' given to Sarah when she received a stem cell transplant ten years ago, this year.
The short piece is narrated by several well-known faces from the UK's music and entertainment industry; including Alesha Dixon (Britain's Got Talent), Richard Blackwood (Eastenders), Chizzy Akudolu (Holby City), Ashley Walters (Top Boy), Jovian Wade (Eastenders) and more.
During the video, the celebrities speak directly to the camera and call on people to say "I'm On It" and register to become a blood, organ, and stem cell donor.
While it is fantastic to see such personalities using their status for good, the real desire is for viewers to watch the campaign film and act on what they've heard. For viewers to say the three words, 'I'm On It' - to signify they have understood the message and they sign up to the donor registers.
#ImOnIt calls on black and mixed race individuals to visit blood.co.uk/ImOnIt to register to join the blood, organ and stem cell donor registers. Alternatively, call NHS Blood and Transplant on 0300 123 23 23, quoting codes R20 when registering for blood donation and 2209 for organ donation.
Alesha Dixon, in her support of the campaign, says:
"As a community we need to stand together and make a change to ensure anyone fighting an illness where a lifesaving donor is needed, has the chance to receive the 'gift of life.' If we all say #ImOnIt - this will take us closer to that becoming a reality."
For further information on how to join the stem cell, blood and organ donor registers, visit aclt.org
Related