Pop up restaurants have been an integral part of the London food scene for several years now and the trend sees no sign of abating. They haven't, however, been seen as much outside of the capital. Chateau Marmot, the brainchild of Theo Cooper and Danielle Treanor, has been taking the concept around the UK and beyond for the past two years, from Harrogate to Vauxhall via Leeds, York and Henley along the way. They've even gone international, starting 2013 with a stint in Melbourne.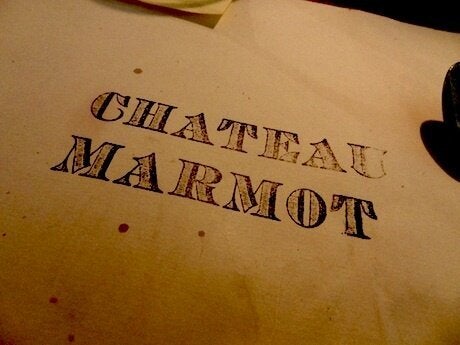 The latest Marmot installment, in London's Shadwell, was their most ambitious yet. Running for 10 days, it showcased the considerable talents of Los Angeles chef Laurent Queniox (or LQ), whose BISTRO LQ pop ups initially inspired Cooper and Treanor to bring the concept of fine dining minus the fuss, and in unexpected locations, to the UK. With each sitting completely sold out, it's clear that the pop up format is no passing fad.
"It's the age old thrill of the new as much as anything else" explains Theo when asked about pop ups' enduring appeal. "But I also think the relatively low financial barrier to entry means that people with great ideas get the chance to showcase them without needing to raise the huge amounts of capital needed to open a restaurant. That leads to more good, mould breaking stuff out there which engaged food lovers seek out. That's what I love about pop up culture in general, it allows what's good and what's new to thrive almost against the tide of big business, restaurant chains and so on."
Nevertheless the challenge of setting a temporary restaurant up shouldn't be sniffed at, and, enjoying a stunning 6 course tasting menu last week, it was clear that the operation was being run with almost military precision.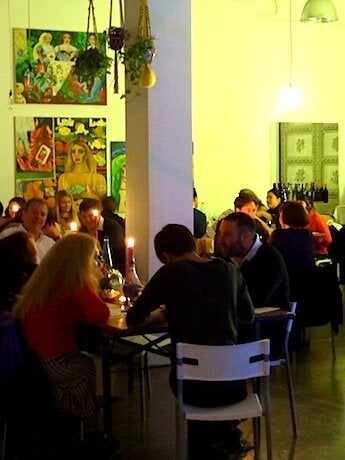 "Really the biggest challenges are logistical. Moving equipment, food and staff around London and the rest of the UK is challenging and can be very expensive" he says, almost playing down the fact that what he and his team have actually accomplished is to move an entire kitchen and restaurant into a photography studio for a week (and take it out when the studio is needed again during the day).
Logistics aside, differentiating oneself amongst an increasingly crowded food scene, particularly in the capital, would seem to be a particular challenge. It's something Chateau Marmot manages to do with relative ease. There are off-beat extras - video art projected onto the walls; live musicians playing throughout the evening. Theo, however, attributes Marmot's unique appeal primarily to "putting the quality of the food first above the 'experience' element."
"We like our spaces to look nice of course, and for the ambience to be right. But I think a lot of people focus too much on that and not enough on ground breaking, innovative, beautiful food. I'm always 100% confident the food we're offering is up there with the best in the UK at any price."
It's certainly innovative. The six courses we enjoyed on our evening included venison tartare with quail egg, chicken liver paté, basil seeds, yuzu kosho shiso gel and chocolate soil. Halibut sashimi was delicately paired with aji chile, root vegetable salad and a watercress and tarragon varnish. At times LQ's cooking reminded me of London's newly Michelin-starred Lima, fusing British ingredients with exotic South American peppers and syrups, but with added Japanese elements bringing a Californian fusion feel to the menu.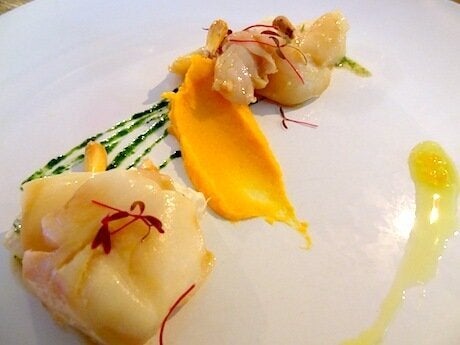 "We call it Modern British" says Cooper, perhaps a touch surprisingly. "I'm proud to be British and have a deep love for our countryside, its produce and producers so I always wanted to reflect that in what we do. The concept of Modern British gets stretched when we start throwing in Korean Miso, but when it's on a beautiful piece of Yorkshire beef cheek, served in York then that still counts for me. And modern Britain incorporates all those cultures anyway, or it should."
Next stop for Chateau Marmot is Bath, for a two night residency at the Bath Forum on the 12th and 13th December, and then a well earned break before opening a long term residency in London's Stoke Newington from late January. Apart from that? "More of the same" says Theo. "There are lots more areas we'd love to visit in 2014, and we'll be doing more with LQ and other international guest chefs, that whole experience has been very rewarding."
A successful pop up has an element of surprise, something the team behind Chateau Marmot has never forgotten. Combine that with food of the highest standard and a commitment to taking their restaurant outside the confines of the capital, around the UK and beyond, and you have a unique approach to the pop up experience. It looks like 2014 might just be the year of the Marmot.