This week over 2,000 junior doctors signed a letter asking First Lady Michelle Obama for help in their dispute. At first glance, many ask "what good will Mrs Obama becoming involved with how our country runs our National Health System achieve. It's not a matter for United States involvement". My response to this has been, "That is not what we are asking"
So what are we asking Michelle Obama to do? We are asking her, as an international advocate for equality and women's rights to advocate for female junior doctors.
The British and United States health care systems are wildly different. British and US citizens hold some different healthcare values and practice different healthcare delivery systems: namely universal health care system and a largely insurance based system respectively. Doctors training is different, working conditions and roles are distinct.
What is not distinct or different, what we share, what is a universal belief that transcends national borders is gender equality; and this is what we ask for help with.
Prime Minister David Cameron tells us gender parity is a priority for him. In his election manifesto he stated: "We want to see full, genuine gender equality. The gender pay gap is the lowest on record, but we want to reduce it further and will push to do so". He went a step further by co-chairing a UN commission on sustainable development. He presented the recommendations of his UN commission to the World at the UN Sustainable Development Goals Summit in 2015. In his speech he said: "we commit to a world where women and girls are treated equally to men and boys" and that "The UK will lead the way on this internationally". In his commission's recommendations he has detailed goals on gender equality in Goal 5:
5.1

End all forms of discrimination against all women and girls everywhere

5.4

Recognize and value unpaid care and domestic work through the provision of public services, infrastructure and social protection policies and the promotion of shared responsibility within the household and the family as nationally appropriate

5.c

Adopt and strengthen sound policies and enforceable legislation for the promotion of gender equality and the empowerment of all women and girls at all levels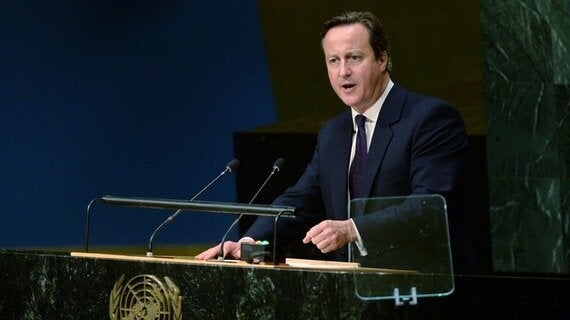 One year on from My Cameron's delivery of his commission and speech to the UN, the British Governments Equality Impact Assessment for the new junior doctor's contract was published. There was an outcry. It overtly admitted that women will be discriminated against, stating it "will disproportionately disadvantage those who need to arrange childcare (a disproportionate percentage of whom are women (80%))" and that apparently "any indirect adverse effect on women is a proportionate means of achieving a legitimate aim". Amongst other discriminatory changes, the government will also introduce a gender pay gap into one of the world's largest employers, despite Mr Cameron's promises to 'end the gender pay gap'.
Shortly after this was published I had a discussion with an expert on employment and equality from Geneva, with ties to the United Nations and the World Healthcare Organisation. She told me they, in these organisations, were at aghast at the UK governments junior doctor EIA. That the equality policy being adopted was overtly regressive and that quite frankly a country like the UK, who other developing nations look to guide their equality policy, should not be demonstrating such a backward step. 'David Cameron's actions will not be looked upon lightly by the United Nations and other member states if he goes ahead with this' she said.
I can't tell you this expert's name, as these organisations should comment openly on individual member states. What I can relay from our conversation is that better is expected of David Cameron, particularly when he co-chaired a commission in which he committed to positive steps toward gender parity. Particularly when he promised to close gender pay gaps in his manifesto pledges. Particularly when the UK should be setting examples for the world.
What sort of message do we send when we contravene our own UN commission? What sort of message do we send when we engage in high level hypocrisy? We asked Michelle Obama to get involved for one reason: this reason was echoed by the expert from the UN and WHO and by David Cameron himself in his speech to the UN in 2015: 'the world is watching' they said.
The world is watching Mr Cameron, I would like Michelle Obama, as a representative of a member state of the United Nations, to remind you of your promises.