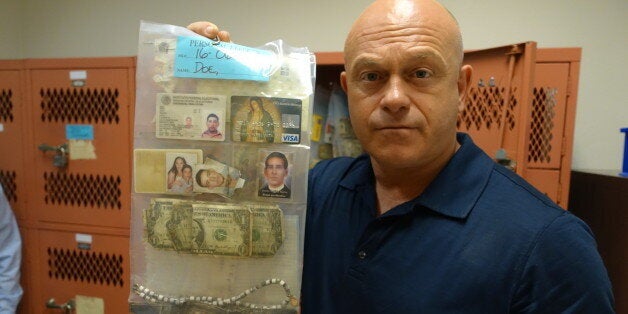 Against the backdrop of the fifteenth anniversary of 9/11, and questions of the Presidential candidates' health, the most powerful nation on earth will elect a new leader in November. The incoming President's tasks will be numerous: how to shape the economy, healing discontent around trade deals, and how to get Americans back to work, not to mention the direction of US foreign policy amid radically diverse world views. But just as it became the defining issue in our own referendum in June, immigration remains the single issue most Americans identify as important to how they vote.
The Republican candidate, Donald Trump, launched his campaign in a blaze of migrant condemnation, accusing Mexico of sending drug-dealers and rapists into the United States. His rhetoric might have got a bit more sophisticated but he still keeps pushing his proposal to build an 'impenetrable physical, tall, powerful, beautiful, southern border wall' 2,000 miles along the Mexican border (longer than the distance from London to Moscow) paid for by the Mexicans themselves. Added to this, Trump also plans to remove 11million illegal migrants currently living in the US.
As America's economy has become increasingly reliant on cheap manual labour, it is surely relevant that 65% of Americans believe that these 11million illegal immigrants should be allowed to become US citizens. It is estimated that illegal migrants make up 5% of the workforce and contributed more than $11.8billion in state and local taxes in 2012, even while they were living illegally in the country. At the same time, $18billion is spent every year in securing US borders. But how are these borders maintained, and what is being done to address these issues, which have become such a hot topic ahead of the Clinton/Trump face-off?
In May I went with the Extreme World team to the US/Mexican border to investigate the attitudes, views and motivations of the people involved in the issue, from those spending thousands of dollars and risking their lives to cross the border, to the smugglers and traffickers making millions from this massive business to the men and women who are paid to try and stop them.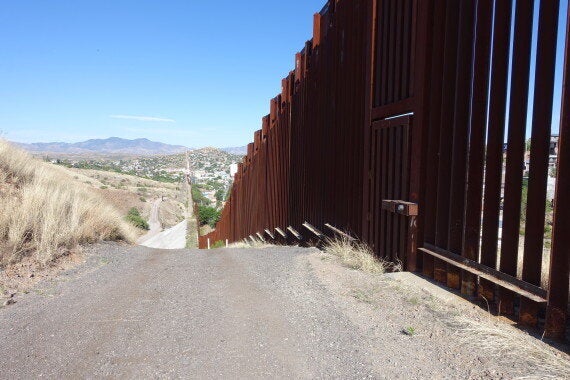 When we got there we found that increased security around some of the main border towns has forced many migrants to take more physically dangerous routes through remote stretches of border in the desert where temperatures reach 50 degrees Celsius and the journey can take days of walking. Though overall numbers of migrants are down, more and more of them are women and children and many still die along the way.
The business has become a lucrative side line for Mexican cartels formerly focused entirely on trafficking drugs who now make millions of dollars a year charging migrants a fee to be allowed to pass through the border areas they control. The atmosphere of fear and intimidation was palpable and everywhere we went we had to seek permission via intermediaries from the cartels. "They've been watching you since you were half an hour out of town," one people smuggler told me when I arranged a meeting at a local ice cream parlour, he explained to me how they have now had to become more ruthless than ever. Some are charging up to $1,000 per person, but fewer migrants than before are willing to brave the crossing. The infiltration of the drug cartels into the trafficking business has turned the migrants into nothing more than commodities as they dominate control over the roads leading up to the border, and must be paid off.
On top of that, although the increased security on the border is serving as a deterrent, we found that it has also resulted in trapping people inside the US who in the past might have come over for seasonal work and returned back to their home country to re-join their families. This has led, in turn, to a growing number of women and children making the perilous journey to follow their partners and fathers into the US.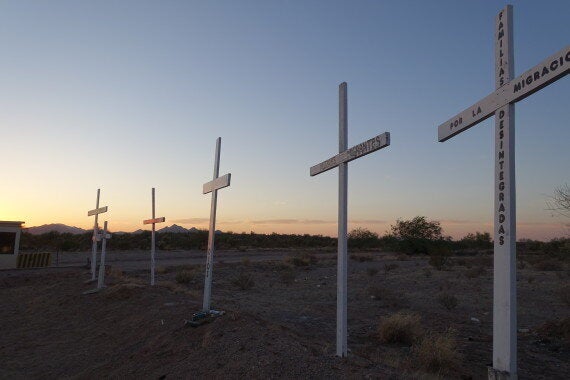 A local priest, Padre Priscilliano, in the town of Altar, Mexico, made a terrifying claim to us that 80% of women trying to get to the US will be raped or sexually assaulted. One of the women attempting the journey was asked how she felt about these odds and the dangers she faced; her sad answer was that she believed that her safety now fell into the hands of God.
Children too are now being used by cartels and traffickers as guides to show migrants across the border. Their youth allows traffickers to keep their workforce out of jail. An encounter with a boy of 12 drummed home the desperation of the situation: he did not appear shy or phased by his environment. Despite the obvious evidence to the contrary, he didn't seem to think there were many risks involved in the job at all. He also hadn't actually received payment from the traffickers for his services.
Heading back across the border to spend time with US border guards, we made an innocent mistake and drove our hire care down the wrong lane. US Immigration officials pounced. We were held in a cell for an hour and a half whilst they searched the car and kit. On the other side we caught up with a border patrol in action. We followed them as they played cat and mouse with groups of migrants hiding in the desert trying to outrun them. Some they caught, others slipped through the net. They found one young lad in the advanced stages of dehydration. He'd been abandoned by his people smuggler when he ran out of food and water. He was only too pleased to be met by a special patrol officer who treated him out there in the desert and almost certainly saved his life.
In recent years Mexico's rates of gang violence and organised crime has sharply increased and the government faces an ever-growing battle against staggering income inequality and poverty. Thousands risk their lives every year to fight for a chance of a new life for themselves or to provide for their families still living on the poverty line. How can a country that promotes itself as the land of the free suggest building a barrier to deny others the right for freedom from a life of fear?
Ross Kemp Extreme World continues on Sky1 at 9pm on Wednesday 14th September
Related