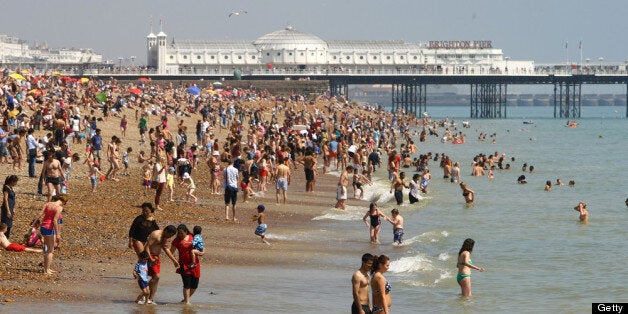 Many of us are enjoying the current heat wave and it looks like 2013 will be the warmest summer at least for the past 6 years. It has been great news for all the UK's sun-worshippers, who have been peeling off layers of clothing and heading off to the coast in their thousands.
This latest weather event is big news for UK retailers too, who right now are experiencing the hot weather's effect on consumer behaviour.
Convenience stores have been inundated with requests for BBQ items; Retail Week has reported that Sainsbury's have sold enough sausages last week to stretch from London to Alicante, shifting 1.2m packets. It has also covered the news that sales of fans and air coolers has increased by 340% with outdoor toys such as water games and paddling pools up 175%.
So whilst it's great news for cold drinks manufacturers and ice cream producers, in contrast, the picture's not so rosy for hot drinks brands and soup manufacturers...
Weather matters for UK retailers. It has a powerful impact on the purchase decision making process for consumers. At the same time, weather is increasingly volatile and unpredictable, and consequently can have both positive and negative impact on sales for retailers.
This current hot weather gives us an extreme example of how weather can affect our purchasing habits in a very short period of time. The mood and mind-set of consumers is completely different compared to just four weeks ago, when we were experiencing a very wet and grey period of weather. Retailers need the information to be able to adapt, plan and reflect these types of changes.
Our business is about our core science and data technologies, and about how we manage that data, analyse it, and present it to provide an accurate, trustworthy and insightful story to help consumers, and retailers, make a decision.
We use our data to help us understand patterns at the individual level - trends, market, competition, behaviour and interaction between people. Weather IS big data ... meteorology and weather is one of the biggest (and most volatile/dynamic) data sets in the world.
At TWC, we ingest many terabytes of weather data every day to produce even more - from weather forecasts for thousands of global locations daily, to weather-based data analytics that drive everything from the lead story on weather.co.uk, what ad should be delivered to a consumer on our iPhone app, whether an airline should cancel flights based on weather, or creating an accurate energy yield for a wind farm.
We have been working with our retail and commercial partners to help them plan with the help of our own weather data service, WeatherFX.
WeatherFX gives marketers the ability to make the most of the connection between location and the effect of weather conditions to influence consumer purchase. By overlaying sales information with weather data to create predictive analytical models, advertisers are able to deliver dynamic messaging and weather triggering capabilities on a hyper-local basis across web, mobile and tablet.
One example is our work with Costa's Ice Menu and Ribena's Tropical range. We helped them to activate adverts at 22 degrees and above, optimising the opportunity for the consumer's desire for a cold drink. We've also worked with McDonald's recently, branding backgrounds for its Fruit Smoothies and Iced Frappes, placing the product against a background of the current weather condition to give the product great contextual relevance.
These examples are based on products related to heat and summer. When the UK weather decides to change to cooler temperatures and brings a downpour of rain, WeatherFX will provide marketers with the ability to deliver targeted messaging; perhaps an increase in umbrella purchases will be reported.
One thing's for sure. This heat wave won't be the last significant weather event in the UK this year. Whatever the weather, the data behind it will be red hot for retailers.
Ross Webster, Managing Director, EMEA, The Weather Company International