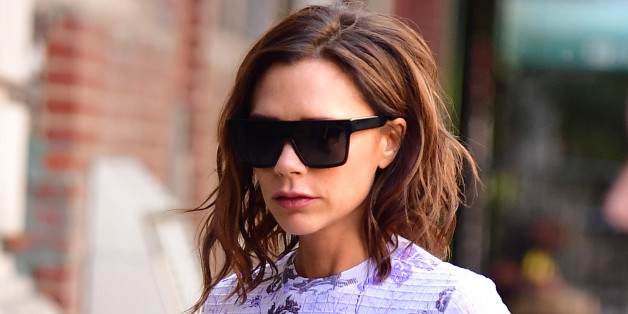 James Devaney via Getty Images
Victoria Beckham has come under fire once again for using "ultra-skinny" models, this time in her spring/summer 2017 catwalk show at New York Fashion Week on Sunday 11 September.
Daily Mail writer Sarah Vine accused the pop star-turned-designer of bringing back "anorexia chic", describing the models as "emaciated" and musing that the hair and makeup appeared "deliberately designed" to give the illusion of illness.
Vine's comments are almost identical to fellow Mail columnist Piers Morgan's, who called Beckham's models "painfully thin" and "painfully miserable" following her 2015 NYFW show.
Sad return of ultra-skinny (and sick looking) teen models | Victoria Beckham's NY S/S17 Show |Sarah Vine Daily Mail https://t.co/8xpDIlnVzV

— Sarah Inge Parker (@SarahIngeParker) September 12, 2016
Singled out in particular, is Dutch model Jessie Bloemendaal - whose modelling agency Women Management describe her as 5'11" with a 24 inch waist.
Vine was "horrified" by this, noting that 24 inches is "around the size of a eight-year-old girl's" (check a children's clothing size chart, and it's actually the measurement for ten-year-olds).
But young schoolgirls and adult women aren't the same shape. A 5'5" Marilyn Monroe had a 22 inch waist, this does not mean she was "emaciated".
What do you think of the models at Victoria Beckham's latest catwalk show? Attractive or too thin? pic.twitter.com/2VmHNuIXHD

— Radio Aire Breakfast (@airebreakfast) September 12, 2016
It's completely irresponsible to publicly insinuate someone is suffering from an eating disorder simply based on their appearance.
As Beckham herself put it, following the backlash to her models last year: "They're young, they're thin, but that doesn't mean they're ill."
There is no denying the pressure to be thin in the fashion industry, and ensuring models are encouraged to look after their health needs to be a priority.
But body-shaming is not the way to do it.
Instead of tearing women down for their appearance, we should be making steps towards positive change. Why not call attention to model Rosie Nelson's petition to parliament, requesting a set of health checks which would require models are to provide regular certificates from their doctor?
@victoriabeckham your models look ill, that's because they probably are, throwing up to wear your dresses , you should know better vic.

— Emma Mckean (@EmmaMckeanSG) September 7, 2016
It's clear that Beckham's models were all of slim build, as were 99% of the models at NYFW. Out of hundreds of designers showing at NYFW this season, only two - Christian Siriano and Byron Lars - have cast plus size women.
This lack of diversity on the catwalk is a huge problem. Yet, again, Vine's comments are nothing but reductive.
She states that the "unforgiving" crushed velvet and silk fabrics, dramatic cut outs and corsetting means that "no one over a size 12 could ever consider putting [the clothes] on".
Not content with simply skinny-shaming, she's also shamed women of all sizes.
Who says a size 16 woman wouldn't look badass in a crop top? It's this exact attitude that led to Tess Holliday's #effyourbeautystandards social media movement - which now has over 1.6 million posts from women tired of being told what to wear.
Vine asks Beckham to "spare a thought" for girls wrestling with body image demons, but scrutinising the appearance of other young women in the same breath is every bit as damaging.
SEE ALSO:

Victoria Beckham On 'Too Skinny' Models: 'It Doesn't Mean They're Ill'

Vogue Editor Claims 'Extremely Skinny' Models Don't Cause Eating Disorders

Models Take On Modelling Agencies In Row Over Pressure To Be Thin