Today we have our second 'premiere' event: Icelandic sushi with the Mayor of Reykjavik. The first premiere event was the minister's footbath, and the last - yet to happen - is pancakes with none other than the president himself.
I had heard the mayor, Jon Gnarr, is a bit special but I didn't realize just how well known or admired he is. One of his guests Markus, a city planner from Switzerland, had come to meet his hero having seen him in a documentary aptly named Gnarr at a film festival, as had some of the others.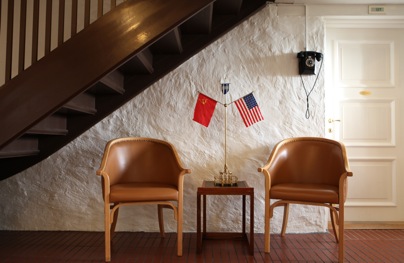 Jon Gnarr is one of Iceland's most famous comedians and an ex-punk rocker who ran for office on a series of nonsensical campaign promises, including bizarre things such as promising to give out free towels at swimming pools. His last pledge was to break every promise he had made and when he was surprisingly elected to office after the crash of 2008 he did exactly that. He is now rated as one of the most trusted politicians in Iceland.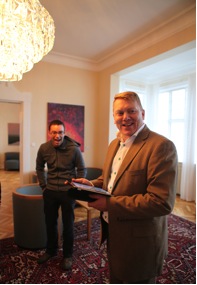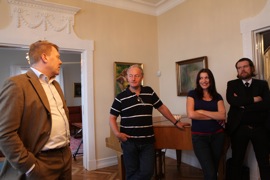 During the event Mayor Gnarr seemed to have his mind on other things as befits a busy politician, but he was brilliantly funny about his manifesto and campaign. He told us how at the next election he was going to whine and beg to be re-elected, cry on television pleading with Icelanders to re-elect him. Markus reiterated a good point made by Gnarr which sort of forms the basis for his campaign. Why can't politicians be more honest about the lies they tell? In fact why can't they just be more honest full stop.
Everyone sat down to sushi and I was ushered out by Gnarr's burly gatekeeper as he felt it would be impolite to film the mayor and his guest whilst they were eating. After they had finished I interviewed some of the diners who were recent Iceland converts. Adrienne Grierson thought Iceland was the best place on the planet and has gone so far as to move here permanently. I asked her what she liked about this strange little island and she immediately banged on about the people being so irreverent, unique, independent etc. She didn't mention the natural world once. I had to agree with her; Iceland may have brochures abounding with extreme activities but you can have just as good a time hanging out with the locals just picking mussels, or eating sushi or having a hot tub. That is, if they invite you. An invitation helps and this is what is so brilliant about the Inspired by Iceland campaign. You can mainline directly into pure Icelandic culture through facebook.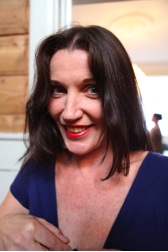 On the subject of sushi, I would like to mention that sushi from Icelandic fisheries is very sustainable because unlike the EU they manage their stocks sensibly. I spent a little bit of time making a film called The End of the Line which tells the story of what havoc we have wreaked upon the sea by over fishing and strangely enough when I searched 'Iceland sustainable fisheries' the first site that came up mentioned my film in the first sentence. Nice one! I have a copy of the film on DVD and plan to give it to the President.
We said goodbye to the mayor and his henchman and headed to our hotel to prepare for the weekend. I wanted to see a bit of the cool Iceland so the lovely Hera, from Promote Iceland, sent me to an art party. Here, blisteringly hip young things shuffled about on bare floor boards drinking some lethal punch, running their fingers through their tightly cropped hair as only young people can. The art was great and a crazy little band was playing in a corner, in a sort of performance art way. Suddenly you realize how much this place has to offer and that even with a tiny population of only three hundred thousand people and stuck out here in the middle of the North Atlantic they still manage to keep up with their more populous, well known neighbours in the culture stakes.