Whilst our director Rupert was out in Iceland capturing other people's experiences, we thought we'd capture his...
Day 1
I've arrived here in Iceland with what I consider a daunting task; to capture the spirit of a nation. This may not be exactly the brief, but this is what I am going to attempt to record. If I can get a sense of what Icelanders are really like, this will hopefully make for a good film.
I am here to film a series of unique 'Inspired by Iceland' events, whereby Icelanders from all walks of life throw their doors open to the world and allow visitors to sample a slice of real Icelandic life and hopefully in turn experience something that makes this country so special.
This morning I drove along a windswept peninsular for the first 'invitation' to meet with the Minister of Tourism, Energy and Industry for a footbath by the sea. I didn't realise what was so special about a footbath in driving rain until I felt the water. It was about 35 degrees Centigrade. This was a very pleasant contrast to the horizontal freezing rain hitting my face at about 30 miles an hour.
In an averaged-sized country, a portfolio as extensive as Toursim, Energy and Industry would most probably mean that the Minister would be far too busy to spare their time for events such as this, but here in Iceland, where the population is only 318,000, the footbath was given priority. Katrin Juliuspottir was as warm, charming and nonchalant as all government officials should be everywhere.
After five minutes of sheltering behind some sort of water pumping hut (probably geothermal), we began to worry that no one would turn up because of the severe conditions but we didn't count on the Australians. Soon enough a game Aussie called Robert arrived on his bike. 'Let's have that footbath shall we?' he said, gamely. And so everyone hopped in a very small, nondescript rock pool, buffeted by what felt like gale force winds and began enjoying an experience that I think you could only enjoy here. No one else would be mad enough to try.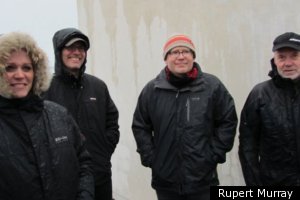 From left to right, the Minister Katrin Juliuspottir, Kristjan from Islenska, very nice chap whose name I can't remember, and on the end Gunnar who is helping me out and driving me around. We've become close friends.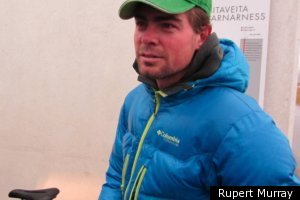 You've gotta love the Australians- no nation is more up for an outdoor experience.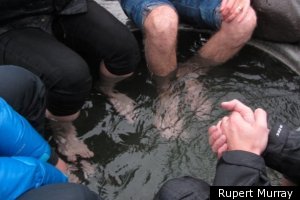 This photo doesn't capture the pain I was feeling in my fingers, obviously, but the people with their feet in the water were having a ball.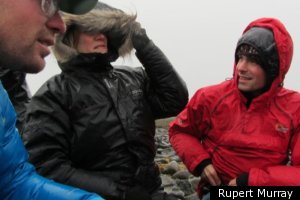 OK ball is pushing it maybe, rewarding experience definitely, Martin from the Sunday Times on right, having a go.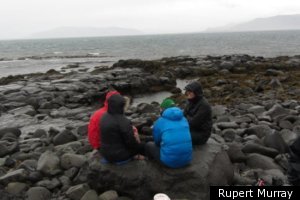 I think this picture speaks for itself.
After saying our goodbyes it was time to go across town and meet Frosti who had advertised 'Dinner with a gay couple' on the Inspired By Iceland website. I suppose he had to make sure like-minded people replied to his invitation but it just felt like 'Dinner with some lovely people', if that doesn't sound too syrupy.
Frosti cooked up a storm, particularly the leg of Icelandic lamb that smelled absolutely delicious. I was starving but it was quite difficult to say 'Any chance I could have a bit' as I was filming, so I'd have to do it subtely. I'm as keen on my tucker as the next person but the aromas wafting around the flat were really something else, and most importantly it smelled of... home. No restaurant could ever conjure up a fragrance that welcoming. Apparently they have very few fences in Iceland so the sheep roam free across the open moors, making them taste more like game.
Then the Inspired By Iceland guests, Marion from Paris and Suzanne from Ireland arrived. They had come to Iceland to see a Bjork gig and were very excited to see Frostis invitation on the website. Despite the fact that they had never met Frosti and his partner before they all seemed to get on like a house on fire. I filmed some warm laughter and the beginning of the meal as they tucked into Frosti's amazing lamb. Luckily Frosti had spotted me salivating, at the meal, and he gave me a taster, of the lamb. I know that a camera pointing in your face at the table can put you off your food so I made my excuses and packed up the gear. I should have stayed as apparently they all had a mad night out in Reykjavik afterwards.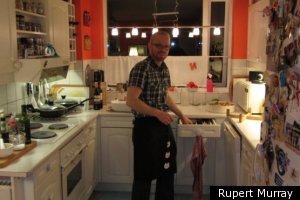 Frosti hard at work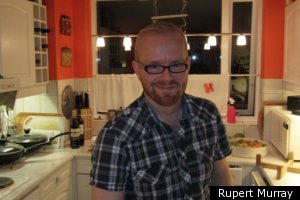 The sweet potatoes and broccoli in the dish to his left, your right, were excellent.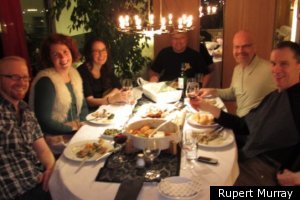 A good time was had by all.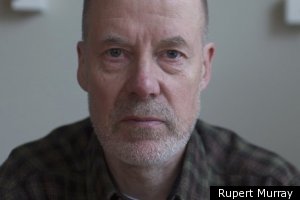 Gunnar my driver and now close friend, standing in for the minister before her interview.
After leaving Frosti's I was still feeling a bit peckish so on the way to the hotel Gunnar took me to Reykjavik's most famous hotdog stand and we had a delicious frankfurter with the works to round off the evening. Gunnar told me that Bill Clinton had come here in 1988 and as he showed me the obligatory picture on the wall of the President munching on a sausage he said 'Three weeks later he had a heart attack'. Not the best post-prandial conversation starter, but at least it stopped me from having seconds. I tried to gauge my first experiences with Icelanders; they were a hardy people, charming, open and friendly, sometimes blunt and to the point and they enjoyed good food. I realised I was having a great time, and when I'm enjoying myself some of the joie de vivre often finds its way onto the final film, which is what the trip is all about.
Over the following two weeks I'll be recording as many of my experiences as I can on film as well as through stills and my blog. Get involved and reply to an invitation on www.inspiredbyiceland.com, to experience haggis making, ice diving, or sheep herding with a complete stranger. Although if today is anything to go by they won't stay a stranger for long.