The Alps in winter are not just for skiing but also for hiking but you need special gear for glaciers and also great courage.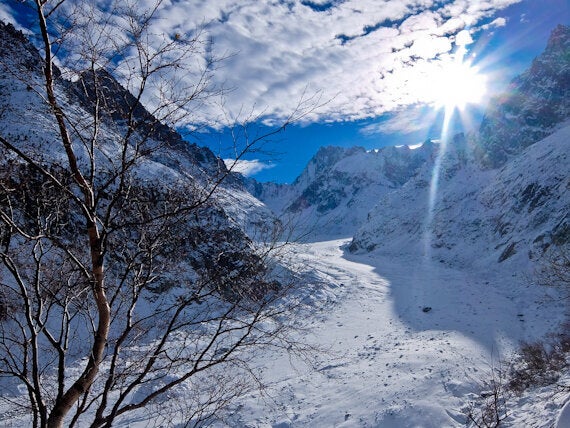 I'm hanging on for dear life as I cling on to the sheer cliff face. No matter that I'm roped to my guide and he's telling me that everything is OK, I'm terrified. You see I'd been told that I was going for a gentle hike on the Mer de Glace in Chamonix, France's largest glacier, testing out Patagonia gear, and there was nothing to fear. All night I'd been having nightmares about tumbling into a crevasse but, if they'd told me about the many ladders and traverses I'd have to negotiate before I'd even got on to the glacier, I wouldn't be here at all.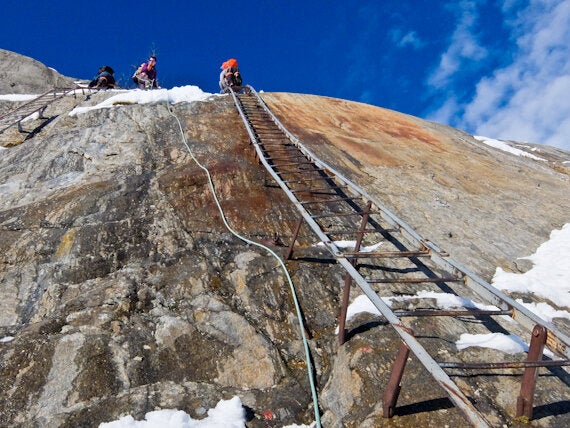 Now I convincing myself I'm in good hands - after all my guides, Zoe Hart and Jon Bracey are experienced mountaineers and have gone through the five year alpine guiding course. Just to be extra safe, they've made sure I'm kitted out with the right gear, designed to cope with extremes of weather. In fact, as Patagonia Ambassadors, they've even had a hand in designing and testing it, so I'm not worried about the cold. They tell me to wear a thermal base layer, then a cotton breathable mid layer hoody, don Gore-Tex pants, and have a down jacket over the top, plus a beanie to keep my head warm. I have a helmet, ice axe, crampons, harness, the correct boots, even a special mountain pack, but it's the chill creeping down my spine which concerns me.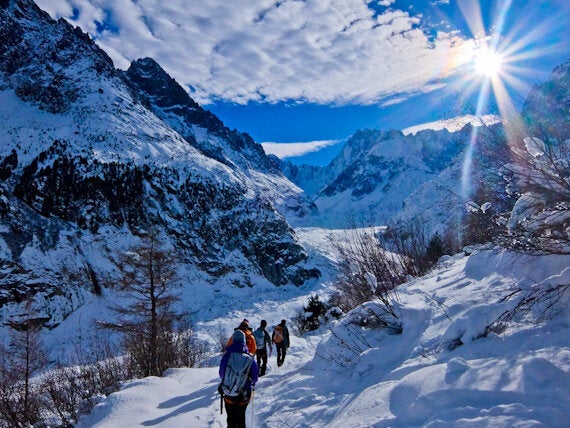 It's a beautiful November morning as I catch the Montenvers train up to 1900m. We rope up, don our helmets and fortunately the slope is so steep that I can't really see what's to come. I'm in the middle, with the guide behind me and my friend in front, when we climb onto the first ladder to make our descent. It's well nigh vertical, but at least I can avoid looking down and cautiously my feet move down the rungs. At this altitude it's wise to take deep breaths and I use this exercise to control my fear. Unfortunately at the bottom of the ladder there's a horizontal traverse to get to the next ladder and I find myself clinging on for dear life.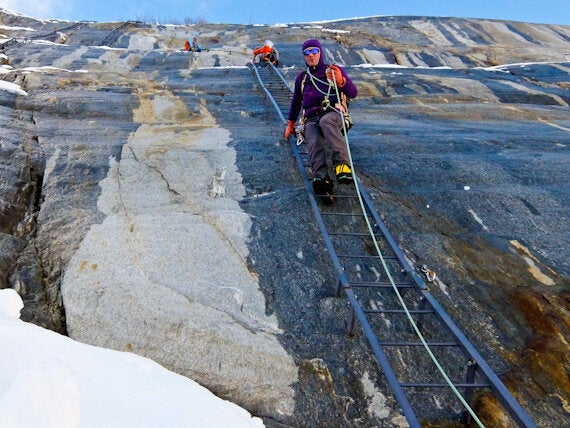 There are a few more ladders, some more traverses but I must say I'm glad to get down to solid ground, or what I think is solid. In fact I'm on the glacier which is continually in motion and the wind is whistling up the valley. The view is spectacular and we stay roped as we climb gradually up the Mer de Glace. I'm enjoying it but, at the back of my mind, there's this nagging thought that I'll have to climb back up those vertical ladders. Still, eventually we reach a deep crevasse where we're going to practise some ice climbing.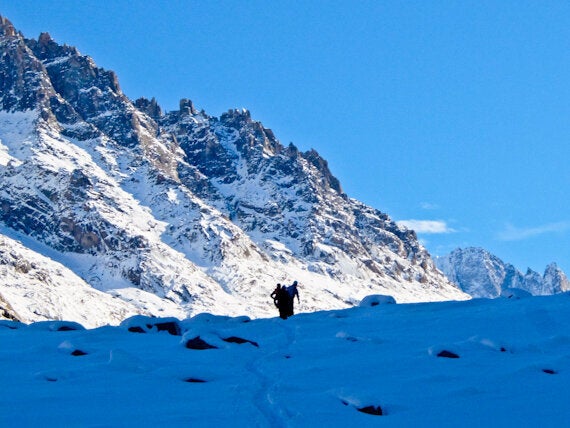 This sounds worse than it actually is - I'm introduced to the principles of abseiling, don crampons, then am lowered down into the crevasse by Jon, my guide. It's surprising relaxing but what comes next is just the opposite. I have an ice axe in each hand and thrust these into the vertical ice wall, pulling myself up with my upper body with little or no help from my feet. It's very tough on the arms and I keep thinking I'm going to fall but comfort myself that the rope will hold me. I must say I'm relieved to finally make it to the top. This is probably my first and final attempt at ice climbing.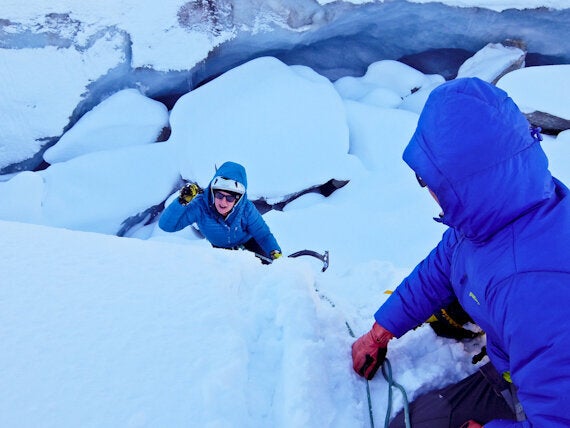 I wish I could say that the climb back up the ladders seems nothing in comparison to this. Unfortunately I've now used up most of my energy reserves so climbing 500m, putting my hands on freezing rungs, becomes a huge effort. Then there's the matter of the traverses - as I'm in the middle of the group, I have to unclip the carabiners which, with heavy cumbersome gloves, means I have to use both hands and there's nothing to prevent me falling. Of course, it's all in the mind, as they say, and I'm soon back at the top, ready to catch the last train back to Chamonix.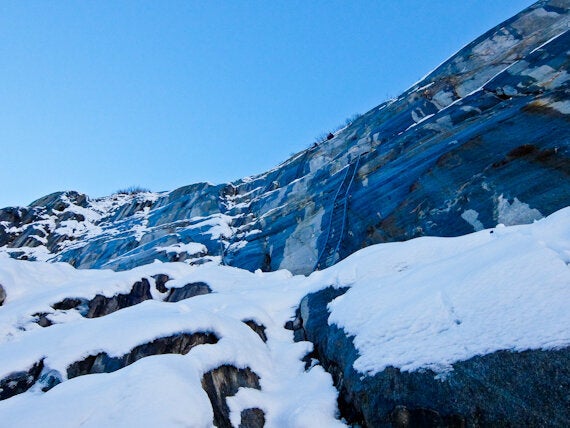 So what did I learn? Well the system of layering Gore-Tex trousers on top of long johns, and hoodie over thermal long sleeve vest, with a lightweight down jacket on top, coped well with the cold. Indeed, during my exertions up and down the ladders, I stuffed the jacket into my pack, as I was getting too warm. Of course I would never have attempted this crazy hike without my excellent guides, Zoe and Jon, who were extremely patient and projected a cool calmness which kept me going. Both have lost numbers of close friends on the mountains but they still keep on going. As for me, I've now put ice climbing behind me, and will stick to summer in the Alps in future.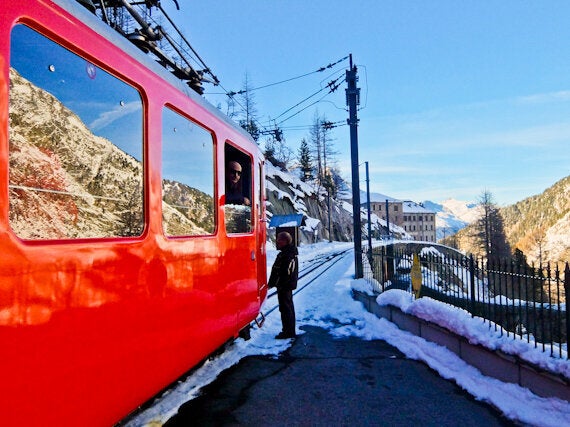 Patagonia has details about all their products.
If you need expert guiding in the mountains contact Jon Bracey or Zoe Hart through her website.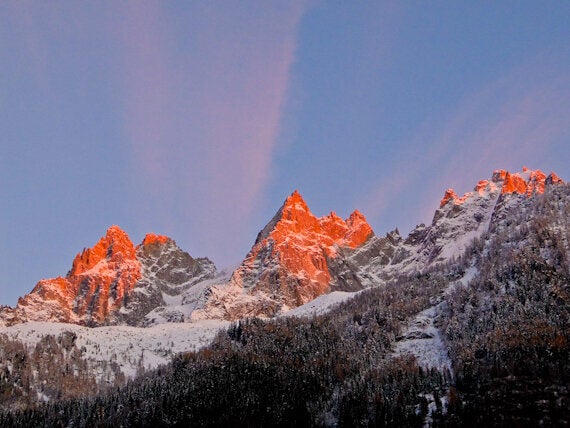 All pictures copyright Rupert Parker,