The idyllic Alpbach Valley is home to authentic Tyrolean cooking, using local ingredients, and mixing tradition with new tastes and inspirations.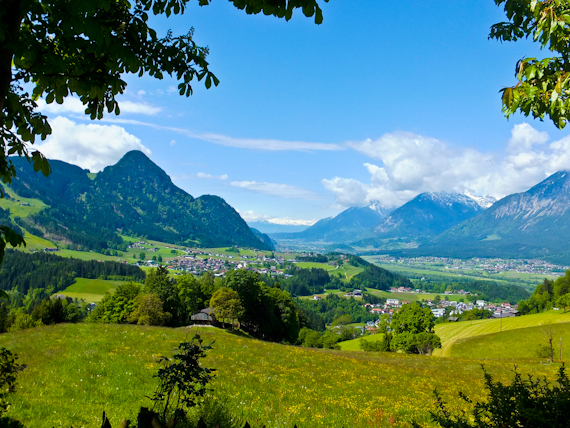 Nestling in the heart of the Austria Alps, the Alpbach valley is overlooked by snow-capped mountains, and home to lush alpine pastures and clear mountain streams. I arrive in Reith im Alpbachtal, from Innsbruck, and check in to the Hotel Der Kirchenwirt. I have a glorious view of the mountains from my window but there's a blizzard brewing and the tops are shrouded in cloud.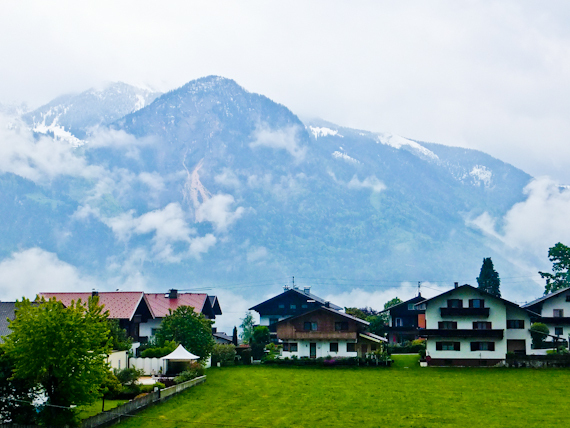 No matter, I have an appointment with cheesemakers, Alpbachtaler Heumilchkäse, who pride themselves on using milk from cows that have only been fed on a diet of hay, rather than fermenting silage. The dairy is a cooperative of 80 farmers, producing 200 tons of cheese a year, from roughly 2 million litres of milk. I get to taste their selection of 10 different cheeses, which includes one flavoured with chilli, but my preference is for their Bergkäse, simple mountain cheese, which also comes in an organic version.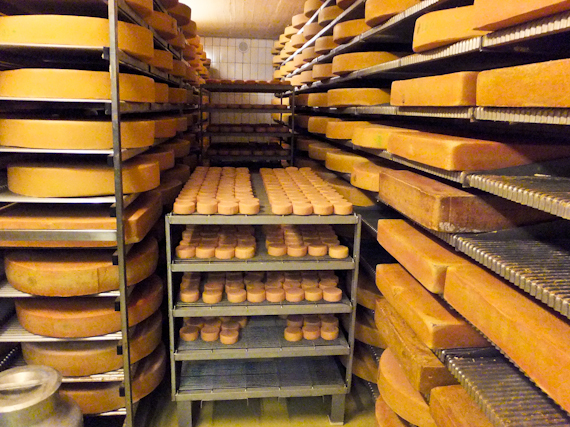 Next day I'm in nearby Rattenberg, the smallest town in Austria, important for its glass industry, on the banks of the River Inn. Lunch is in the atmospheric gothic vaults, carved directly into the rock, of Restaurant Malerwinkel. Specialities here include cheese soup with a baton of bread wound with Parma ham and garlic soup with fillets of trout. Chanterelles have just come into season so they're served with a chunky piece of pork plus Spätzle on the side. These are a cross between egg noodles and dumplings, typical of the region, and come laden with butter.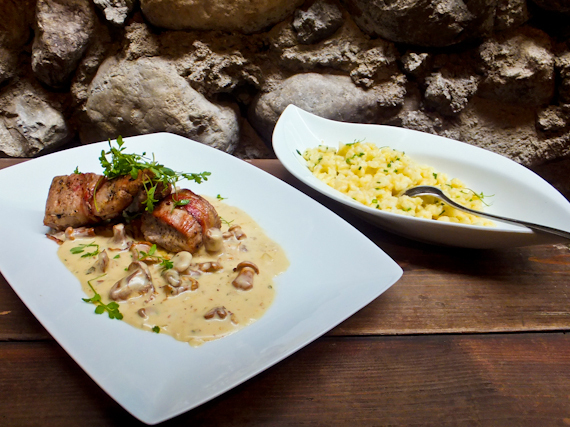 I skip dessert to go to an Apple Strudel demonstration at Café Hacker given by Reinhard Hacker. The trick is to get the pastry as thin as possible, almost translucent so you can read a newspaper underneath. It's a skill which involves folding the dough over your fingers and passing it from hand to hand, without making a hole.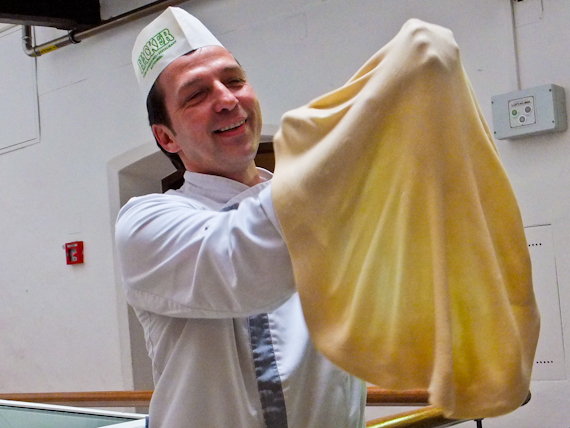 You then paint butter over half the pastry and add a mixture of apples, hazelnuts, sultanas in rum, roasted breadcrumbs, sugar and a sprinkle of cinnamon. Roll it up and put in a preheated oven at 200 C. After about 45 minutes, the strudel is ready when apple juice starts to seep out. You take it out and immediately paint with melted butter. It sounds heavy, but it tastes delightfully light.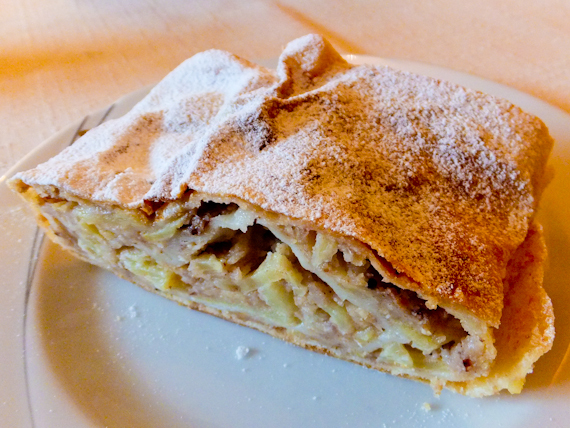 Another speciality is Schnapps so I visit Günter Kammerlander, the sommelier of Tirol's premium brand, at his guesthouse. He holds a licence from Empress Maria Theresa, passed down in his family for 3 generations, and uses only top quality, fully ripened fruit, mostly from his own trees. After picking and washing and slicing, he leaves it to rot for 3 weeks before distilling on the premises. It takes around 50 kg of fruit to create 1 litre of Schnapps and his licence allows him to make 700 litres, so it's an expensive process. Most supermarket brands are just flavoured alcohol so this is the real thing and it certainly packs a kick, yet you can still taste the fruit.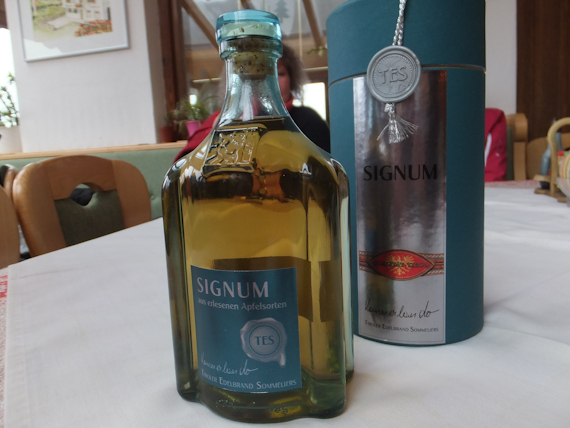 Dinner is in the Fuggerstube, dating from the 15th century, at the Romantikhotel Böglerhof, in Alpbach. The wines in the cellar are 80% Austrian and they source their food as locally as possible. Green salad and white asparagus, with smoked breast of duck, is an excellent starter. Main course is tender roast medallions of venison with wild garlic gnocchi, salsify and saffron pear and I can't fault it. The terrine of curd with rhubarb with strawberry sorbet is pretty good also. I don't have to say that we drink excellent Austrian wines with our meal.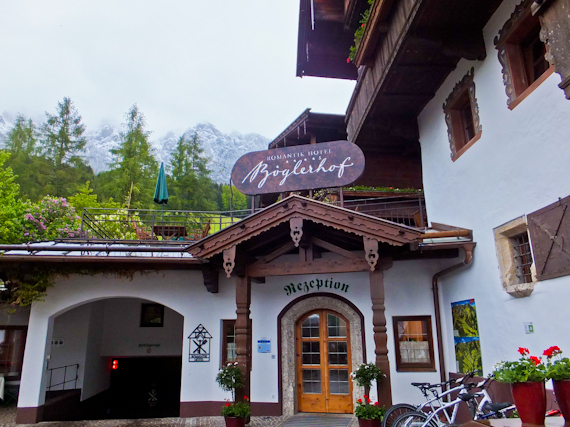 Something unique to the region is Brandenburg Prügeltorte, made from a batter with equal portions of eggs, butter, sugar and flour. It's only for special occasions and I get a demonstration at the Kaiserhaus in Brandenberg. The Prügel is a wooden cylinder, lined with parchment, attached to a rotating spit. It's turned over a wood fire, and a layer of batter is brushed on and browned before adding another layer. There's a total of 8 layers and it takes around an hour to make, before letting it cool. I have to say it's a lot of work for what is in essence a roasted biscuit, but I can understand the attraction when your everyday diet was mundane.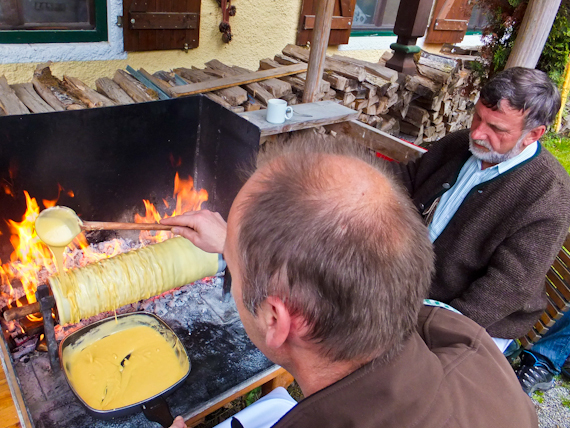 The authentic Speck, or Bacon, is anything but mundane and Konrad Kirchmair is a traditional farmer who smokes his own in the idyllic Zimmermoos district, above Brixlegg. First he soaks the ham for 2 weeks in a brine containing sugar, garlic and juniper, then it's another 2 weeks smoking over juniper branches, before 12 more weeks over birch.
The ceiling of his 16th farm is peppered with the results of his labours and, needless to say, he also makes his own schnapps. You can sample all his products, after a climb to the Hechahof, while enjoying a glorious view of the valley below.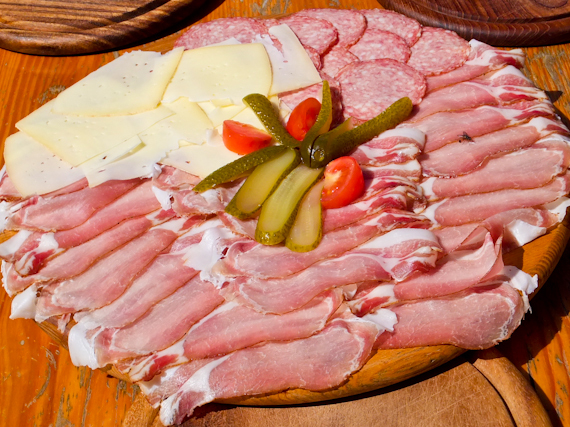 A delightful spot for lunch is the Restaurant Berglsteiner See, overlooking the lake of the same name, and it's worth hiking through the forest to work up an appetite. Their speciality is trout from the lake, caught in the morning and served at midday. It's well worth a walk round the lake after lunch and, if you're feeling really energetic you can go for a swim or take out a rowing boat.
The best restaurant in the Tyrol is Sigwarts' Tiroler Weinstube in Brixlegg. Traudi Sigwart was born in a neighbouring village and, after marrying the son of the owner, has been cooking here for 29 years. This is food of the highest order and I enjoy white asparagus with slices of home smoked bacon, tomatoes and slices of local cheese to start. This is followed by a fillet of local trout on a bed of spinach, topped with a fine lattice of rosti, with carrots on the side, cooked in a Riesling sauce.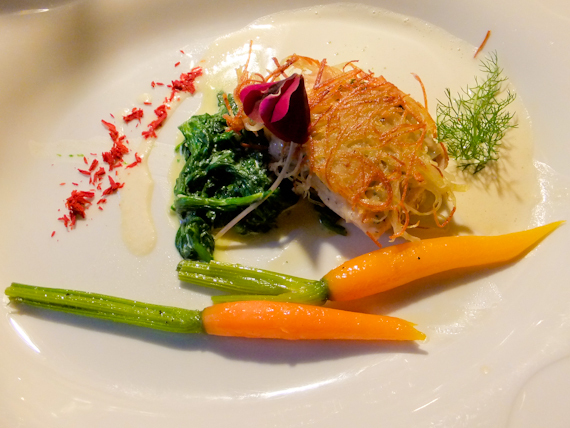 Main course is a juicy saddle of veal with home made noodles and chanterelles. And...dessert is a curd cheese dumpling with chunks of rhubarb and cheese ice cream. If you think of Tyrol food as old fashioned, then will change all your preconceptions.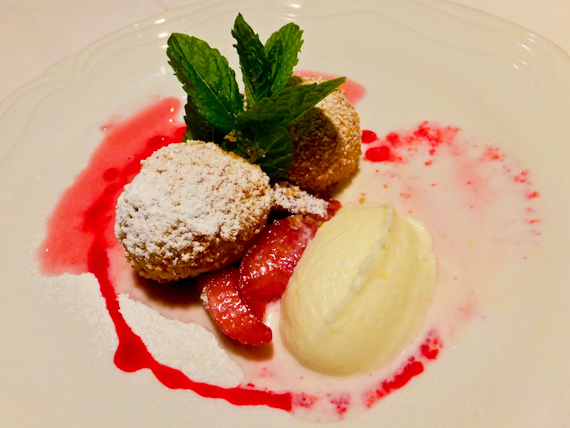 Alpbachtal has information about Alpbach.
Visit Tirol has information about Tirol.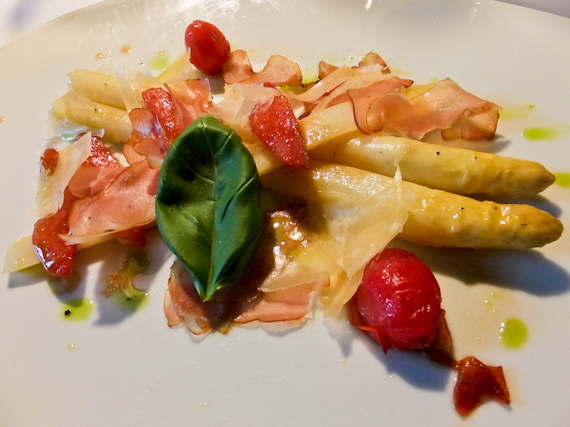 Stay and dine at the 4* superior Hotel Der Kirchenwirt in Reith im Alpbachtal, where prices start from €80 per person per night on half board.
EasyJet flies to Innsbruck from London Gatwick twice weekly during summer.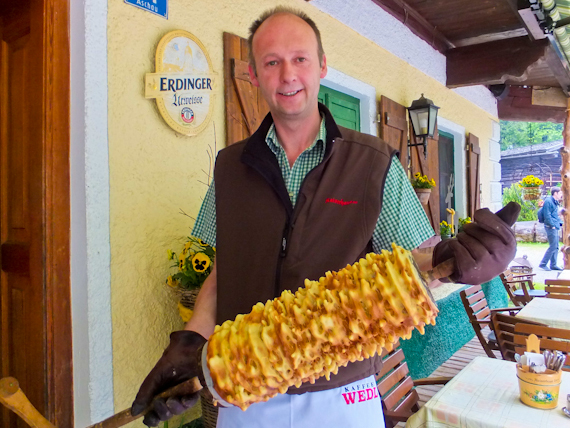 All pictures copyright Rupert Parker