The skyline is not the only thing that's changing in Rotterdam - an experimental restaurant, a colossal market hall, a floating forest and a UNESCO World Heritage 20's tobacco factory, are just some of the new kids on the block.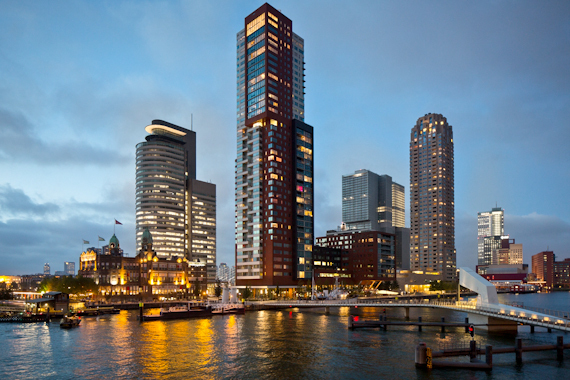 Rotterdam always seems to be hiding in the shadow of its sibling, Amsterdam, but for my money it has far more to offer. Although its historic centre was obliterated by Nazi bombs on a fateful night in WW2, it's managed to rise from the ashes and the result is an invigorating and inspiring city. Don't forget that it's also a major port and its cosmopolitan population gives it a multi-cultural edge, reflected in its food and arts. Fortunately, the Germans couldn't destroy the waterways and it's always a pleasure to turn a street corner and come across yet another canal.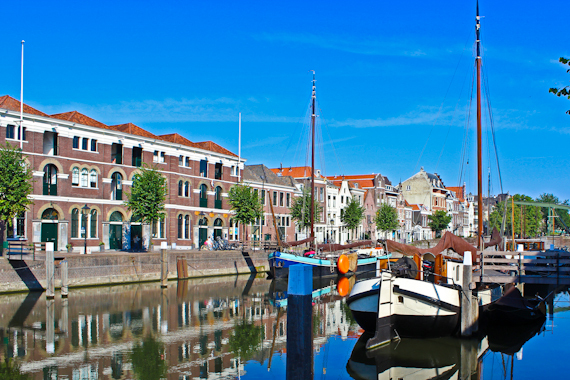 I visit the city every year, usually for the North Sea Jazz Festival, and I'm always pleasantly surprised by changes on the skyline. The most recent addition is De Rotterdam - what they call a vertical city on the Wilhelmina Pier, right next to the cruise terminal. It occupies a footprint the size of a football field, yet its 6 randomly stacked blocks reach 150 meters, overlooking the water. It's in good company, joining the towers of Montevideo by Mecanoo, Norman Foster's World Port Centre and Renzo Piano's KPN building, right next to the Erasmus Bridge.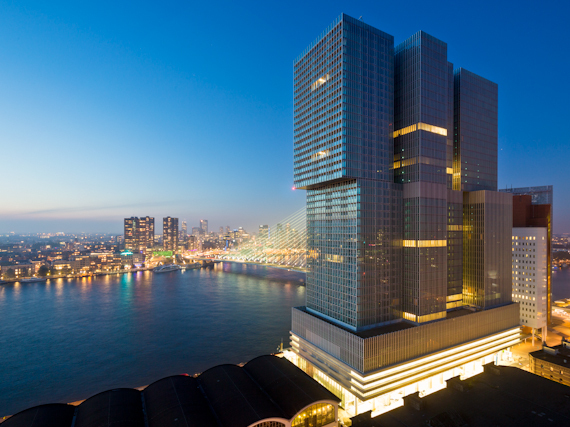 nhow Hotel Rotterdam
Inside one of the De Rotterdam towers is the nhow Hotel, making perfect use of the floor to ceiling windows. This is the epitome of cool and you choose either a Sunset or a Sunrise room, depending whether you're a night or day person. The sky bar has an outdoor terrace, 30 meters above the water, where you can almost reach out and touch the Erasmus Bridge, and it's also a great venue for breakfast. As you'd expect service is impeccable and the rooms are stylish but comfortable.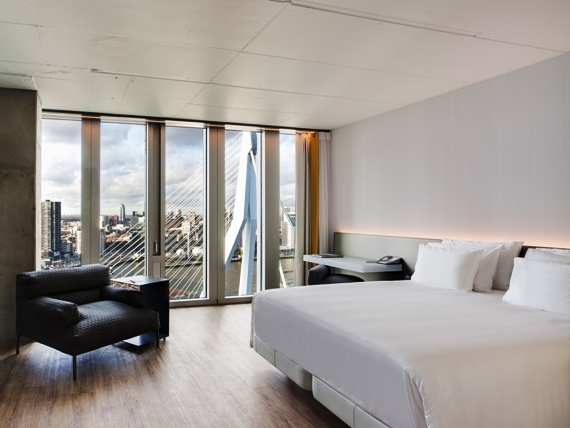 FG Food Labs
Francois Geurd's restaurant FG already has two Michelin stars but in February, he opened his Food Lab. The area, close to the station, is on the other side of the tracks but is already home to new trendy bars and clubs. Dining here is informal, and you can eat outside, have a quick bite at the bar or take a seat at one of the raised tables inside the converted railway arch.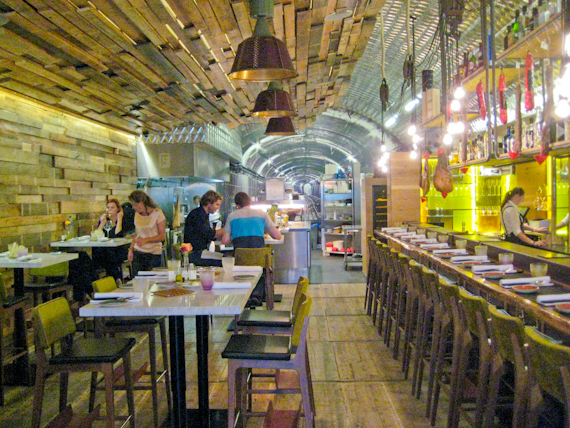 The idea is simple - it's meant to be a place where Francois can experiment with the best products of the highest quality. Don't expect way out Heston Blumenthal extravaganzas, but interesting pairings of flavours, served in bite size portions, or taste bombs, as he calls them. On our 6 course tasting menu, it's the ingredients that shine through - whether it's the delicate slice of lobster, pork belly cooked for 48 hours, or the duck liver with langoustine foam, all were mini explosions. A dessert of pistachio ice cream, with a crumble of popcorn and chicken skin in olive oil, sends us off raving into the night.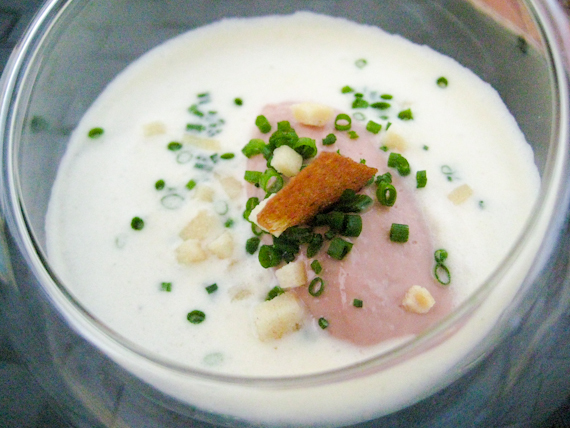 Markthal
I always enjoy shopping at the city centre market in Binnenrotte which always has a wide range of cheese, fish, bread and meat. Surinam vegetables, Vietnamese spring rolls, exotic herbs and fruit make it a multi-cultural destination but it's only open on Tuesdays and Saturdays.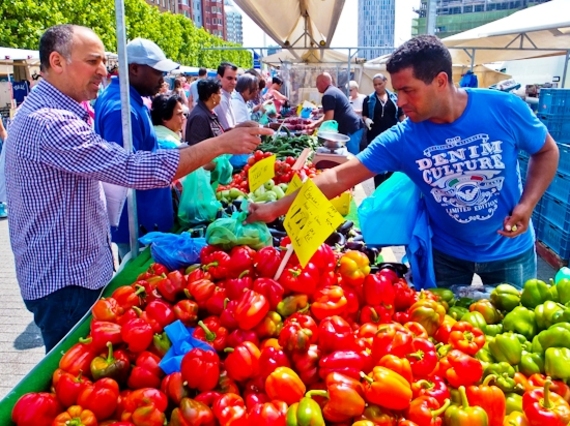 That's all set to change as they've been building a futuristic covered Market Hall close by and this is set to open in the autumn. It'll be a permanent home to more than 100 fresh produce stalls, plus flower and plant vendors. On the 1st floor there'll be food shops and restaurants and even a cookery school. This is a welcome overdue addition to the outdoor market.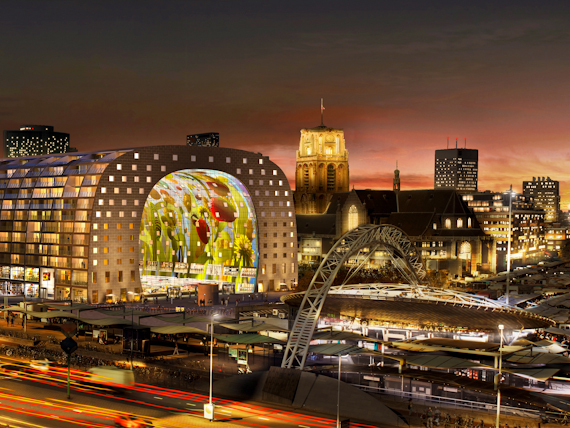 Van Nelle Factory
Recently designated as a UNESCO World Heritage site, the Van Nelle Factory is an extraordinary example of industrial design from the late 1920's. It was built to process tobacco, coffee and tea and the architecture, characterised by glass and metal, was not just prompted by aesthetic considerations. The aim was also designed to improve the working and living conditions of the workers, although, ironically, men and women had to use different staircases.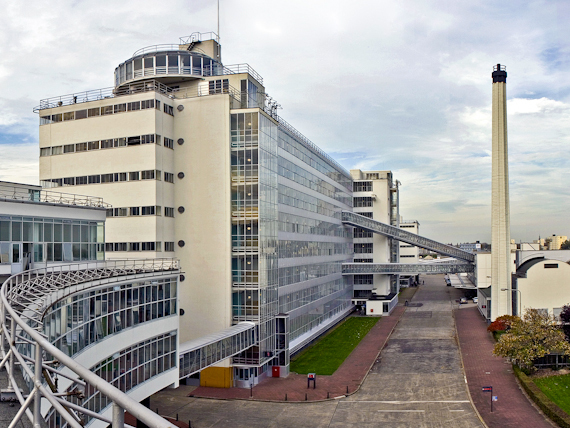 Le Corbusier described it as 'the most beautiful spectacle of the modern age' and a 'poem in steel and glass'. These days it's home to more than 80 small businesses involved in art and culture. It also hosts events such as Art Rotterdam, as well as exclusive dance parties but, at the moment, it's not open to the public, although you can admire it from a distance.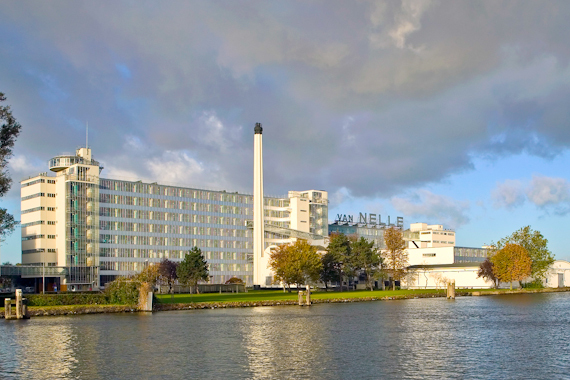 The Bobbing Forest
Just across from De Rotterdam, Colombian artist, Jorge Bakker, is creating his Bobbing Forest in the disused harbour basin of Rijnhaven. The idea is that 20 trees, placed in buoys, will increase the green space of the inner city. And, of course, research has shown that the only tree that can root and grow in the buoys is the Dutch Elm.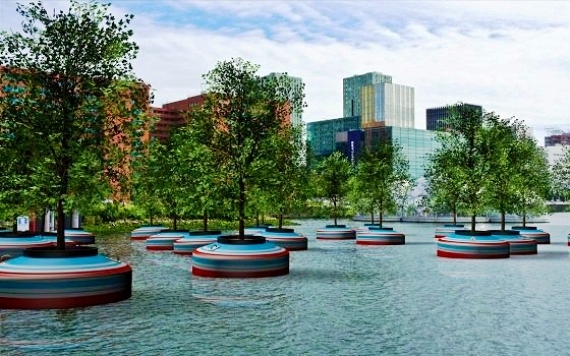 At the moment the prototype tree is being tested and monitored and the plan is to populate the Rijnhaven in 2015. I look forward to my next visit to Rotterdam, not just to see the Bobbing Forest but everything else that is new - I'm sure I won't be disappointed.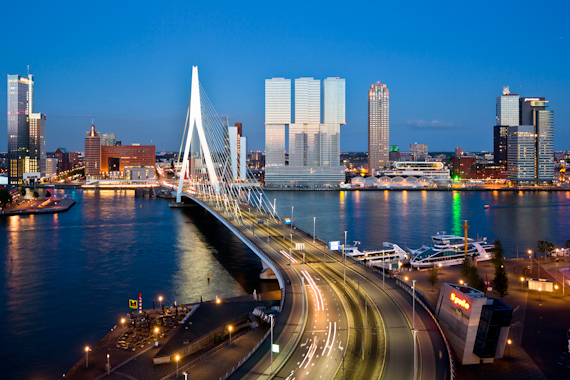 Voyages-SNCF offers a comfortable way to travel by train to Rotterdam via Brussels. Standard class fares from London to Brussels start at £69 return per person and from Brussels to Rotterdam start a £50 return. Call: 0844 848 5848 or visit: The Voyages-sncf Travel Centre, 193 Piccadilly, London W1J 9EU
Rotterdam Info has information about the city.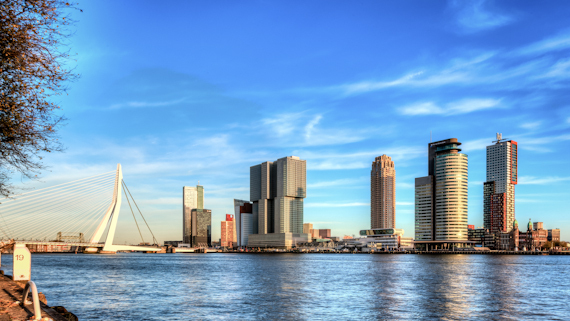 Tourism Holland has information about the country.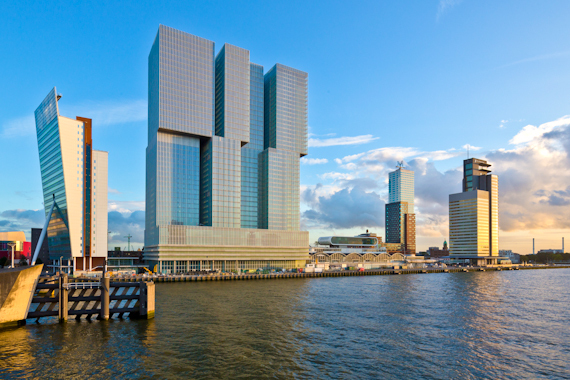 All pictures copyright Rotterdam Marketing.