Greek food has not enjoyed the greatest of reputations - lowlights include greasy Moussaka, fatty Kebabs and Retsina wines that taste of turpentine. But it deserves better than that. Now the island of Santorini has declared 2013 as the year of gastronomy and is showcasing its unique products.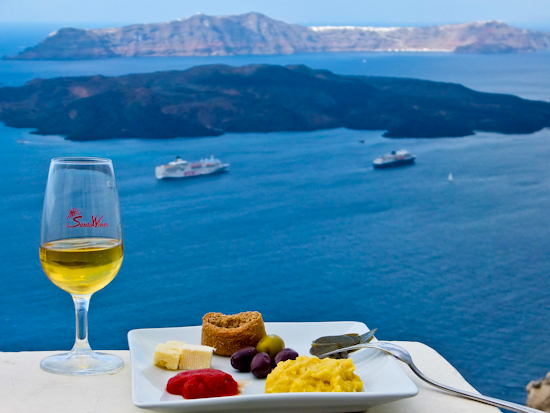 The 9th IMIC conference in Santorini has as its theme "Tourism and Gastronomy: Moving Forward". The keynote address is given by Erik Wolf, Executive Director of the World Food Travel Organisation. He points out that tourists are looking for unique and memorable food experiences which are not just limited to gourmet restaurants. Food can be used to attract visitors just like museums and monuments and international bland dishes are not what most people want. Declaring 2013 as Santorini's year of gastronomy is a step forward to recognising this trend and a good start to putting Greece on the culinary map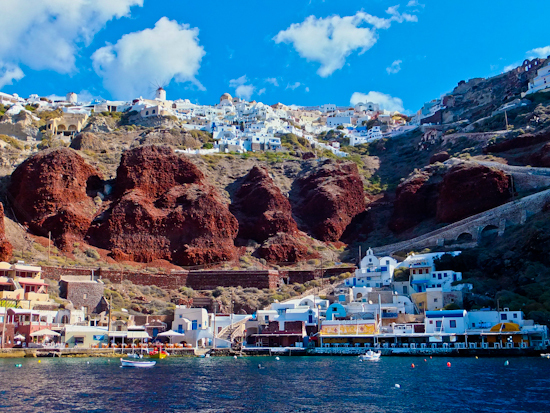 Romans, Turks, Venetians, Italians have all left their mark on Greek food. Santorini, in particular, is situated on the trade routes between Europe and Africa and the Middle East and it has a long history of occupation. Earthquakes and frequent eruptions have shaped the landscape - volcanic ash absorbs the moisture from frequent morning sea mists and provides essential nourishment for plants struggling to grow in these conditions. Unique strains of cherry tomatoes, aubergines and fava beans have flourished and provide a distinctive culinary twist. Now the island is being surveyed to compile a compendium of local recipes, restaurants and producers which will be useful in positioning itself as a future foodie destination.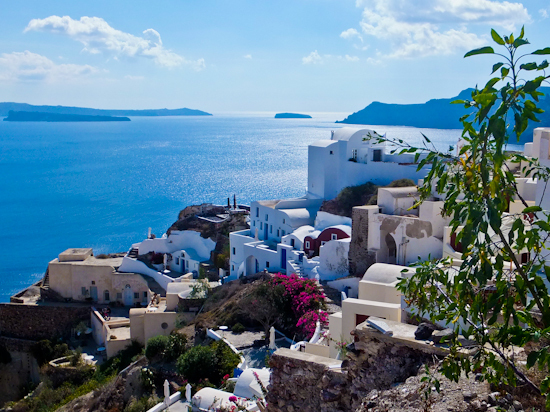 Cherry Tomatoes
Cherry tomatoes thrived in the volcanic sandy soils after they were brought in from Egypt in the 19th century - this led to a canning industry which was put out of business in the 1950's by the last earthquake. The factories have been turned into beach cafes and production is down but these small squat wrinkly fruits are still grown here - eaten fresh or sun dried or ground into a paste, they provide a strong sharp hit of flavour and they're certainly distinctive. I particulary like the deep fried tomato balls.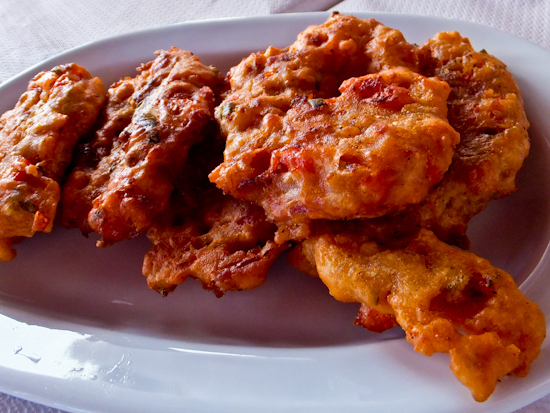 Fava Beans
Fava is a traditional bean that thrives on the island, so much so that it's been granted a protected designation of origin status by the EU. The Santorinian Fava is a unique variety which has been cultivated on the island for at least 3500 years. The sun dried beans look like yellow lentils and after being soaked they're boiled with a halved onion until they form a velvety paste. This is served with a little sliced onion, olives and capers and is delicious.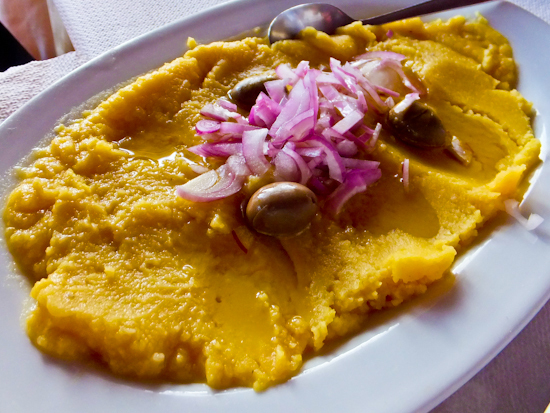 White Aubergines
White aubergines are another product of the Santorini soil - unlike their purple skinned counterparts they have fewer seeds, absorb less oil when fried, and are sweeter. When they're used in Moussaka, or crushed to a purée, they impart a particular Santorini flavour.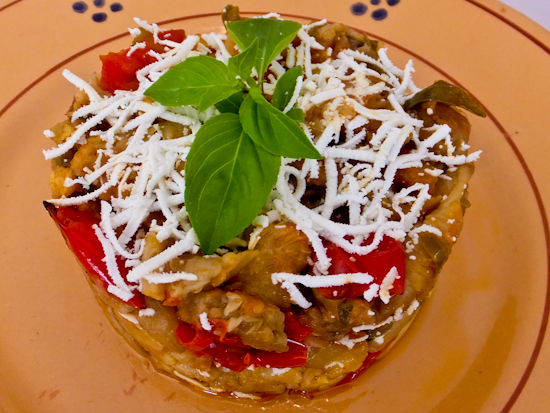 Wine
Assyrtiko is the main grape here and there's evidence of cultivation stretching back 3500 years. Fortunately the insects which caused phylloxera couldn't survive in the volcanic soil so these vines are some of the oldest in the world. The 100% Assyrtiko white wine is dry with high acidity and makes for excellent drinking.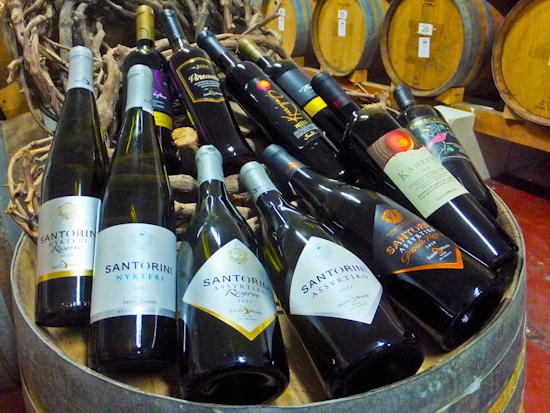 Nykteri is a blend of Assyrtiko, Aidani and Athiri and is usually aged in oak for a few months so is ideal with food. Unique to the island is Vinsanto, a high alcohol product produced from grapes dried in the sun to increase the sugar level. Its ability to endure long journeys and age well meant it was exported all over the Mediterranean.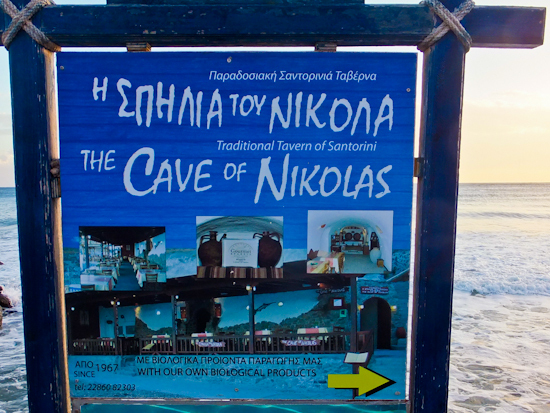 Restaurants
Judging by my stay of a few days, the restaurant scene is patchy and still has some way to go. Two meals stand out at opposite ends of the spectrum. The first is at a beachside taverna called The Cave of Nikolas, near Akrotiri in the south of the island. My table is at water's edge and I eat to the sound of crashing waves.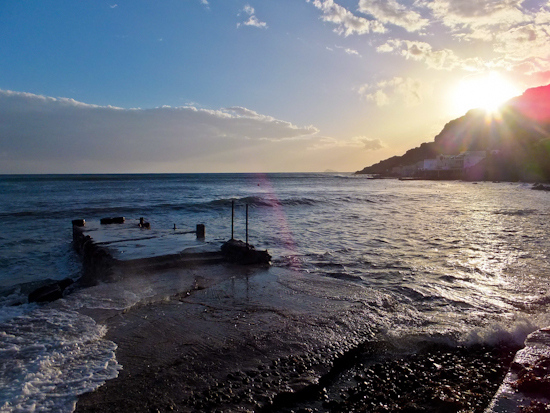 Excellent ingredients are key here and the courses just keep on coming - I enjoy deep fried tomato balls, white aubergine purée, fava purée with red onion, grilled squid and a plate of fresh sardines. Of particular note is Moussaka with white aubergine with not a touch of béchamel in sight. This is excellent cooking, refining the very best of tradition.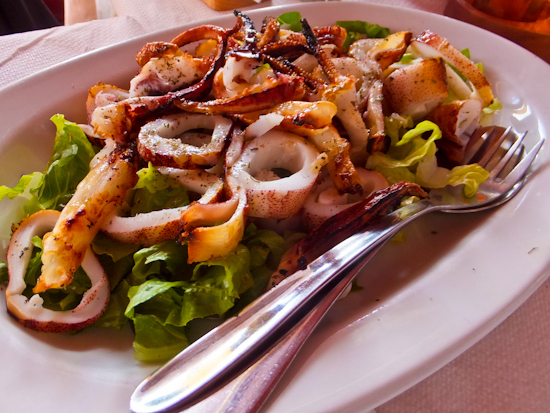 My second epiphany is at Restaurant Selene, in the village of Pyrgos where the dining room is all curved whites and new age music. It's not cheap but the food is well worth it. Slices of beef tongue on frumenty gnocchi with beef mint consummé are a delicate starter and I also enjoy quail cooked in two ways, grilled and fried. There's an excellent Greek salad with watermelon to cleanse the palate before a main course of slow cooked melt-in-the-mouth lamb, with vine shoots and lemon scented potato croquette.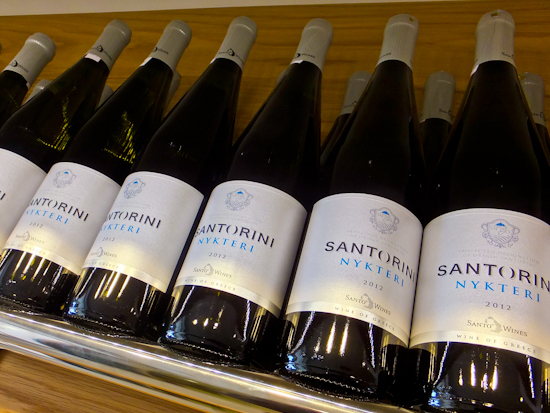 With both these meals I'm served excellent Santorini wine and I finish my visit with a tasting at Santo Wines, with a breath taking view overlooking the volcanic caldera. This is cooperative with 1300 members and processes over 50% of all the grapes grown on the island. 85% of their wines are white, with Assyrtiko being the largest variety, with only around 5% being aged in oak. The tasting is accompanied by the local products I've come to know and love, tomato paste, fava puree and tangy capers. As I sip my last glass of Vinsanto and gaze out into the deep blue sea, I hope that Santorini will be able to build on its year of gastronomy and trumpet its food loud and clear throughout the world.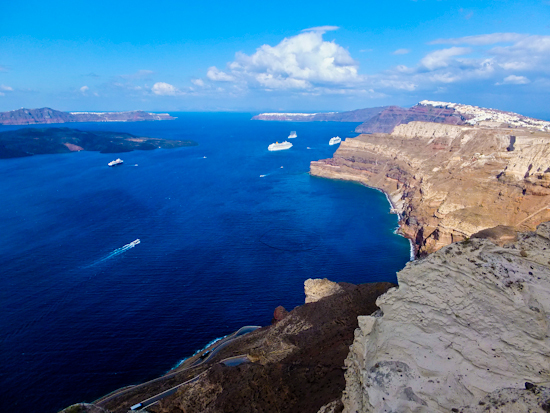 The Volcano View Hotel makes a comfortable base and as you'd expect the vistas are spectacular.
Air Aegean flies from London via Athens.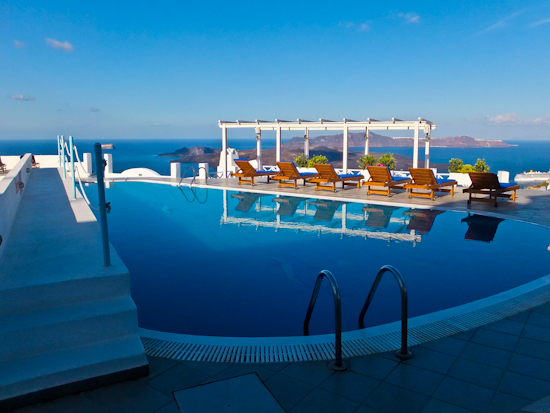 Visit Greece has information about the country.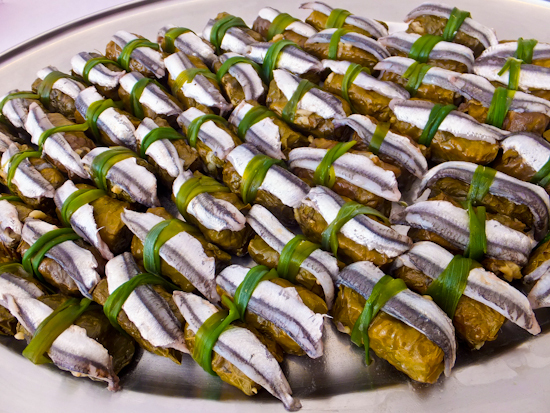 All pictures copyright Rupert Parker