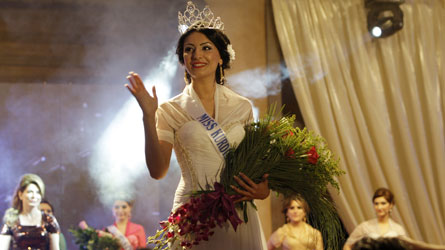 In Kurdistan's Hewler province the first Miss Kurdistan pageant show was held on June 28 in Rotana hotel. It was organised by a lebanese company. The twelve participants were from Southern Kurdistan and sponsored by the Kurdistan Regional Government. I was invited by a local businessman alongside two friends. The show lasted for several hours, and was hosted by an Arab and Kurdish speaker.
This was not Hewler's first pageant show because in 1974 there was a pageant show in Hewler, and this was not the first time a Kurdish woman was crowned as winner in a pageant show. In the 1970's Miss Iran was in fact a Kurdish woman from Kermanshah.
The twelve women waltzed on stage with dazzling smiles and posture, not in Bikinis or mini-skirts but traditional Kurdish dresses. 18-year-old Shene Ako Aziz was crowned as Miss Kurdistan from Slemani, she was selected by a panel of judges that included Professor Shukria Rasoul, Dr. Farhad Pirbal, Dina Hayek, Dr. adder Sa'ab.
Roy Shalala, an official from the lebanese company that organised the event said, "We organised the festival in a way that suits Kurdish traditions and habits; you will not see the bathing suites but you will see sports clothes and decent evening dress, which does not underplay the beauty of the girls."
The significance of this pageant show goes beyond the shallow industry but comes right back to the region where it is situated. Southern Kurdistan is largely conservative with strong religious values, and consequently Kurdish communities tend to be segregated which makes this pageant show more about the way this region is progressing and handling globalisation on its soil than about feminism.
There are new opportunities opening for women in Kurdistan both in the public and private sector. New jobs and avenues for them are arising both politically and socially. While tweeting about Miss Kurdistan pageant competition many people were puzzled that I would attend such an event, but I found it crucial to attend prior to judging the competition. It would not be fair nor right to judge an event without personal insight, and since I had the opportunity to attend there was no harm in it.
Many people were concerned about three things (1) possibility of choosing to be judged by virtue of looks, (2) normalisation of pageant shows within Kurdish regions, (3) standard of beauty being dictated by a lightweight industry. The participants chose to be put in front of 6 judges, and to be judged solely based on their looks. They were not forced, and were happy to participate in an industry that measured their value and worth in terms of how attractive they were.
At this stage a pageant show in Kurdistan does not have a chance to dictate beauty standards. In reality the beauty standards are dictated by real players in the West, and this includes popular fashion magazines. It would be naive to think that pageant shows in Kurdistan have the potential to dictate beauty standards simply because fashion has become globalised, and that is the industry that continues to dictate beauty standards which women conform to both consciously and subconsciously.
I spoke to Sazan Mandalawi who attended the event with me, she said, "The criticism this event attracted shows that people were in fact following it, but the mismanagement of timing was disappointing" and "The women did not do anything that was out of Kurdish culture". Another Kurdish woman that I spoke to, Tara Fatahi shared a different view from those who criticised this industry by arguing that this competition is a perfect reflection of society where people are judged by looks, and not intellect or personality. She said, "The media tells me I'm not beautiful because I'm fat, I don't see a difference here. At least in a pageant competition I choose to be judged whereas in society I have no choice".