"...for instance, isn't seven the most powerfully magical number..."
- Tom Riddle, Harry Potter And The Half Blood Prince
Here we are, seven years on from the publication of the final Harry Potter book.
In its first 24 hours Harry Potter and the Deathly Hallows went on to sell over 15 million copies. An astonishing figure that followed the hype, secrecy and excitement surrounding the publication of JK Rowling's final piece of an intricate seven-book journey.
This was undoubtedly the peak of my nine-year obsession with the boy wizard's story.
Little did I know what would follow on from my decision to pick up a lone copy of the Philosopher's Stone at a primary school book fare. Mixing an obsessive personality with Rowling's ability to hook you in... I was a prime target. As the years rolled by and the fandom grew, it became easier to find fellow fans to get lost in the story with. Fan websites, message boards, midnight publications... it was easy to find people to get excited with, discuss theories with or just generally understand why these books meant so much to so many people.
Potter was my escape from reality. Difficult teenage years meant I sought comfort in the continuing collection of books that took pride of place in my bedroom. I could happily pick from different editions of the same book if I decided that a particularly painful day meant I needed to revisit a specific chapter. I was a sucker for the American edition cover art...
It was not with any expectations that I first wrote to JK Rowling. Finding a London address for her publishers, it was just after the release of the sixth book when I decided that I wanted to thank the person who had unwittingly made so many dark days better.
Thinking back I can't believe how brutally honest I was in that quite lengthy letter. Would the person who first read it even deem it suitable for JK's attention? I'd take the gamble of putting in the Half-Blood Prince cover and special purchase bag that I hoped might one day return to Ireland signed. I also put in a thick writing pad. Why? Well, what do you buy a multi-millionaire?! So I sent the pad. I knew JK could find some kind of use for it. Enough weeks passed for me to have stopped harassing the postman before the large white envelope with an Edinburgh postmark landed through the letterbox. That reply meant everything. One of the most in-demand women on the planet had taken the time to send the most amazing, encouraging, loving response to a random teenager - and of course return two newly signed items! The highlight though? Thanking me for the writing pad and assuring me that it would be filled with part of the Deathly Hallows story. Does that pad even still exist?!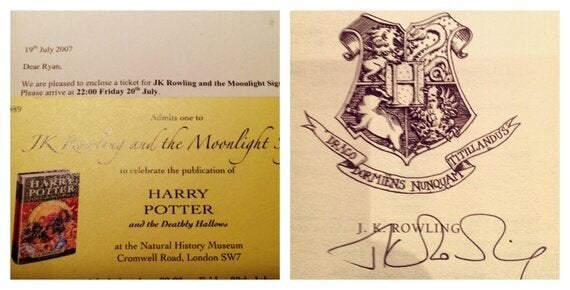 We wrote each other again before July 21st 2007. Numerous theories I had put forward we're debunked in the politest fashion like only JK could do so, with a coy note reassuring me that the 'No's' told me more than a 'yes' ever could. As publication day approached, the announcement of a midnight reading with Jo herself arrived. This was where I needed to be.
And seven years ago last night, that's exactly where I was. Positioned just beneath the skeleton of Dippy the Diplodocus in the Natural History Museum's main hall, I sat numb as JK Rowling read the first chapter to her adoring audience. With the reading completed, those I'm attendance then politely queued for their 10 seconds with the most in demand woman on the planet. It must have been quite easily after 2am before I reached the desk that separated author and fan. With a post-it note stuck on the page where she would sign the recipients name (in this case, I had it signed for my Mum), I didn't manage to speak as I first handed over the book. Seconds ticking away, I finally found the voice to explain that I was the 'boy from the letters'. Having JK Rowling greet you with such warmth, stand up and shake your hand? That was the perfect end to my own journey.
Maybe the 10 year anniversary will seem like a more appropriate occasion to fondly reminisce to many, but for fans, if JK Rowling taught us one thing, it's that the number seven is really where the magic's at.