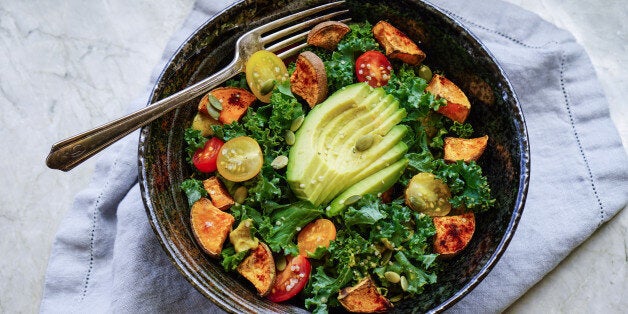 We're half-way through Veganuary, and for anyone struggling with foregoing the flesh, I'm here to suggest a compromise: part-time veganism.
Yep, I know it's an oxymoron, and any all-singing, all-dancing, all-hemp wearing vegans who don't like hypocrisy should probably look away now.
Me and the husband are part-timers. We generally eat one meat-based dish a week, one pizza, and some anchovies for a quick and dirty Omega 3 hit. Everything else is vegan, right down to the almond milk we stick in our tea.
We had a kid when we were hurtling towards our forties. When you consider we used to neck a gram of speed to get through one night of partying in our teens, you can only imagine how lacking in energy we were for days of soft play and pretending not to see our son 'hiding' behind a shoe.
See the aforementioned forty thang. When you probably have less life left ahead of you than you have already squandered, you start to think about how to stay as well as possible for what's left. Even if that means eating nutritional yeast.
3. There are no side-effects
Provided you get a balanced diet and some vitamin B12, from what I can tell there are no ill-effects of going mostly vegan - apart from boring the crap out of friends and colleagues when you first convert (sorry y'all).
SO SAL T. IF BEING VEGAN IS SO GREAT, WHY NOT DO IT FULL-TIME?
In fact I really like it. I once had a Carpaccio of beef in Croatia that was so freaking tasty I wanted to take it behind the bike sheds and make it pregnant. In fact it made me pregnant. I came home from that holiday with an embryo in the tank. The way I see it, if hadn't eaten that Carpaccio I would not now have my son, and frankly if I was ever in a situation in which I had to choose between a cow or my son, I'm sorry Daisy, but you are dead meat. Literally.
When I first met my husband he was like Paleo Man. If Paleo Man was a real superhero, he would be the kind of superhero that would be sucking the marrow out of a lamb bone whilst main-lining chicken fat and wearing an actual pork pie for a hat in case he got meat-peckish after the lamb and chicken feast.
Expecting him to give up meat would be like asking Trump to go without bigotry. To be honest, I was surprised not to be on the New Year's Honours list for getting him down to once a week.
3. I'm not sure if I really care about bees being exploited
Don't get me wrong, I love bees. I think they do a great job pollinating plants and being all cute and stripey of bottom.
But when someone tells me, with tears in their eyes, that one of the problems with honey is that Queen Bees are being artificially inseminated, my first reaction is, I want to see that happening.
Asking mates who generally do meat and two veg to create a vegan meal for you often results in one of two things: 1) a rescind of the invitation - OR 2) two veg for your dinner.
Who can blame them? Having to cater for special dietary requirements and still create something everyone wants to eat is like taking part in the Tour De France - an uphill struggle culminating in a massive ball-ache. It's easier to just save up 'meat night' for them.
I have fat hobbit feet. On past rare occasions when I have persisted in squeezing them into a plastic shoe, I have been left crippled and crying and begging random strangers for piggy-backs to the nearest taxi-rank.
Leather is so malleable. So yielding. So able to mould and shape itself around an early-stage bunion. And for this, I will lie to myself that the one pair of leather boots I buy myself every two years are just a by-product of the meat industry and not really contributing to the problem at all.
BUT SAL T. WOULD YOU STILL EAT THAT ONE DELICIOUS MEATY MEAL IF YOU HAD TO SLAUGHTER THE ANIMAL YOURSELF?
To be honest, I'd probably feel less guilty if I did. At least I'd be taking responsibility for my actions, rather than outsourcing to some poor minimum-wager in an abattoir.
Plus I remember how we once had to dissect a cow's eye in biology class. Mine arrived still in its socket peeping out from under these incredibly loooooong lashes. I nearly cried when I first saw it. The inhumanity! The waste!
Then I tried to cut into it with a scalpel. It was like trying to saw open a skull with a limp penis. I starting jabbing at it. Still no joy. Ten minutes into the class and I still hadn't made a dent in it.
Finally, as I loomed frustrated, sweating and feral over it with a compass and a shoe to try and get some purchase, I was glad the f*cker was dead. So yes, I probably have it in me.
WHAT WOULD PAUL MCCARTNEY SAY IF HE COULD SEE YOU NOW?
Probably 'alright la', what with him being Scouse and that.
THAT'S ALL VERY WELL AND GOOD, BUT IS THERE A POINT TO ALL THIS?
I guess the point I'm trying to make is that if you don't feel like you can do the right thing all of the time, it's okay to do it as often as you can. Like we are.
I know this won't sit well with some people. Proper vegans might think I'm no better than something they walked in on their pleather shoes. Meat lovers might want to pull out my canines and wave the bloodied stumps in my face as proof that we've evolved to make black pudding. And that's okay.
But just as diets fail because you try to do too much, too soon, in too unsustainable way, if you try and go all cold turkey (or should that be cold tofu) chances are you'll be falling on road kill before the week is out.
But tell yourself that you can reward your vegan-ish efforts with a massive plate of (preferably genuinely free-range and organic) chicken wings at the end of the week, and you might just try almond milk the following one. It worked for us and it might work for you.
And any step in the right direction has to be a good thing, right?