I couldn't think of a better way to brunch than this Bloody Mary melted cheese sandwich. Made with a Bloody Mary relish that will wake up your taste buds, it is perfectly matched with salty bacon and gooey cheese that is bound to cure any hangovers from the weekend.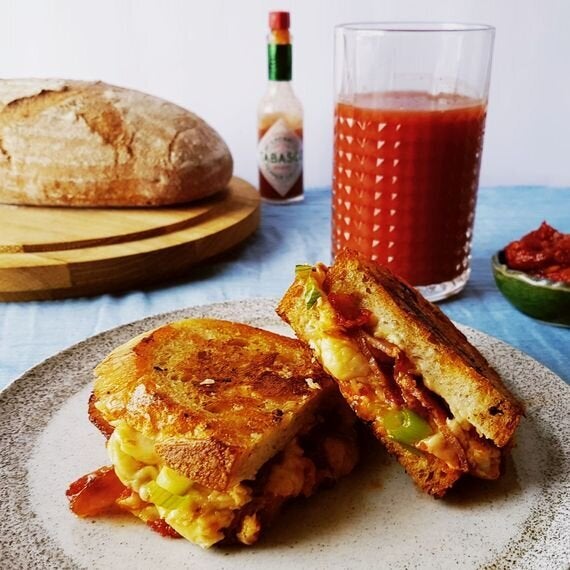 400g/14 oz. tin of chopped tomatoes
2.5cm ginger, finely grated
2 tablespoons of red wine vinegar
½ tablespoon of Worcestershire sauce
2 tablespoons of soft brown sugar
½ red chilli, deseeded and finely chopped
Tabasco sauce, to taste (approximately 10 shakes)
1 tablespoon of olive oil for cooking
Salt and black pepper, to taste
8 slices of sourdough bread
50g/2 oz. salted butter, softened to room temperature
8 slices of streaky bacon rashers
200g/7 oz. gruyere or cheddar cheese
1 spring onion, finely sliced
Salt and black pepper, to taste
Bloody Mary cocktail (makes 1)
Lemon juice, to taste (approximately ¼ of a lemon)
Worcestershire sauce, to taste (approximately 5 shakes)
Tabasco sauce, to taste (approximately 5 shakes)
150ml/5 fl. oz. tomato juice
Salt and black pepper, to taste
1. Finely dice the onion and heat olive oil into a fry pan on a low to medium heat. Saute the onions for 5 minutes or until soft and translucent.
2. Crush the garlic, chop the red chilli and grate the ginger. Add the garlic, chilli and ginger for 1 minute, stirring continuously.
3. Add the tinned tomatoes, red wine vinegar, Worcestershire sauce and brown sugar and bring to a simmer.
4. Reduce the sauce until it is thick and jam like. At this stage, taste the relish. Add the lemon juice, Tabasco, salt and pepper to taste. You may also add more red wine vinegar if it needs more acidity.
5. Meanwhile, cut the sourdough into slices and butter both sides of each slice. Finely slice the spring onions.
6. Heat a pan to a high heat and drizzle with olive oil. Fry the bacon until crispy on both sides.
7. To assemble, spread a generous amount of the relish on one half of the bread. Top with the cooked bacon and grate the cheese on top. Garnish with the sliced spring onions and place the other half of the sourdough on top. Season lightly with salt and pepper.
8. Heat a pan to a medium heat and place the assembled sandwiches on the pan. Cook the sandwiches on two minutes on each side, or until the cheese is melted and oozing.
9. For the Bloody Mary Cocktail, combine all the ingredients and stir together.