Men Get Eating Disorders Too is approaching it's fifth year birthday celebrations this Spring. Thinking back, I'm conflicted on whether it feels like five minutes or possibly five lifetimes! Out of of all the people I've encountered along the way is one person that has stuck in my mind...
Jeremy Gillitzer was an american guy that I discovered in 2008 when I was researching online with an idea to set up 'something' for men with eating disorders. Having read Jeremy's blog I felt an immediate sense of relief knowing that my experience was not alien after-all. This was a revelation to me knowing that I was not the only man in the world with an eating disorder and in fact probably one of many in a similar situation. Jeremy's story that particularly resonated with me and provided me with the reason (or permission) to challenge that eating disorders could affect men.
In the time when size zero was widely being debated in the media, it re-affirmed the commonly accepted stereotype that eating disorders was a female only issue. The focus seemed focused entirely on anorexia linked to fashion, catwalks, celebrity culture and so on. As a bulimic young man in recovery I related with none of it or had a feeling I may not be the only one.
With the plan on setting up the 'Men Get Eating Disorders Too' website I decided to make contact with Jeremy early 2008 after reading his story on the City Pages website titled 'Boy, Interrupted' about his battle with anorexia and bulimia. The article told Jeremy's ongoing battle with the eating disorders in his own words, uncensored. Never before had I heard such a raw and heart felt story about a man whose life had been truly ravaged by the wicked diseases and a host of psychological problems that he was facing.
Since the age of 12 Jeremy developed eating disorders after being bullied at school for being 'chubby.' For over 25 years he had endured the illnesses and was hospitalised on numerous occasions but was unable to fully recover. Despite his struggles he wanted to share his story with others to show the devastating effects.
One way in which Jeremy reached out to others was through his blog. He once said he receives emails from guys and girls who related with him and wanted to share their experiences with him. I knew it gave him reassurance to know that he wasn't suffering on his own.
His modelling work became a particular focus in any articles about Jeremy. Throughout his twenties he was a muscular model with an ambition to turn it into a career. However, a lack of work meant this didn't happen. Instead of focusing on another career path all he could see was rejection, which he internalised and ultimately fueled his eating disorder.
Jeremy was committed to sharing his experiences to help others. We exchanged an email dialogue for some time before he died. He often discussed his desire to write a book and speaking tour for professionals. This idea inspired the MGEDT Workshop Tour 2012/13 and continues in 2014 in his legacy.
Nearly four years on, it still saddens me immensely that Jeremy had passed away. I only ever got to know Jeremy through emails, yet it almost felt as if we had met. Through our correspondence it struck me how much of a lovely and warm-hearted person he was.
If Jeremy's story tells us anything it's that we MUST disregard any the gender stereotypical assumptions regarding eating disorders. The media's pre-occupation on anorexia and bulimia being a young women's issue does nether gender any good. For males in-particular this continues to be a barrier for recognition and support. Unfortunately, I hear from sufferers who still struggle to get taken seriously by their doctors simply because they are male.
Lately I'm finding myself to be increasingly intolerant to society's ignorance to the seriousness of the conditions. Furthermore it's concerning that too many male sufferers are STILL struggling to get any help. Regardless on whether the sufferer is male or female it's unnecessary that they have to reach crisis point to get the support and treatment they need.
Wherever you are on the globe the inequities sufferers are faced with are universal - it's important the eating disorders community works together if anything is to change in the long-term.
It's 2014 and about time we stand up to ensure eating disorders are better understood for all those who are affected. No suffer of eating disorders should be delayed diagnosis or treatment due to their gender.
Jeremy's story reminds me why it's important to keep on fighting until fatalities from eating disorders are no more...
For more information about getting support or supporting someone who you think has an eating disorder go to: www.mengetedstoo.co.uk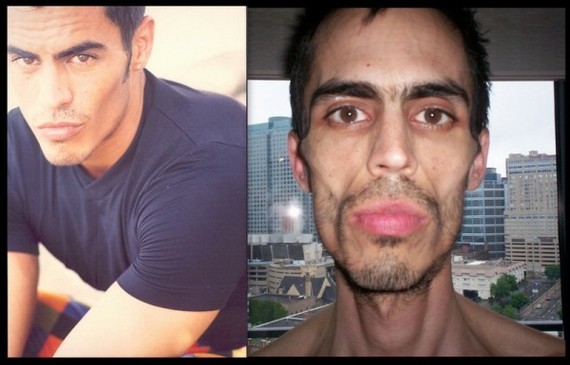 Photos are provided by Jeremy Gillitzer / City Pages