In 2012/13, nearly 190,000 students graduated with 2:1s.
Out of the 400,000 students that graduated that year, more were getting 2:2s than firsts, according to the latest Higher Education Statistics.
Hugh Laurie, J.K.Rowling and Prince Charles are just a few of the successful who fell below the second class, division one honours.
But what is it about the 2:1 degree classification that is so desirable? Should you aim for a solid 60 and exploit what else the university has to offer?
Speaking to the Guardian, Abigail Morris, employment adviser for the British Chamber of Commerce said: "SMEs (small and medium-sized enterprises) often do not have the time or HR resource to go through all those CVs, so they use the 2:1 to sift.
"But what businesses tell us is that they don't trust qualifications as a whole. Of a survey of 6,000 businesses, only 45% said they were very or fairly confident of taking on a graduate."
Adam Curtis, graduate and co-founder of the Swansea based online conveyancing software company Hoowla said when he is recruiting he looks for the grade and the reasons why a 2:1 was not achieved:
"For an employer, for me the grade is as not important but I look to see what else they have done. A lot of people have degrees now but if they got below a 2:1, I would be looking for the reasons why.
"On a CV, I also look for extra curricular activities to see what hobbies and interests they have as well as any volunteering or charity work they have been involved in.
"It is always about the attitude of the employee too. It is easier to train a person than to change their attitude."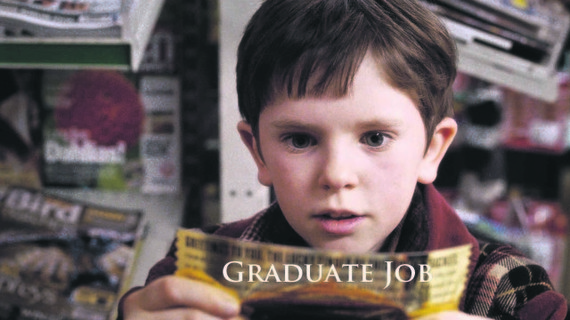 Joshua Hale graduated from BSc Psychology in 2013 with a 2:2 and has gone onto study a Masters in Research methods in Psychology MSC.
Whilst studying for his undergraduate degree, Josh was heavily involved with the students' union and societies.
Last year, he ran for Welfare Officer, took part in active campaigns and has recently been elected on to the NUS Wales Disability Committee.
"I don't feel a 2:2 has held me back at all," said Josh.
"I am currently averaging a distinction in my masters 72% and I always knew I wouldn't get the top grade as an undergraduate because I threw myself into university life and did everything else that was on offer."
Alexandra Gibbs graduated with a 2:1 in BA English Literature last academic year and had the role of Music Editor at The Waterfront throughout her degree.
She said how expectations are stressful at university and it can turn into friendship wars based on results:
"There's a lot of pressure nowadays to get a 2:1; not only from the hearsay you hear about getting a decent career but it can sometimes feel like a competition between your friends too.
"In every level of studies from GCSE to postgraduate there's a desire to get the highest. For me, it was imperative to get a 2:1, as many said that a 2:1 is the cut off line between being considered by a company or not."
There has been increased debate over the last five years about whether a 2:1 is considered not only an advantage over lower grade students, but also above those who achieve a first.
Jake Wilson, a BA German graduate, tells of his experience with the qualification:
"The latest notion that a 2:1 is better than a first is, like most of these statements' something that can apply in certain cases. I graduated from Swansea last year with a 2:1 in German and was able to walk into a £23k+ job two days after graduating.
"It wasn't my degree that got me my job, but work experience that I had accumulated before university and in my summer and Easter vacations. It's this situation, where a candidate with a 2:1 and significant and relevant work experience, may appear more desirable than a student with a first, but with no work experience."
Bear Grylls received a 2:2 in Spanish from Birkbeck University and he's one of the most successful faces on TV now. Although he does eat animal faeces, so...?
The best advice is to think about how employable you are in your desired industry from the minute you enter university. From work experience to qualifications, research what makes you desirable to an employer and strive to reach those targets.