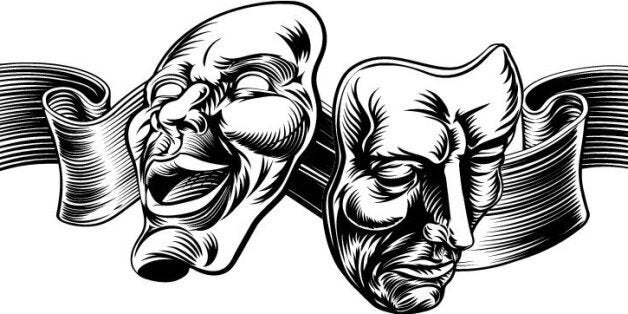 This year I took my topless comedy show 'Sextremist' to the Edinburgh Fringe partly in thanks to financial backing from the Tory Government, (yes you did read that right!)
Last year after my debut show 'Consume Shit & Die' I returned home to a notice threatening my eviction, which was ironic as I'd spent the previous 6 months trying to prevent other people from eviction as a member of the political occupation Sweets Way Resists. Burned out, I had to stop work and sign on the sick. So to a lot of people - I am scum. Whatever, "A rose by any other name..."
I am a certified nutter, which means comedy is where I belong. A lot of comics are mentally ill. I can see why we are attracted to stand-up. It gives us a voice, a chance to be heard. To turn our darkness into light. Transforming inner demons into laughter, like alchemy.
In January, having been signed off and isolated for months due to acute anxiety, I was touched that the job centre invited me to come visit them. Invite being the key word. I was under no obligation but was lonely. So went along to chat to the 'work coach' Allison. I told her an idea I had for a social enterprise. She was over the moon because this meant she could tick a box! She swiftly arranged for me to meet a business mentor, Mark. He worked magic turning my scribbled mind map into a viable business plan. He also granted me money, in the form of the New Enterprise Allowance. Mark was like the genie out of Aladdin and there was a light at the end of the cave.
You may have heard of a scheme in the 80s called the Enterprise Allowance. Set up under Margaret Thatcher. Mick Perrin and quite a few alternative comedians got started with it. Back then they got £40 a week. On the New Enterprise Allowance due to 30 years of inflation, it's now £65 per week for 3 months and then £33 per week for another 3 months, totalling £1274. This was a grant on top of my means tested benefits (which stay in place until you start to profit.) I felt no pressure to break even straight away so put money earned back into my business and despite bad credit was able to get a government-backed loan of £2500 with a low interest rate of 6% apr. I launched an Indiegogo campaign where I raised £382 thanks to my supporters and sold badges at my previews and gigs. Worst case scenario, I'd be back on the sick. So far I'm on track. For the first time in my life I felt like I had an unconditional basic income. A strong foundation to build on. My new found sense of security and purpose (FREE THE NIPPLE!) means I haven't been so content and stable since 2011.
As my bipolar affects my ability to do some tasks as well as those normal people. I also receive an Access to Work grant to pay my support worker Clare (introduced as my PA to snobs!) She helps me keep on top of my new responsibilities. Visiting me during the fringe, she found me a triggered blubbering mess. Another comic (who wasn't even at the fringe!) had trolled me on twitter. Within hours she helped me get things in perspective, reminded me to eat and I couldn't have accomplished my mission without her. It's been 6 months since I started Love Muffin Productions. I'm really proud of what I've achieved so far. I haven't broken even yet, but if Wal-Mart stores can start up running at a loss until they have driven their competitors out of business, why can't I?
I'm actually more about co-operation than competition. My goal is to be able to pay myself a salary of £22'000 in two years and put the rest of any turnover into socially conscious creative projects. I'm bringing in a steady stream of income and returned back from Edinburgh with ideas, knowledge and priceless memories.
My show this year was about being enough, equality and acceptance. I performed topless in support of #FreeTheNipple a campaign to normalise bare breasts. At the end of the fringe 100 of us, all genders marched topless down the Royal Mile and onto Scottish parliament - demanding they change the law! It was Sunday so the politicians weren't there, but we did make national headlines and had a refreshing swim in the fountain. For Sextremist I received some good reviews, had lovely audiences and even won an award (for being normal!) Which I accepted, topless of course. Mission accomplished!
Some will say people like me are too vulnerable to be out in the community let alone doing stand-up comedy but I believe people with mental health issues deserve the same opportunities as everyone else. With the right support we can make worthwhile contributions to society and to the arts. Look at what bipolar people like Stephen Fry, Robin Williams and Russell Brand have given us.
I'm aiming to be in the black well before march, when the grant that pays for my support worker will be re-assessed. So any paid opportunities you think I may be suitable for, please let me know.
Seriously though, don't judge me. Being on benefits can be hell. Last winter whilst waiting for my claim to be fully processed I had to visit the food bank 3 times. Eventually crumbling into hysterics because during an assessment of what I was spending my £60 a week on (after bedroom tax), a council worker chided "You should get rid of your dog!" I'm sharing this because I want other people in similar situations to know what's out there. Ultimately, I believe a universal basic income would nurture a fairer, healthier and more creative society. Earlier this year I had nothing, and nothing to lose. Just six months into this new venture what I've gained is worth than more than money - I have my life back.