Let me tell you about my wedding morning. It was a champagne-fuelled blur of hair-curling, makeup-applying and nerves, amplified by a dizzy hairspray high. Sidenote: never underestimate how much product goes into looking naturally beautiful.
There was toasting with my mother and bridesmaids at our hotel and then an anxious drive to the ceremony during which the driver got lost three times. The hairspray intoxication wore off. A champagne headache set in. Every nerve felt exposed by the time we finally got to the ceremony.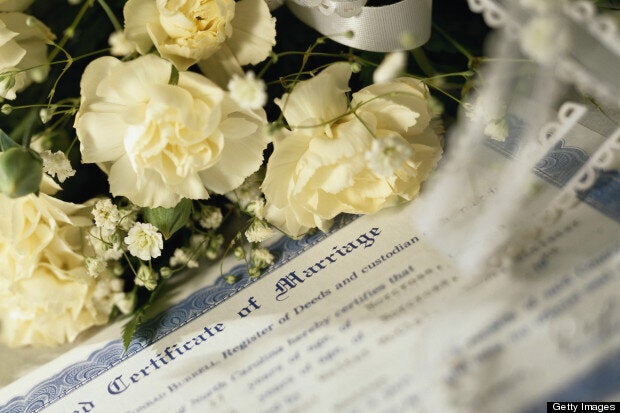 And then, instead of racing up the aisle to meet my fiancé, I was pulled into a room to go over some details about my father for the wedding certificate.
A man who a) merrily set off for pastures new when I was seven and b) never contributed in any way - financially or otherwise - to my upbringing.
"What was his job?" the powers that be wanted to know. "Did he have a middle name? Do you have any memory? Even an inkling?"
To all of their questions, I drew a blank. I've no idea what he got up to, where, who with or how many names he answered to.
I don't know his employment history or his birthday. To me, he was and remains a perfect stranger.
My mother, on the hand I could have told them everything about. I could rattle off her CV, tell them her favourite nail varnish, share with them the David Bowie album that soundtracked her teenage years.
Like 1.3million other women in the UK, she was a single mother who raised my sister and I herself. I could have told the registrar that too - except in the eyes of the law when it comes to marriage, she's irrelevant.
As feminist activist Caroline Criado-Perez highlighted recently in the New Statesman, there is no space on marriage certificates in England and Wales for mothers' names and occupations, only fathers'. The institution point blank does not recognise the mother.
In 2014, how is this possible? Such a simple omission, yet such a huge inequality.
Personally, I find it insulting a man who never offered any guidance, support or care somehow wormed his way into my wedding day, but I could deal with it if my mum at least had the same recognition.
Ailsa Burkimsher Sadler has started a petition to have marriage certificates changed - to ensure the mother's name sits right next to the father's.
So far, it has gained 25,000 signatures but needs more to truly inspire change and get the attention of equalities minister The Rt Hon Sajid Javid, registrar general Sarah Rapson and the Archbishop of Canterbury Justin Welby.
Do you believe in equality? Sign it now and let your mother be recognised as much as your father on one of the happiest days of your life.
This article was originally published on MyDaily.