So as we head towards October I find myself bracing myself for the impact of my social media campaign #nomoreemptyarms. As I prepare to fill social media with photos of parents, grandparents, aunts, uncles and friends hugging their children close, I am also preparing myself for my truth, my arms are empty.
Nearly seven years ago my beautiful daughter Olivia lost her battle to the devastating neurological condition Rett Syndrome. In the early hours of November 7, 2008, our world was torn apart. Nothing could have prepared us for the impact and pain we have had to face as a family.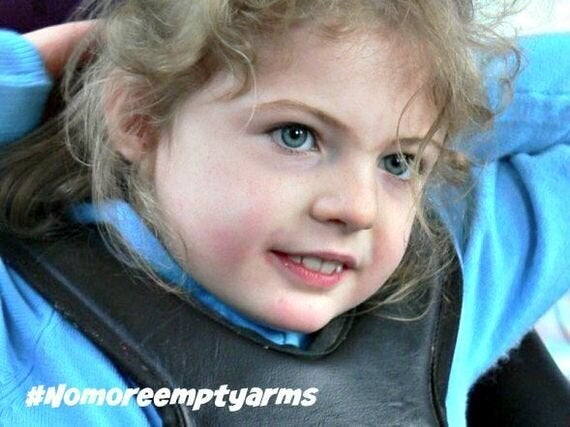 Yet its because of this pain that I started the hashtag campaign #nomoreemptyarms. I wanted to join in with the October awareness month for Rett Syndrome with the only way I knew how. To highlight the fact that a cure is desperately needed for this condition. I needed people to realise that we need to fund research into this condition so that no other parent would have to feel my pain. That there would be #nomoreemptyarms.
Last October after the publishing the photo of myself and my daughter Livvy with the hashtag I was shocked at the response it received. Before long all over the world people were uploading their photos with the hashtag. We had photos from America, Australia and from all around the United Kingdom. Members of the Rett syndrome community, friends, strangers all supporting me in this awareness campaign. All getting behind what I wanted to be the foundation of the campaign, #nomoreemptyarms.
It's a simple hashtag but it speaks volumes.
Rett Syndrome is a debilitating neurological condition that predominantly affects girls.
Rett Syndrome affects nearly every part of our girls lives.
It's the leading genetic cause of severe impairment in girls - most cannot speak, walk or use their hands.
Research has shown that girls with Rett syndrome do not have brain damage. They know and understand much more than their bodies allow them to show - but they are locked in, trapped by a body that cannot obey signals from their brain.
Another girl is born with Rett Syndrome every 90 minutes.
Girls are born "normal" but begin to lose acquired skills in the first few years.
Livvy developed as what would be described as normal, she walked and she talked. I used to love listening to her babble, mama and dada if only I had known then how special those words would be. Then around her second birthday our world was about to change. Livvy began to disappear into herself, her words disappeared, we lost eye contact and it seemed that she was forever screaming.
Rett Syndrome stole my daughter from me twice and whilst I cannot save my daughter I can help fight for those struggling with this condition today and those yet to be born.
So this is why I am planning on making this October's #nomoreemptyarms campaign bigger than ever. With the cure of this devastating disorder on the horizon I want everyone to know of this condition. I want to fill all social media with photos and with this hashtag. I want people everywhere asking what this is all about and learning about Rett Syndrome.
I want to raise awareness and I simply want #nomoreemptyarms.
So please get ready to join with me this October take a photo with your child, your partner, your friend in your arms and upload to social media with the hashtag #nomoreemptyarms. Join me in getting Rett Syndrome into the public arena.
Help me in my quest for #nomoreemptyarms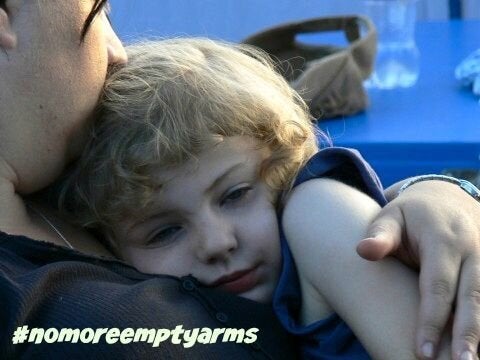 More information on Rett Syndrome research can be found here..
Related