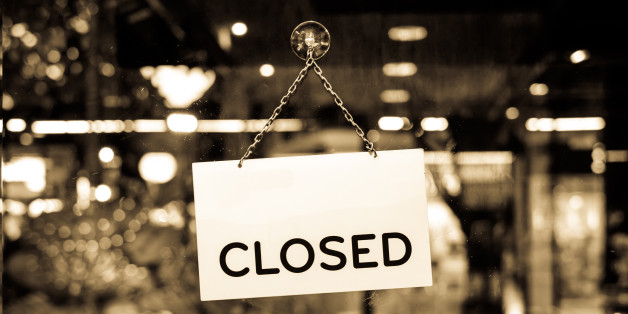 NYstudio via Getty Images
You probably know of a charity that has closed down over the past year or so, whether it's a small local organisation or a national more high-profile charity. A charity closing down can be an emotional and distressing time not only for beneficiaries, but also for staff, supporters, and the wider local community.
However, the economic reality for charities across the UK is challenging and sometimes closure is the only, or the most pragmatic, result. Whilst this is a difficult and upsetting situation to go through, the most important thing is that the charity is closed down in the most efficient and effective way possible to ensure disruption to the charity's beneficiaries, staff and services is minimal. Closure need not be a disaster - collapse always will be.
For example, when children's charity 4Children faced closure last year, it contacted us and we worked closely with them to manage the situation. While it was sad to hear of the charity's closure, we are pleased that the charity knew when to take early proactive action and worked hard to prioritise the wellbeing and needs of its beneficiaries above anything else. It had a comprehensive contingency plan in place: only 65 of the charity's 1,050 staff were made redundant, and only two of the 150 sites operated by the charity faced closure, with Action for Children taking on more than 60% of 4Children's services. This was a reminder of how sometimes charities with similar goals can work together - whether by formally merging, sharing information, or pooling admin, fundraising, or service delivery costs - to operate more effectively and achieve better results.
We also recently undertook a programme of proactive work that looked at the charity sector's general resilience. As part of this work, we identified 94 charities with incomes over £1 million that were potentially in financial difficulty. Reviewing these charities' accounts and looking at what actions the trustees were taking in response to the situation highlighted a number of lessons for other charities:
taking early steps to address financial difficulties and realistically confront them minimised the risk to beneficiaries
charities have a number of different options to explore including mergers and collaborations and diversifying income streams to achieve positive outcomes despite financial difficulties
the future outlook for charities remains challenging and so trustees must stay alert to the risks of financial distress and ensure they have reserves in place
a head-in-the-sand approach raises concerns about the trustees' ability to run their charities effectively; charities should not take un-managed risks, but the risk of doing nothing can be devastating
Charities facing financial problems can use our guidance on managing charity assets and resources to review their charities' finances
Good governance and trusteeship is as crucial as it has ever been, if not more, when closing down a charity. Less orderly closures can result in the abrupt termination of essential services for local communities or vulnerable beneficiaries. The single most important thing is succeeding in your charity's mission and achieving its charitable purposes. That may mean having to make a difficult decision and closing a charity should not be automatically seen as a failure. If you run out of steam, there is no longer a need for your services, or if there's another charity that's doing similar work, it's okay to call it a day, as long as you do it in the right way.