In a week when the Department for International Development announces its support for "an energy revolution across Africa" to bring solar power to millions, it's a terrible irony that at home the renewable energy sector is literally on its knees.
This month alone, four British clean energy enterprises have collapsed. More than a thousand jobs have gone and as many as 27,000 in total are at risk; schools, communities and businesses have lost local suppliers; and entrepreneurship and innovation are being quashed.
The UK had, until recently, been considered a leader in this area but, following several policy announcements withdrawing or cutting support for solar and wind projects, investors and consumers alike are growing uneasy.
The removal of subsidies for onshore wind coupled with the axing of solar subsidies for large scale new solar farms from next April, together with a massive proposed cut of 87% to the Feed-in Tariff (FIT) rate for small scale solar including roof panels, has left the industry reeling.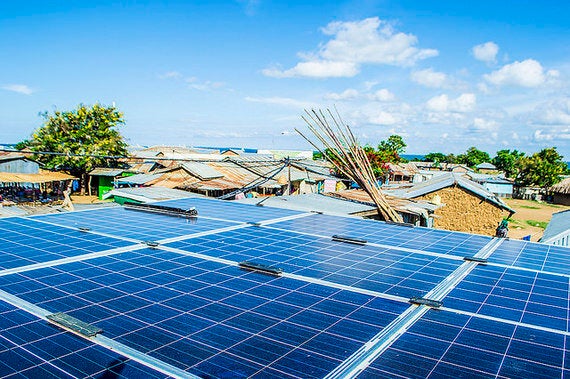 A solar revolution is underway in Africa but under threat in the UK. Photo: SteamaCo
Earlier this month, Bloomberg New Energy Finance released a new analysis indicating that in the UK onshore wind farms are now the cheapest way for a power company to produce electricity, coming out at £20 less per megawatt hour than coal or gas-fired plants. In the second quarter of 2015, a record high of one quarter of Britain's electricity came from wind, solar, hydro and biomass. Britain added more solar capacity last year than any other European country. Prematurely withdrawing support now will only stop such growth in its tracks.
The Secretary of State for Energy and Climate Change, Amber Rudd, has spoken before of solar being "a great British success story" but those words now have a hollow ring about them. She is fond of arguing that she has a duty to protect bill payers from bearing the brunt of high subsidies yet the Solar Trade Association believes that support for solar under the Renewables Obligation currently only adds £3 per year to each household bill. Would anybody really argue with that when such investments would begin to insulate us from rising energy prices, provide energy security and contribute to our legal requirements to reduce CO2 emissions?
If the FIT proposals go ahead, it will likely mean the end to rooftop solar at a time when the solar industry is only a few years away from being able to survive without subsidies. It is a perverse policy that will end up stymying some of the cheapest - and most popular - forms of energy and costing people more for their energy, not less, all the more so if the government pursues its dalliance with high cost unsustainable options such as nuclear or fracking.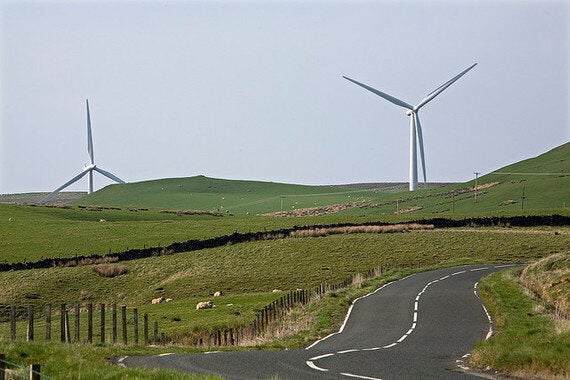 A community energy wind farm managed by the Energy Agency, South Ayrshire
This is also the week when President Xi Jinping of China confirmed Chinese investment in a new nuclear plant in Somerset. When Hinkley Point C was first announced in 2008, a competitive price tag of £5.6bn was attached. Fast forward six years and the estimated costs have increased more than fourfold to £24.5bn. This is assuming that it can be delivered on time and within budget, something that looks increasing unlikely considering that a similar reactor in Finland, Olkiluoto 3, has overrun by nine years and many billions of Euros. Furthermore, these costs aren't taking into account the storage of the 54 tonnes of spent fuel that Hinkley Point C would produce annually or the cost of decommissioning the plant at the end of its life.
Physical work hasn't even begun on the site, yet the venture's operator EDF has agreed with the government a set price (or 'strike price') for the electricity it will sell from Hinkley Point C to the grid. At £92.50 per MWh, this is vastly more than the current wholesale energy price in the UK of £44 per MWh.
The high price has been agreed to ensure the initial investment by EDF and the loans from foreign investment are repaid. These loans are necessary due to EDF's inability to fund the enormous £24.5bn upfront cost. What this means is that each British household will be paying a portion of the Hinkley C debt/profit to the tune of £30 per year for 35 years. Hardly what you'd call protecting bill payers.
It's understandable that the government wants to secure a low carbon energy supply for the UK, and there's clearly distrust on their part that this can be achieved using renewables. However, turning to nuclear power to achieve this low carbon electricity is an outdated policy as highlighted by Steve Holliday, CEO of National Grid. Steve was quoted in the Energy Post last month as saying: "The idea of baseload power is already outdated. I think you should look at this the other way round. The solar on my rooftop, my heat pump - that's the baseload".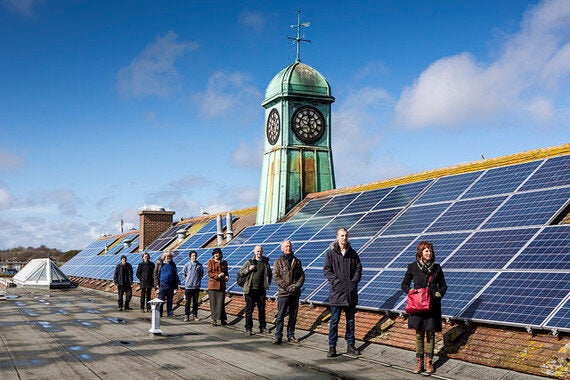 Community energy projects like this one supported by OVESCO in Lewes will bear the brunt of proposed cuts to solar Feed In Tariffs.
At Ashden we have spent 15 years identifying and supporting pioneers in sustainable energy, both in this country and internationally. In that time we've watched with delight as our Award winners have blazed a trail from Kirklees to Kenya bringing clean and cost-effective energy to millions. And now we watch anxiously as our UK winners report that planned projects, many with considerable community benefits attached, look set to be shelved while scaling up becomes out of the question.
The UN's chief environment scientist Jacquie McGlade this week criticised the UK for appearing to abandon its leadership ahead of the crucial upcoming climate summit COP21 in Paris. If government policy continues in this vein, we won't need to ask the last person to leave to turn out the lights. They'll have gone out long before then. Just ask the clean energy investors who are starting to turn elsewhere.
Popular in the Community