Getting 70 women in 35 red cars across four countries in four days is the challenge in front of us.
The women are an international group, including Danes, Americans, Spaniards, Poles, Italian and Brits, and they have their manicured fingers in many different businesses across the world. There are those with their own beauty ranges, investment bankers, jewelry wholesalers and marketers. But the one thing they all have in common? The desire to do something and not just be someone with their success.
Money and power can afford you many luxuries, and one of those luxuries is being able to take four days out of your schedule to raise awareness and fundraise. And when these women, led by the super-organised Julie Brangstrup, fundraise they do it in a big way.
Last year, the Cash and Rocket tour raised $250,000 for charity. This year the sights are set even higher, with the aim of helping three African charities - Orphan Aid, Sumbandila and Shine On Sierra Leone - reach their goals.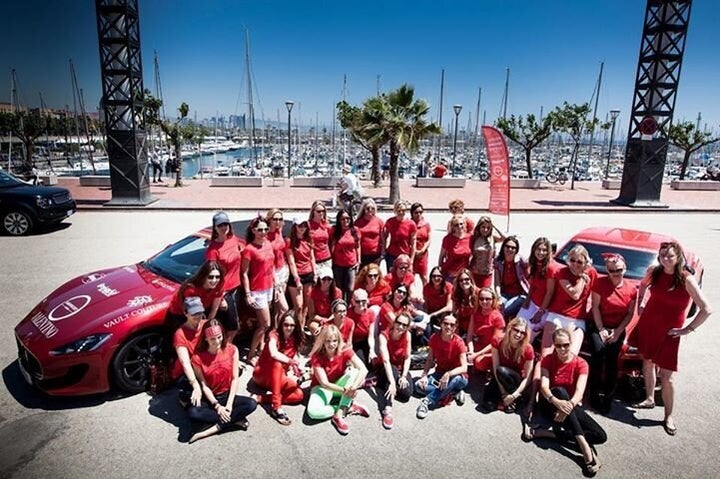 Shine On Sierra Leone aims to build a primary school for 300 children. Orphan Aid wants to create a survival center to support 100 dislocated families. And Sumbandila has set out to provide high quality secondary education to give underprivileged children the opportunity to reach higher education in South Africa.
And so here it is that I find myself, a journalist whose driving experience involves a brief stint owning a clapped-out Peugeot 206 a couple of years back, sat on the motorway from Barcelona to Cannes in a Maserati GranTurismo Sport.
I expect I am the only woman on this trip who, upon her arrival to central Barcelona by the airport bus, was asked if she needed directions to a hostel.
Nevertheless here I am now, sitting in a car that keeps beeping as we accidentally hit 100mph without realising. I'm told the 4.7-litre V8 engine reaches a top speed of 185 mph and goes from 0 to 62 mph in 4.8 seconds. Not that I'm brave enough to test it.
I'm no car buff, but I think even Jeremy Clarkson would approve. Later I, the girl who has only once driven on a motorway, never driven abroad and certainly never touched a sports car - gets to take control of the wheel. Nervous doesn't cover it.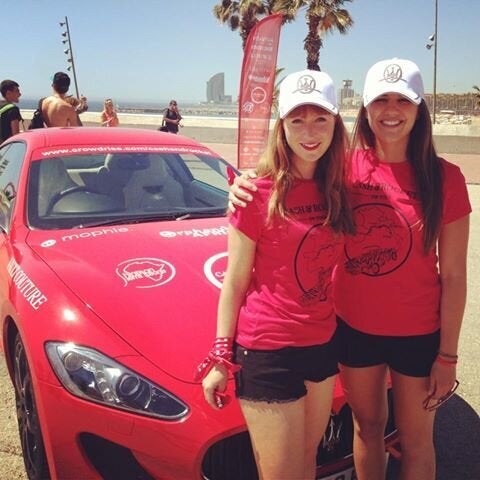 I find myself in this unlikely but incredibly fortunate situation after a chance meeting with Brangstrup - the brains behind the fundraising initiative - at a different charity launch two months back.
The morning after coincidently chatting to her about my interest in charity work and love of Barcelona, I found an email in my inbox inviting me to cover the Cash and Rocket tour. Her friends tell me that it's typical of her to act on impulse.
Brangstrup, a talented conversationalist and mother of six who learned all there is to know about European tours after setting up the Gumball Rally with her ex-husband, has enlisted some impressive sponsors to support the tour.
Valentino, Vitaviva, Julien Macdonald, David Morris, Bentley, Loewe, Cavalli, Mophie, Vault Couture, and Veuve Clicquot have all got behind the initiative and their logos - along with those of the three charities - adorn our Maserati as we drive somewhat cluelessly through Europe. I like to think what my 23-year-old American co-pilot and I lack in experience we make up for in enthusiasm.
So far we've mainly been flummoxed by the toll booths - I tried giving a man 20 euros to raise the barrier, only for him to tell me in clear English to hand over my card. The next barrier we came up against I climbed out of the window to grab a ticket that said something in Spanish. And after that our road was blocked by seven French police officers. Fortunately, we had a passenger in the back who spoke French, as my "bonjour" and smile wasn't cutting it.
The drive is not a race, but there is one competition - to raise the most amount of money by the time we reach Rome on Sunday. The 70 women are split into pairs and given a team number. As a team we must fundraise along the way by persuading those we meet to donate. Together, before the tour began, Cash and Rocket had already raised $70,000 for Orphan Aid, Sumbandila and Shine On Sierra Leone but there is still a long way to go.
For now, with the help of our car's navigation system and definitely not my map reading skills, we continue on the motorway to our next overnight stop, Cannes. It's anyone's guess how long that will take, especially once I get behind the wheel, but I'll update you in my next blog.
Fancy getting behind team six? Check out our fundraising page on Crowdrise.
Related