Whether forced into fighting through fear and abduction or recruited by the attraction of desperately needed money, child soldiers are still locked in battle around the world.
12 February marks The International Day Against The Use Of Child Soldiers, otherwise known as Red Hand Day.
It's an annual commemoration of children around the world caught in conflict but should also act as a reminder that this is a problem that is far from over.
The Lord's Resistance Army (LRA), the rebel group led by Joseph Kony that originated in Northern Uganda, is just one example of the harrowing use of child soldiers.
Between 1987 and 2006, more than 20,000 children were abducted as part of the terrifying regime to fight in his rebel forces.
Now, to mark the day of commemoration, Christian Aid have documented Norman Okello's story. He was abducted by the LRA at just 12 years old.
Still only a child, he was forced to kill and maim. Reunited with his family as a teenager, the former child soldier tells of the constant struggle he faced to hold on to his humanity in the video below...
Meanwhile, in May last year, a report by journalist Jeffrey Gettleman and photographer Marcus Bleasdale in National Geographic exposed how child soldiers patrol mineral mines in the Congo...
"The first child soldier pops out of the bush clutching an AK-47 assault rifle in one hand and a handful of fresh marijuana buds in the other. The kid, probably 14 or 15, has this big, goofy, mischievous grin on his face... Within seconds his posse materializes from the thick, green leaves all around us, about ten other heavily armed youngsters dressed in ratty camouflage and filthy T-shirts," Gettleman wrote.
It's hard to determine how many children and young people under 18 are still taking part in hostilities that take away their innocence and threaten their future as there are no official records.
Latest estimates, published by the Red Cross, suggest there are around 300,000. However, the actual numbers will vary, depending on the state of conflict or peace in any particular country.
Under international humanitarian law, 15 is the minimum age for recruiting soldiers - everything else constitutes a war crime.
But while most of those taking a direct part in hostilities are aged 15 to 18, there are younger children, some as young as eight, also involved in fighting.
In June 2013, Amnesty International reported that children in Mali, some as young as 13, who were recruited as child soldiers by armed groups or suspected of links with them, are now being detained by Malian forces alongside adults.
After a four-week visit to the country, children reportedly told the charity of torture or ill treatment by the Malian forces.
On this day of remembrance, let's not forget these children and young people fighting battles that they should never have to witness, let alone take part in.
Here are five recent photos, to illustrate how the use of child soldiers is by no means a thing of the past: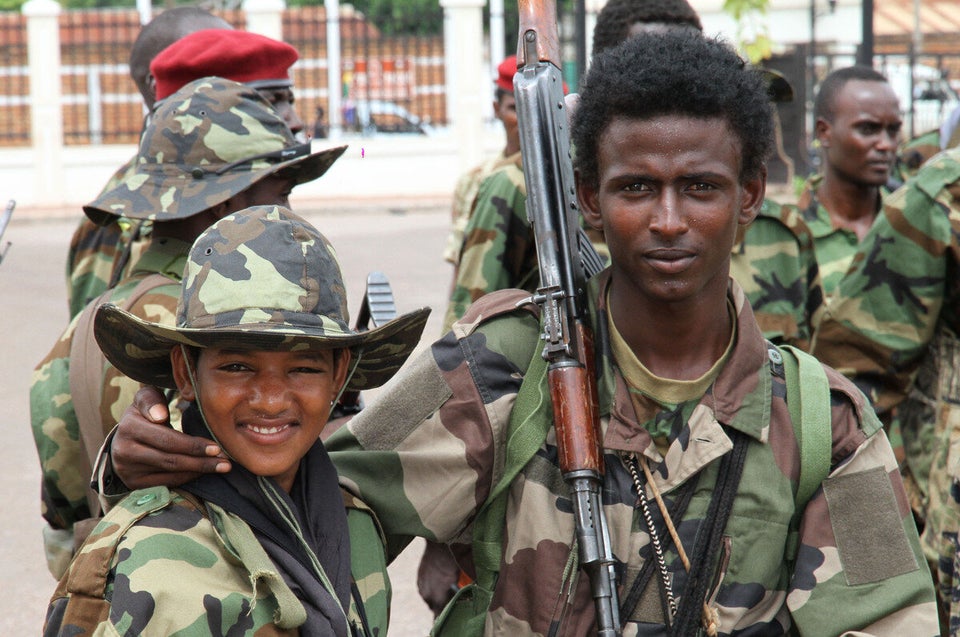 Child Soldiers
Related