When we opened the doors of Google's startup hub Campus London back in 2012, the goal was clear: we wanted to give early-stage founders a place to learn and grow. Almost five years in, the outlook has dramatically improved for those founders, whether they're part of our 70,000 strong community or not. Many of the high-tech companies that began with us are now facing their next challenge; how to move from start-up to scale-up. From fashion to fintech, we kept hearing the same thing from our scaling founders: how do I find the right hires to take my company to the next level?
Last Saturday, we partnered with startup job board Unicorn Hunt to host our first Startup Job Fair at Campus, curating a group of 42 growing startups offering meaningful and skilled employment opportunities, alongside CV surgeries with Google employees, unconscious bias workshops and panels on how candidates can find the right startups to join.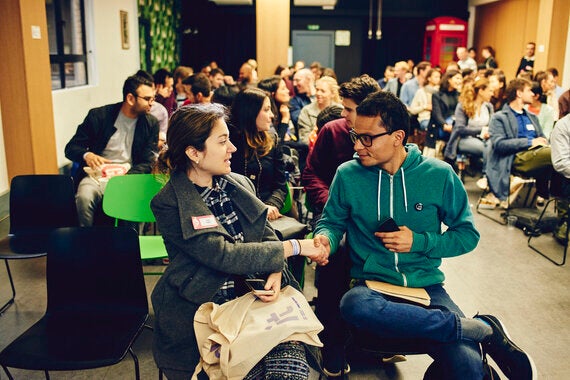 And supply did not disappoint. We welcomed 900 eager candidates through the door, from those looking for their first design job to mid-level developers and business-minded corporate staff keen for a change. Still, looking back a week on, there's so much more work to do. Around 46% of the roles on offer at companies like GoCardless and Appear Here were technical; think developers and data scientists. But only a fifth of candidates had the right set of technical skills, leaving a big gap between supply and demand. And while we don't have the exact data on the gender balance of these technical candidates, there's much more work to be done helping more women in technical roles and showcasing opportunities to this group.
Now, there's no shortage of incredible code schools out there, like Decoded or Code First: Girls. At Campus, we host General Assembly's showcases for recent developer graduates and see this group find well-paid, meaningful work fast. So we need to better showcase the opportunities for those with skills in this area, whether it's to persuade managers to invest in their teams or individuals to upskill themselves.
Secondly, we should be very proud, in the UK, of our strong and diverse talent pool. In the CV surgeries, we saw American MBA graduates, Indian UX designers and Swedish C-level executives. Our mission at both Google and Campus is around democratising access, and this day truly proved is there's no such thing as a set career path anymore.
As any founder knows, team is critically important in building your startup. Back in 2012, it would have been incredibly unusual for someone to leave a banking or legal career to be hired by an early stage startup. We're now seeing this happen every day at Campus. It's truly symbolic of how much our tech scene has grown; long may it continue.
Popular in the Community