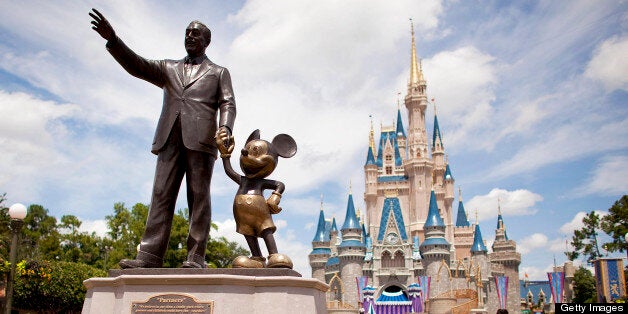 Princesses, parades and characters I faintly remember loving aged two. Surely I, an 11 year old girl, am way too old for Disney World?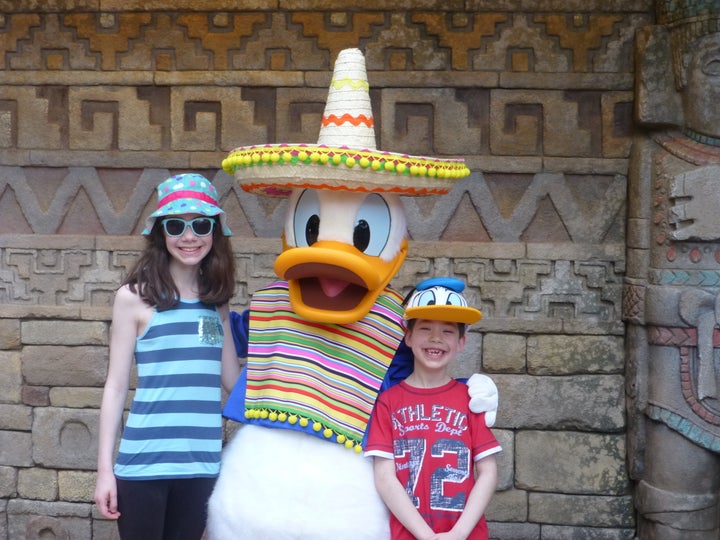 As we drove into DisneyWorld, I felt a surge of excitement. I had dreamed of visiting Disney forever and that dream was coming true. However, I was also slightly worried. When I had been begging my parents to take me, I was still in love with Belle, Toy Story and Pluto. Surely I wouldn't feel the same way about meeting them now as I would have when I was younger?
The first park we visited was the Disney Hollywood Studios. I was most looking forward to the Toy Story Mania ride because I'd heard so much about it. My expectations were very high but when I saw the waiting area, I almost changed my mind. It was full of brightly coloured games that looked cheesy and babyish. Suddenly, Disney started seeming less appealing.
My mind changed as soon as the ride started. My family spun around, laughing as we shot virtual pies, pins and darts at pretend targets. It was such good fun.
When my parents persuaded me to have my picture taken with the Monsters Inc characters, I felt a bit embarrassed. The line was full of five year olds and I was eleven! But Disney obviously drew the younger child out of me though, and it was quite cool to have my picture taken with Sully and Mike Wazowski. I didn't even mind knowing it was actors inside the costumes.
Obviously, the Hollywood Studios weren't just full of things for younger children. I enjoyed yelling, clapping and gasping at the Indiana Jones Epic Stunt Spectacular, where stunt actors fell off buildings, got punched in the face and ran away from Germans in a WWII scene. Another highlight was Star Wars: Star Tours, where I was strapped into the StarSpeeder 1000 (a motion simulator) and went on a journey through space with C-3PO. It was so good I went on it twice!
At the end of the day, our family watched Fantasmic. By then I wasn't even worried about whether I'd be too old - so far everything had been perfect. The show was fabulous; it had fireworks, boats and scenes from Disney movies projected onto mist. I really enjoyed it.
I wasn't worried about Epcot at all. I'd heard it had some really cool, fast rides and nice places to walk around. I screamed my head off whizzing around Test Track and freaked out on the more intense version of Mission: SPACE. We were on a Spaceship that was going to Mars and you had to press buttons to carry out your allocated roles. The ride had REAL G-forces and was one of only two rides on the whole holiday that I didn't like.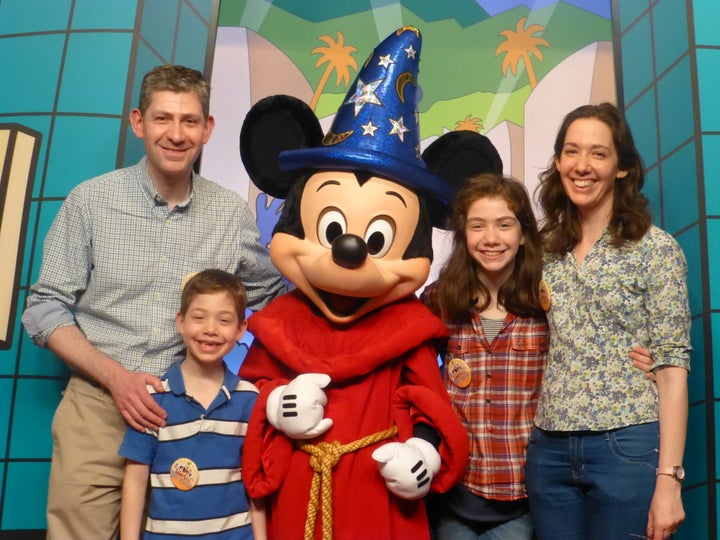 I really enjoyed walking around the pavilions at Epcot. China and Japan had really fabulous statues and Morocco looked like it had come straight out of Aladdin. There was an acrobat balancing on chairs and wine bottles in France, and a band singing British songs. There were also some yummy pastries in Norway. The pavilions looked incredible, but it was really tiring to walk around, and that slightly ruined the day.
I was a little worried about the Magic Kingdom, because the rides were mostly based on Princes and Princesses. The most scary ride I'd heard of was the spinning teacups, and I thought that I would find the day dull and uninteresting.
I changed my mind straight away when our family was picked as family of the day and got to open the park. We were driven around on a 1915 fire engine and got pictures of all of us in the empty park. Then, we got to take part in a special opening show with dancers, fireworks, a steam train and all of the Disney characters. It was brilliant!
As soon as the show was over, we rushed to the Haunted Mansion. I was looking forward to this because I'd heard that it was quite scary. The pre-show was definitely spooky, and I prepared myself for something really bad. The ride itself was actually fine. There were some really cool bits, where there was a lady's face in a crystal lamp and a graveyard, but most was quite funny. When you passed by mirrors, there was a monster sitting on top of you. It was hilarious.
We went to three rides that I thought would be too young for me and I enjoyed two of them. I had no clue how the Monsters Inc Laugh Floor would make you laugh, but it did. There was a very funny bit where they told the story of Monsters Inc using people from the audience. I also thought the Ariel ride was peaceful and relaxing. Everything looked really good, especially the Under The Sea dance with all the fish.
The only other ride I didn't enjoy was the Peter Pan Flight. The sets looked unreal and tiny and it was quite babyish. It was definitely aimed for younger kids.
Our Disney experience ended with a parade including Cinderella, Mickey, Donald, Aladdin and all of the Disney characters. It was the perfect way to end the holiday.
Was I too old for DisneyWorld? No I definitely wasn't. And whatever your age, I doubt you will be either.
I blog with my mum at Family Travel Times, so please visit us there to read more about our trips and days out.