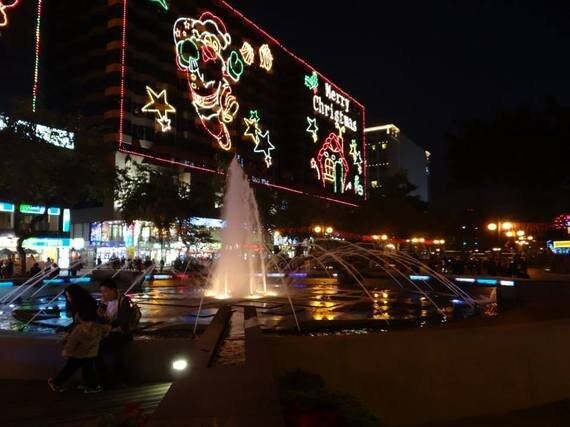 Tucking into a ball of suspicious-looking stuffing, I marvelled. Not because it was suspicious-looking - in fact, that made perfect sense - but rather because I was carrying out quite the first. My first time spending Christmas Day at however many thousand feet, on an aeroplane (enter suspicious stuffing) to Hong Kong. It was also my first Christmas away from home. The same could be said for my boyfriend, my sister and her partner. It almost rang true for my dad, too, who hadn't been in his home town over the Christmas period since 1975.
We weren't going to Hong Kong for Christmas, per se, but a family wedding. My dad makes the trip every year to see family, and with a wedding invite for 28th December, we decided it made perfect sense to go during the festive season. Aside from gasps of 'won't that be weird?' (answer: I don't know yet), the main question people asked when I told them of my travel plans was: 'do they celebrate Christmas in Hong Kong?' Embarrassingly, I struggled to come up with a solid answer.
But as soon as we got through the (super efficient and queue-less) airport, I was closer to finding the truth. My first clue was the leaping reindeer, towering over me, showered in glitter. There were decorations, everywhere. Huge Christmas displays, involving not just oversized Christmas trees, but giant baubles, aforementioned plastic deers, weighty-looking angels; the lot. I shouldn't have been surprised. When the Chinese go for it, they really go for it. And it wasn't so long ago that Hong Kong was a British colony (1997). As we made our way to our hotel in Sha Tin, and then on to dinner with my grandmother in nearby Tai Wo, the Christmas efforts never faltered.
Food, however, was a different story. We went to a rather upmarket chain restaurant called Maxim's Palace (the diamond chandeliers and perfectly folded gold napkins don't even hint at the fact they have a branch in every other shopping mall). Of course, none of us were particularly craving or missing Christmas dinner - we were in the city of food! - and traditional cuisine was always going to be our first choice, no matter the date. But it was intriguing that there was no mention of a Christmas dinner anywhere - in the restaurant, or on our walk afterwards - not even for it's strange, novelty factor.
It became clear that for most locals, the festive period was simply about enjoying their one week off work. Something a lot of them deserved, thanks to high-powered, demanding jobs. Sure, every landmark or area we visited, including Macau, was decked out in tinsel and kitsch Christmas characters. But they were also packed with people. And while locals posed for photos in impressively constructed Hello Kitty Christmas grottos, that was the extent of their Christmas celebration. My dad explained that it was rare to give presents, too. Looking at the origin of Christmas, their lack of commitment to the holiday makes sense. About 92% of the Hong Kong population adheres to Buddhist principles and traditions, and while they were once a Brit colony, the Pearl of the Orient has long had it's own customs.
Perhaps controversially, I liked spending Christmas over there. There was no pressure for us, as a family, to be best friends all day (which, of course, fails the minutes you get down the stairs on Christmas morning because of said pressure), no emphasis on presents or money, no shameful disappointment about gifts or the day itself. And we still got to enjoy the Crimbo decks and the holiday spirit. We came home in the New Year, having successfully avoided the Christmas day blow-out (Quality Streets, I'm looking at you) and the Boxing Day come-down. But one thing I did miss? My mum's stuffing, of course.