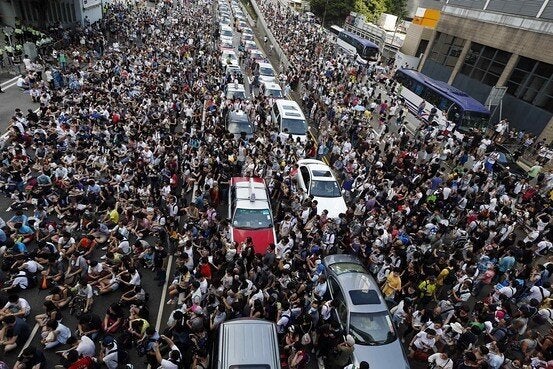 This week, months after the Occupy protests (or Umbrella Movement) filled the streets of Hong Kong, the Legislative Council will make a decision about the future of the city. Beijing has written a bill which, if passed, will allow Hong Kongers to vote for their own leader in 2017 - as long as the Communist party approves of the three candidates put forward.
Hong Kong, gloriously and rightfully autonomous since it's release from Britain in the late nineties, was promised 50 years of making their own choices and rules. This bill undermines that promise, and gives off the rather unsettling feeling that China are going to be garnering control much sooner than 2047, when Hong Kong's guaranteed autonomy ends.
The most disheartening part is that the young protestors can't win either way. Pro-democracy politicians control around a third of the seats and have sworn to reject the bill. But that means the current system - a committee made up of Beijing loyalists choosing a leader - stays the same.
Recently, Hong Kong football fans booed when China's national anthem played (they don't have their own), during a match between Hong Kong and the Maldives. Fans held up scarves that read 'fight for Hong Kong', and chanted 'we are Hong Kong'. But this new political wave hasn't just caused chaos in the public.
Tensions are brewing at home, too. At the time of the protests, while my 19-year-old cousin was posting pro-democracy statuses on his Facebook account (Hong Kong isn't hit by the Chinese Internet firewalls - yet), our uncle, a police man, cut contact with him, more sympathetic to the government. In my dad's words, 'they just didn't talk. Families are not speaking over this'.
When I asked him what he thought, he said that he understood what the young people were fighting for, but they couldn't disrupt an entire city that way. He said that it was selfish to unsettle people's daily lives like that. It seems Hong Kong doesn't have a monopoly on generational division when it comes to politics, as I strongly disagreed. How else are they going to get their message across? Surely, everyone's daily lives will be worse if pro-democracy voices don't get heard?
For a city struggling to transition in the right way, this decision means everything. Especially now that authorities have said that this might be Hong Kong's last chance for 'democracy', threatening that if this proposal doesn't fly, there'll be no more proposals. So far, according to polls, the bill has split the public.
My cousin and uncle are talking again now. And I have my fingers crossed that whatever happens next won't change that.