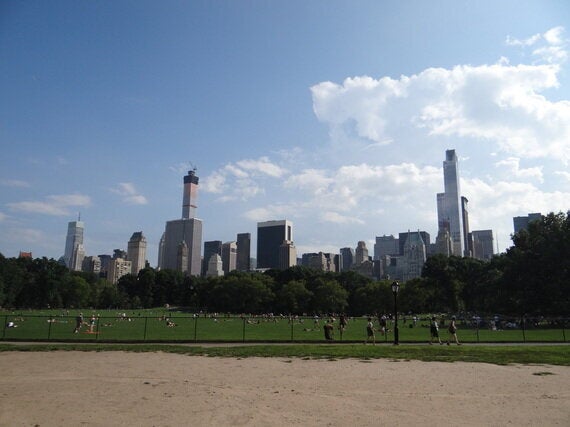 Ten years ago, on 3rd December, I wrote a poem about New York City.
Step into a different world to mine
It pulls at my skin, resets my display'
My love of New York City started, as many locational loves do, with imagery. On television, Times Square alone seemed like it's own sprawling metropolis, illuminated and untouchable. In photographs, the burnt orange Autumn leaves forming slippery mosaics on the gravel of Central Park looked like paintings I'd never seen. In other people's stories, told always with animated eyes and gesticulations, New York City simply sounded like more than any other place ever had.
Long before I made my first visit, I decided I was going to live there. At age 11, I knew I was going to be a writer (as did the neighbours, many of whom were subjected to my terrible handmade magazines about animal rescues). And after that, I knew I was going to be a writer in New York. Little me, dreaming so big, so cliche.
I was 15 when I was treated to my first NYC jaunt. My older sister, having been before, did all of the planning and guiding while I absorbed. The sensory overload woke me up. Woke me up from my boy dramas, my exam worries. my mundane existence as a mundane teenager. During that first visit, we didn't see much of the New York City where real people lived and loved. Instead, we took photos with glittering Broadway backdrops and posed in front of buildings we didn't know enough about. We stood on the 86th floor terrace of the Empire State Building - something I'd dreamt about in that original poem.
Fast, over the tops of the buildings
The energy envelopes my body
But no click of the camera or tourist attraction could capture what I remember most. The way I felt. I was alive. Somehow, my lungs seemed able to facilitate more air than ever before. Every face that walked past belonged to somebody, with their unique contours and voices and coats. The effect the city was having on me, and the things I was learning, all through osmosis, was otherworldly. I indulged completely in the reverence, unafraid to give my all, unafraid of being disappointed. It was the first time I really felt I'd been encouraged to be my best self, and I said yes to it all.
That adulation never faded. No matter how many times I watched the cityscape unravel through the back window of a Manhattan-bound taxi, a boost of this mystery drug always coursed through my body. Wandering the West Village or sitting in a dim sum parlour in Chinatown, reading in Bryant Park or watching a busker in Williamsburg; I was high. Empire State of Mind's onomatopoeic drum beats said it all.
My most recent trip was last September. By then, I'd been a few times and something had changed. Not my deep-rooted feelings, but rather the unforeseen arrival of a hearty dose of verisimilitude, which had ruptured my teenage dream. Living in NYC, as a writer in particular, was unlikely. I had achieved my first goal, to write for a living. But Visa regulations didn't care about how the evening sun on the sidewalk made my mind exhale, how I wanted to feel that way every day. So on my return, I found myself in a state of grief, writing an entirely different ode.
I still loved. I loved too much. But it was unrequited. New York City had been honest all along, and I'd been swept away by a dream that existed long before the city did what it did to me, creating my addiction with it's nebulous, intangible wizardry that always left me wanting more, and again.
I can't have more. I can have what I've always had, and to be fair, that's still more than enough. After all, even now, having visited more of the world and with hopes to continue doing so, NYC still releases me in a way nowhere else can. Time after time, it takes my holdall, crammed with all of my works-in-progress, the prototypes of me, the specifics and the problems, and throws it into the Hudson. And then, it's just me.
How could I ever give that up?