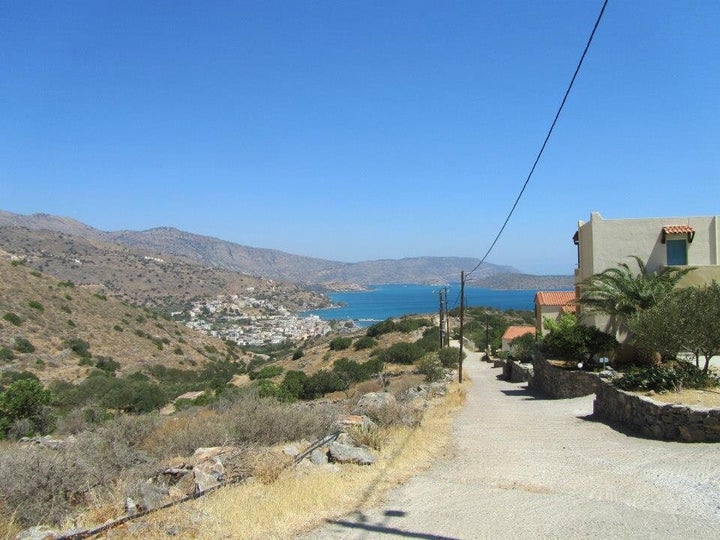 Photo credit: Sarah Kwong
Opening the shutters, as the wind whips my hair back and forth - and sideways, for that matter - I let out a laugh. The powerful gusts are strangely reassuring. Just like we'd hoped, it really feels like we're in the middle of nowhere.
Elounda might be just 23 miles from party-tastic Malia, but it feels like it's worlds away. Peaceful, beautiful, and apparently very windy, Elounda is a small fishing town on the Northern coast of Crete. Frequently visited by the likes of Lady Gaga and Leo DiCaprio, Elounda does private and quiet very well - much better than luxe favourites, Santorini and Mykonos.
It's this quiet that drew my boyfriend, Kev, and I in. We've been on great all-singing, all-dancing holidays before. But this time, we chose untouched outdoors over modern multiplexes. Although, we certainly hadn't bargained for the steep climb to our hotel. No outdoor escalators, here. Elounda Residence is so high up in the hills that coaches won't even dare try and navigate it. Ergo, all guests get picked up by the hotel minibus, and driven to the top.
But it's worth the chugging bus ride and, upon on-foot exploring, the aching hamstrings. A simple, family-run hotel high up in the hills, Elounda Residence is about experience, not extravagance. Our apartment is basic, but the lack of flat-screen everythings doesn't matter, especially when we see the view. The bedroom window opens out onto a vast sandy knoll, and reminds me of an American Western film (think No Country for Old Men, sans violence). Yup, really not in a super-developed abode now. But as we look down over the balcony, we see Elounda, in all of it's sparkling-blue-sea, rock-pier splendour. This is what we came for.
Elounda is as picturesque as it gets. White-washed buildings sit between boat-lined harbours. But Elounda's beauty isn't just down to the sea-verge tables and masses of natural rockpools. As we walk through town, locals smile, say hello - and not because they want you to buy a souvenir. They seem to know how lovely their home is, and love living there.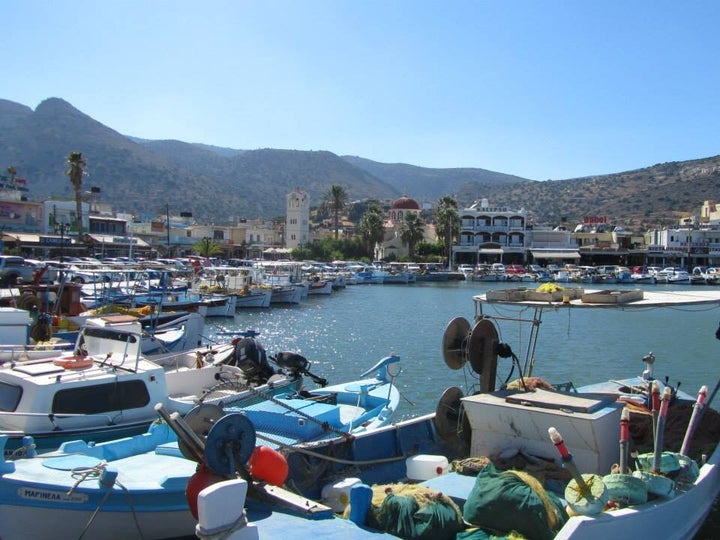 Photo credit: Sarah Kwong
I can see why. Despite it's modest size, Elounda has plenty to do - as long as you're not expecting to be on an adrenaline high 24/7. The long walks around town can be just that - long - but it's so beautiful that trekking in 30-degree heat doesn't feel tiring. Everything we come across is natural, you know, just as it is. The random plots of land, home to sporadically-placed exotic trees and the beach-lined brick walls, dog-eared and crumbled but still pretty. It all adds to the perfect picture that Elounda has created, without really having to do anything.
And unlike a lot of holiday destinations, when we stop by the local beach and look out to the sea, sea isn't all we, er, see. The island of Spinalonga sits straight ahead of us, an isolated land mass occupied by endless beige-coloured ruins.
Just €20 later, we're high-tailing it across the sea, destination Spinalonga. The ride takes around 20 minutes, and is an activity in itself. Before we reach the historic ruins, we whiz past gleaming penthouses built on the side of the coast - presumably where celebs stay when they visit. This part of Elounda looks so separate and new. But as we pull up at the edge of the island, it's clear that old is better.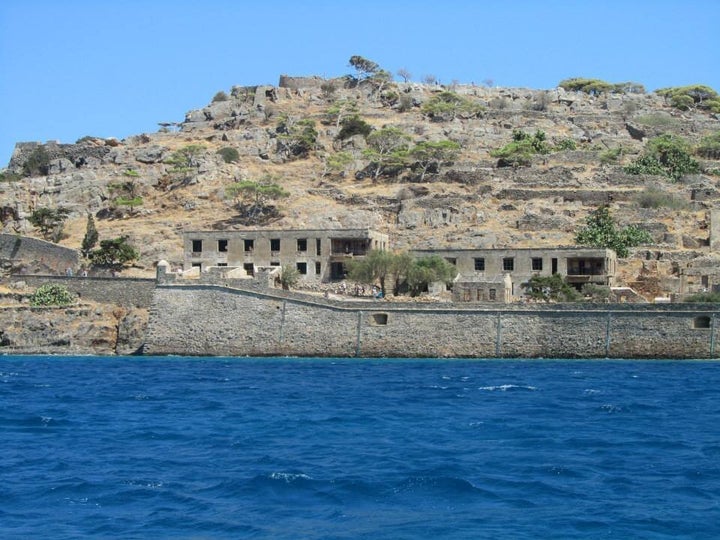 Photo credit: Sarah Kwong
In 1903, Spinalonga was established as Leper Island, isolating Hansen's Disease sufferers from everyone else. It was one of the last leper colonies in Europe, with the last inhabitant - a priest - making his departure in 1962. As we wander past the half-there staircases and the lone chapel, it's hard to shake the combined feeling of sadness and awe. Most of it is still in tact, thanks to the wonderful tourism folk there. There's a €2 admission fee - but it's well worth it when you're making your way down the historic, stone paths.
As we hop back onto the boat, Elounda in our sights, I feel excited about getting back. That's the thing about Elounda. It makes you feel good about adjusting to this simple lifestyle. No iPad eye strain, or pollution-clogged pores - just you. And the wind, of course.