Earlier this year it was revealed that lip reduction surgery was the next big trend in plastic surgery. But that was in Asia, and even the briefest of glances at Instagram will tell you that plump pouts are still most definitely in.
As we age, due to the slow down of collagen production, our lips do get thinner. Something I have personal experience of as, since turning 40, my top lip in particular has started to get increasingly shy. Whilst it tends to return to prime poutiness after spicy food or when I'm dehydrated (not recommended), having to eat curry or Mexican food every day as part of a beauty routine is ridiculous, not to mention limiting.
It doesn't bother me enough to consider getting any kind of injectable - I am needle-phobic and have seen enough Botched to know what bad lip fillers can look like, so I'm not taking any risks.
What it did prompt, however, was a dedicated flurry of research into temporary lip-plumping products. These are the ones I have tried so far but I'd love to hear your suggestions too - leave them in the comments or on my Instagram @sarahmcgiven and I'll try to test them out too.
Brushing your lips with a dry toothbrush is supposed to act like a scrub, sloughing off dead skin cells and increasing circulation, therefore, naturally plumping the lips. This may be the cheapest (free) option but the effects, purely in terms of plumping, are negligible after a few minutes. Bummer.
I threw the Bioaqua Hydrating Lip Mask in with a shop I was doing on the Beauty Mart website because it was cheap, cheerful and looked cute. It was, in fact, the product that kick-started my research. The popular K-beauty lip-shaped sticky is basically a single-use rubbery sheet mask for your mouth. You leave it on for 10 minutes so it can impart collagen and hyaluronic acid to deeply moisturise and naturally smooth the lips. It feels cool and jelly-like, not at all unpleasant, and has a light rose scent. The only downsides was that, not being a product designed specifically for plumping, the effects were a bit more natural than I was looking for - my lips certainly felt luxuriously well-cared for though. I also got some very strange looks off the cat.
Bioaqua Hydrating Lip Mask, £3.50 from Beauty Mart, thisisbeautymart.com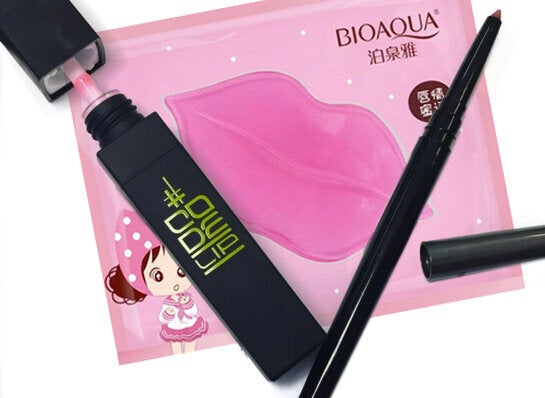 Remember when 'Lip Injection' by Too Faced was a huge thing? One of the first beauty products specifically for plumping the lips, it was a clear gloss that 'burned' not only your lips but the eyes of anyone who got too close (in my experience). Kissing was very much out of the picture unless your date had asbestos lips, or you were on a revenge tip. Well, it seems the energetic, youthful product is not just still around but is an 'industry leader' in the field. It now comes in new packaging (the syringe-like graphics have been ditched), coloured options, and is also available in a day-and-night serum format. It claims to increase lip volume by 20% and, from my back-in-the-day recollections when I was a regular user, I can absolutely believe it.
What I really want is something that provides the Lip Injection effect without the high-shine finish or over-eager 'intense tingling', that accompanies it. This is where CODE Lip came in. It feels to me like Lip Injection's cool older sister.
From the matte black packaging to the gentle thrill that goes through your lips a few minutes after applying it, CODE Lip 'Lip Intense Plumper' is definitely a more grown up product. The name feels a little misleading, especially if you're used to the (in your) Too Faced action, as it certainly feels gentler. It gives my lips a beautiful smoothed-out sheen that looks natural and definitely plumper, without making them look angry. If you like, you can use the CODE SSL lip liner first to properly define your pout - it also stimulates collagen to smooth your lip line and prevent that most-ageing of makeup mistakes: feathering.
The gloss itself is a minty, creamy, pale rose that can be used alone or under any lipstick or gloss you like. The formulation fuses a bunch of natural oils - coconut, sweet almond and peppermint - with a unique blend of ingredients known as Hilurlip. This is based around Hyaluronic acid, Tripeptide-1, and Dimethicone which, when used together help to minimise vertical lines around the lips, as well as plumping and offering sun protection. I tend to use the gloss on its own or just with the lip liner, and love this look for a temporary but noticeable boost.
Lip Injection by Too Faced, from £10 for the serum and £19 for the gloss, at Debenhams and Selfridges
CODE LIP Lip Intense Plumper, £20, and CODE SSL Soft Smooth Lip Liner, £18, from Harvey Nichols, Beauty Bay and code-beautiful.com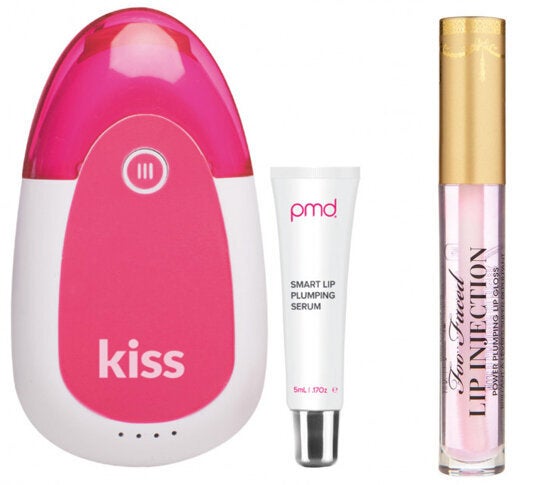 There's a gadget for everything these days and, being a lover of technology, especially if it offers a quick, non-invasive fix, the lip-plumping machine 'The Kiss' by PMD was a must-try. It's a small hand-held machine with a cute name, that you charge via a USB then, after applying and leaving a minute for the accompanying serum to sink in, slowly hold and move over your lips for three minutes. During this time it sucks away to various degrees depending on which of the two settings you choose.
The first thing that anyone I show my PMD The Kiss to brings up is the Kylie Jenner Lip Challenge so I want to address that head on as it was my first thought too. The awful Kylie challenge involved people - usually filming themselves - getting their mouths stuck in shot glasses, ending up bruised and bloodied, in order to achieve the covetable (and surgically assisted) Jenner pout. PMD The Kiss is nothing like that. Nothing.
It's a fun little device - for use on natural lips only - that has a narrow oval opening about the length of a 10 pence coin. You hold this to your lip then turn the machine on, allowing it to pulsate away for 15-20 beats, then move to the next quarter of each lip. It's gentle and, though gives a slightly weird sucking sensation, it's not at all painful, just odd at first, and always leaves you wanting another go. It can be used as often as you like and the product claims that daily use can provide results that last 4-6 weeks.
After two uses I noticed my natural lip colour become more intense and my top lip look more like its old self (yay!!). After a couple more uses and getting the hang of it properly I noticed an increased fullness without any unnatural reddening around the edges of the lips, which can happen with some serums and balms. It's a quirky option and one that everyone seems to want a go on, so if the price seems too much for you, as long as you all get your own serums and clean the device properly between uses, it's entirely possible for a group of friends to buy one to share. As an added bonus for the social media minded, like the Bioaqua Hydrating Lip Mask, PMD The Kiss is also Instagram and Snapchat gold.
PMD The Kiss, £125 exclusively from www.currentbody.com
This post has been published on HuffPost's blogging platform. The views and opinions expressed in this blog are those of the author and should not be taken as those of HuffPost. HuffPost does not allow bloggers to acquire products, access or accommodation for review in the site's name.