Whether you're treating friends, family or just yourself this Easter, there are plenty of Springtime shopping joys to behold from dessert flavoured chocolate bars to candles that look good enough to eat. If you're not indulging in the whole egg thing, there are some wonderful chocolatey beauty treats on hand to satisfy your senses, or scoop some super sweet candy pastels for a sugary apparel hit.
Whilst they may look divine on the models at 3.1 Phillip Lim, Louis Vuitton, Mulberry etc. if - like me - you're not cut out for pale, ice cream coloured clothing, announce the arrival of Spring in uplifting, British Racing grass green instead. It's a vibrant alternative to the pastel trend this season, seen at Gucci, Lanvin and Jil Sander, and proves the perfect foil for chick-yellow accessories, so fresh and appropriate for this weekend.
Happy Easter everyone!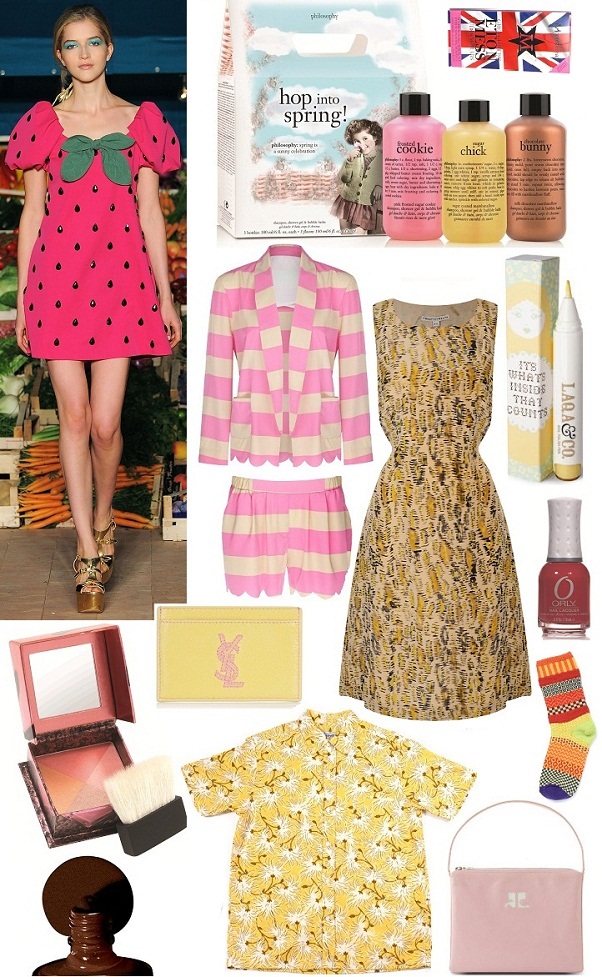 Pictured above: Moschino Cheap & Chic strawberry dress, www.moschino.com ; Philosophy Hop Into Spring Set of 3-in-1 Shower Gel, Bubble Bath & Shampoos in Frosted Cookie, Sugar Chick and Chocolate Bunny, £25 from the new Philosophy UK e-store: www.philosophyskincare.co.uk; Montezumas Great British Candy chocolate bar in Eton Mess flavour, available from www.Montezumas.co.uk; Candy striped scalloped shorts suit coming soon to River Island, www.riverisland.com, Twenty8Twelve print dress, £220 from www.twenty8twelve.com, Laqa & Co. I Want A Pony light canary yellow nail polish pen, £9.50, exclusively from Selfridges; Gwyneth Paltrow-endorsed Orly nail polish in Pink Chocolate, £9.25 from www.orlybeauty.co.uk; Sock Mate mis-matched hand finished patterned socks in Daffodil, £16 from East London's 3939 Shop; Couregges vinyl clutch in pale pink, £330, exclusively at Selfridges; Yellow Rat men's sunflower shirt, £59.80 from www.3939shop.com; Deluxe Chocolate nail polish by Avon, £6.50 www.avonshop.co.uk; Benefit Sugarbomb blush with brush, £23.50 from www.benefitcosmetics.co.uk; Yves Saint Laurent pastel leather cardholder, £100 from NetAPorter.com.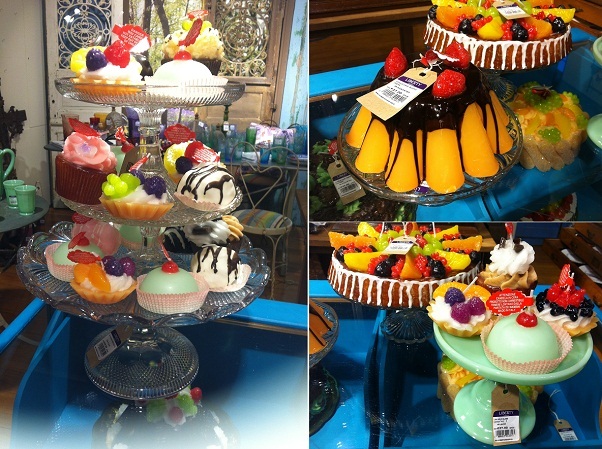 Pictured above: You'll really need to keep an eye on the selection of mouth-wateringly realistic dessert-style tea time candles from RE to make sure no one tries to cut themselves a slice. All available from their store inside Liberty.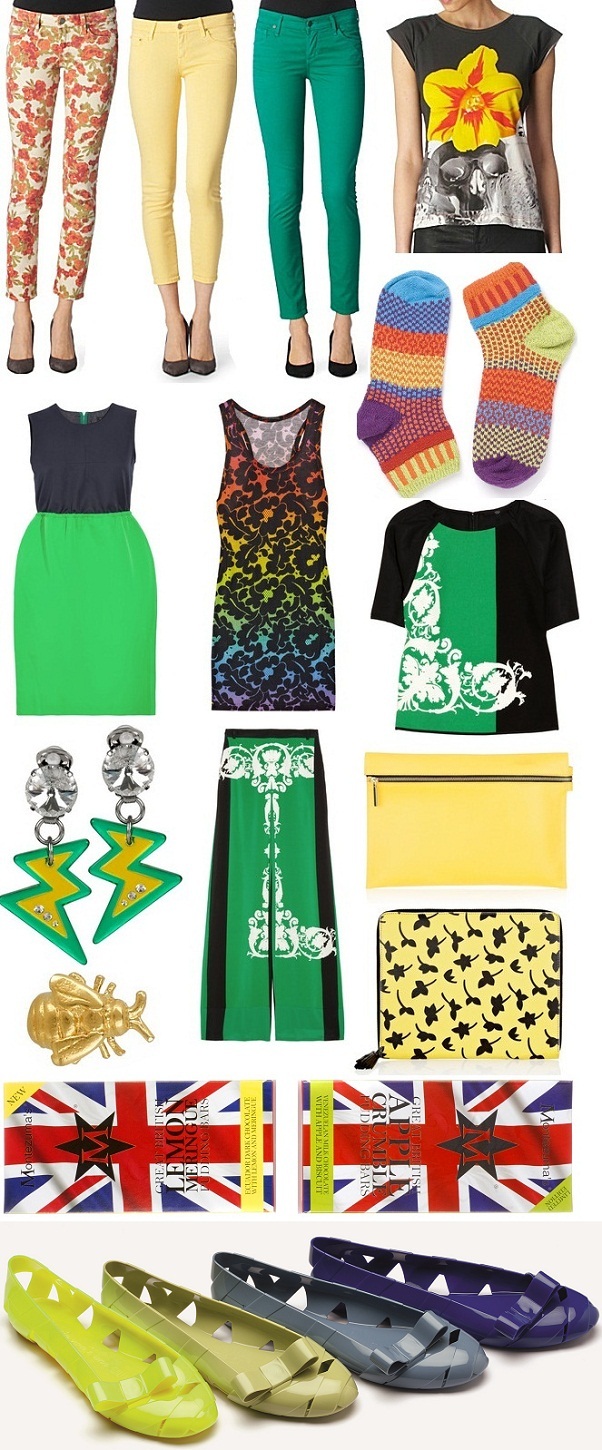 Top row: Floral Paige Denim 'Skyline' skinny jeans, £200, Mother 'The Looker' stretch denim cropped jeans in Buttercup, £195, Citizens of Humanity 'Thompson' skinny jeans in Wheat Grass green, £225 and this exclusive Marc Quinn Skull Floral t-shirt, £130, all available from Selfridges. Sock Mate mis-matched hand finished patterned ankle socks in Primrose, £16, from www.3939shop.com; Marc by Marc Jacobs Tate two-tone twill dress, £385, Christopher Kane rainbow lace-print stretch-jersey tank dress, £250, Tibi Printed cotton-canvas top, £310, and matching palazzo pants, £470, Oversized leather pouch, £395, by Victoria Beckham, Diane von Furstenberg printed Paddie coated-canvas iPad case, £105, Miu Miu Plexiglass crystal lightning bolt clip earrings, £90 and exclusive 22-karat gold-plated bee stud earrings by Alex Monroe, £105 all available from www.Net-A-Porter.com. Montezuma's Great British Pudding chocolate bars in Lemon Meringue and Apple Crumble, £2.49 each, available from www.montezumas.co.uk and other fine food retailers. Moschino x Kartell BowWow ballet flats, £71, www.moschino.com.