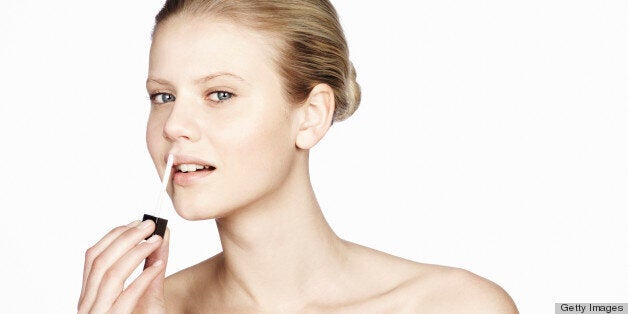 Ever since the The Body Shop started the classroom craze for little potted lip balms, I've been hopelessly hooked. Thanks to those tiny, apothecary-style glass jars full of unctuous, sweet smelling goo - Morello Cherry for a cheery tint, Tutti Frutti for a moisturising glaze - I haven't been able to resist a lip balm, particularly those with cute packaging and/or deliciously childish flavours.
Here's a pic of just a fraction of my current collection, picked up at pharmacy tills and in beauty halls around the world - it's become something of a sport, hunting down local varieties (America wins hands down for the mini Vaseline pots pictured below alone).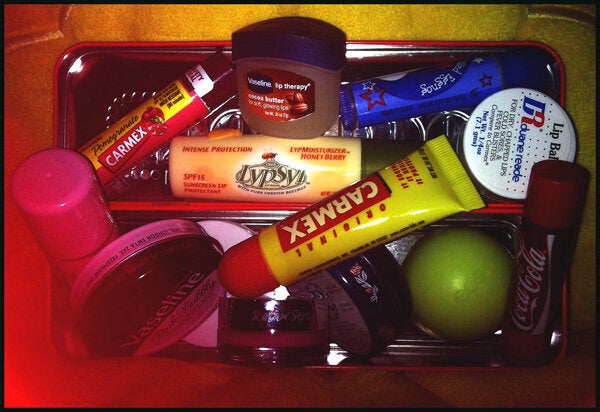 A bad pic of a random selection of my currently-in-use lip balm collection
On last count, despite having just one mouth, I currently have a total of 31 lip potions, mostly clear, some tinted, on the go - a mix of pots, sticks, tins and tubes - and undoubtedly there are more I haven't counted lurking in pockets and at the bottom of less frequently used bags. Houston, I have a problem. Here are some of my favs and new releases I can't wait to try...
PS. If you love makeup and beauty but aren't in the market for any new products, pioneering makeup brand Cosmetics á La Carte, whose fans range from Elizabeth Taylor to Grace Jones and Lady Gaga, is celebrating its 40th anniversary with a free exhibition in London called 'Colour And Culture'. Curated by Ryan Lanji, the exhibition is open from 10am-6pm daily at 50 Redchurch Street, London E2 7DP. If you go and are tweeting or instagramming (or if you just want to have a search online yourself), the details are: @alacartelondon and #colourandculture.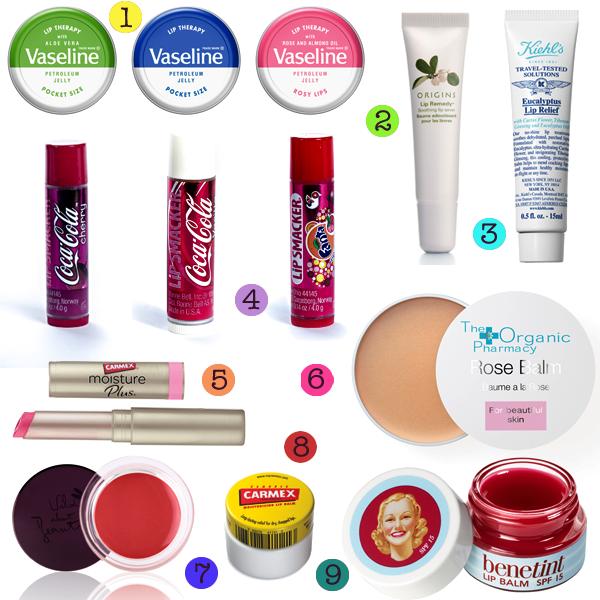 1. Vaseline tins - Around £1.45 and available from all leading supermarkets and chemists including Superdrug and Boots
These pocket-sized petroleum jellies are a classic and come in the cutest retro packaging. Look out for limited edition flavours too - the pink champagne variety is delicious.
A lipbalm release from one of my favourite skincare brands, Origins. Clearly I'm super excited about this hydrating menthol balm but have promised myself I'll wait until my current number of 'in use' lip products gets to a more manageable number before buying. Isn't it pretty though? That sleek, white tube is everything and I do love a tube - they're so much more hygienic.
3. Kiehl's Travel Tested Solutions Eucalyptus Lip Relief Class - £9.50 from www.kiehls.co.uk
A new one from the makers of one of my favourite lipbalms of all time, Kiehl's #1 (which is currently celebrating its 40th birthday and the flavoured ones alway goes down well as a gift - for other people I mean, not for me - as you can see, I'm alright for lip balm at the moment, ta). Can't wait to road test this bad boy plus I love how you get giant samples of other products (great for travelling with) whenever you buy anything from Kiehl's, whether in store or online. Big fan.
4. Lip Smackers - £3 each (sets also available) from Claire's stores or www.claires.co.uk
Seriously, who doesn't love Coca-Cola lip balms? If you don't like Lip Smackers, I'm pretty sure we can't be friends. I stock up on weird flavours like Eggnog and Gingerbread and giant tubes of the Candyfloss scented kiddy balm in Target when I'm in the US but you can get the cheap as chips, soda flavoured sticks - including my favourite Coca-Cola, Vanilla Coke and Cherry Coke - all over the UK from Claire's both in-store and online.
5. Carmex Moisture Plus Ultra Hydrating Lip Balm Pink Sheer Tint with SPF15 - Around £4.49 from various places including all good chemists, Boots, Superdrug etc.
I always have one of these in pink in my handbag or rucksack for those last minute meetings etc where you need to perk your complexion up a bit and add a bit more polish. I find a slick of mascara and a swoosh of this tinted stick balm do the trick a treat - you can even use it on your cheeks if you're in a real jam. It smells divine too.
A multi-functional rose balm in a simple, chic, white metal tin and with the added benefit of giving you the holier-than-thou glow of knowing your lips are coated in fine, cruelty-free, organic goodies.
I haven't tried this one yet but I've been suckered in by the lovely packaging, the incredible colour and the fact that it's paraben free. I much prefer tinted balms to lipsticks for a wash of colour and love the look of this soft coral, shea butter enriched balm which is part of the brand's Safari Nights collection which is not only worth a look but they donate £4 from the sale of any palette to the Born Free Foundation too.
8. Carmex original lip balm pot - Around £2.69 from all manner of places including leading chemists like Boots and Superdrug
A family favourite, I adore the pleasingly sting-y feel of this classic balm in the seemingly un-ending iconic yellow pot, and the way it quickly smooths even the most chapped of lips. It's one of the only remedies the men in my family will use too - both my Dad, who works outside a lot, and my boyfriend, who comes back from snowboarding trips in a right old state, use this.
As with everything Benefit, the packaging is fun and fancy, and the sheer rosy colour is fabulous. I'm not a fan of products with paper components - like the labels on this super cute tub - because they get too tatty rattling around my bag, so this new rose tinted balm is definitely for your bathroom or office drawer, for wearing and displaying, more than toting.
Popular in the Community